Chocolate Egg Cream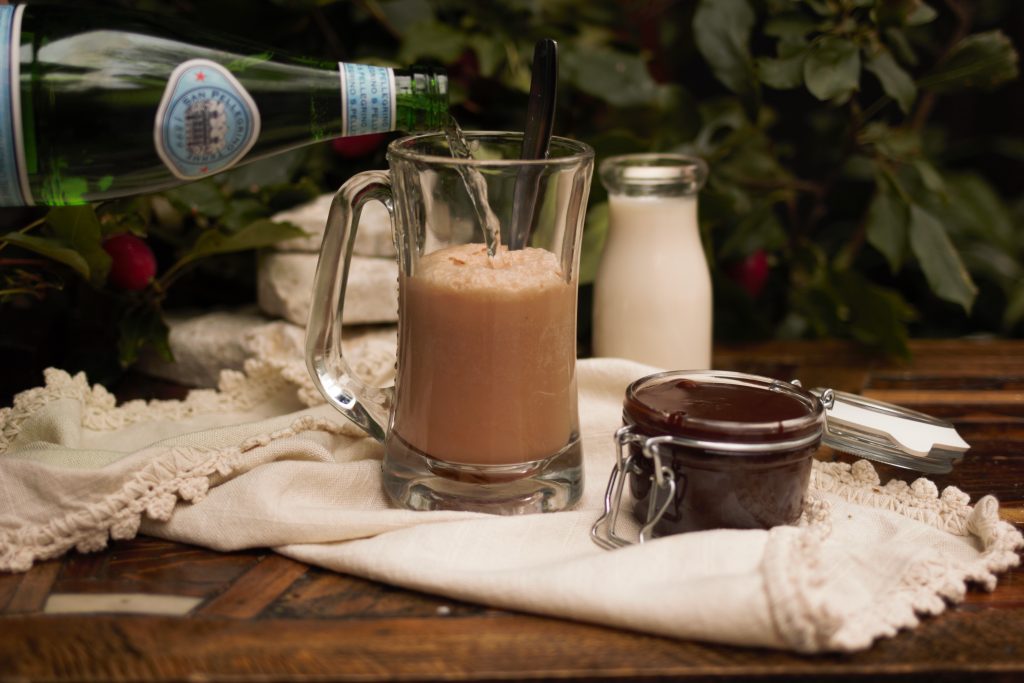 When I think of a Chocolate Egg Cream, it brings back happy memories. I worked at coffee shops and restaurants since I was 15 years old. I loved working at the local coffee shop and I would make Chocolate Egg Creams for people all the time! I often dream about opening a special keto restaurant. If I did, I would serve "healthified" Chocolate Egg Creams!
Chocolate Egg Creams are a delicious drink that is often served at diners. If you have ever had a chocolate egg cream, most likely the chocolate syrup was drizzled down the spoon. But this isn't done because it makes it taste great; it is only for looks. And actually, drizzling the chocolate down the spoon kills carbonation because the more you stir, the more you dissipate the carbonation, resulting in a flat drink. To make a tasty and fizzy chocolate egg cream, combine the chocolate and milk in the bottom of the glass and stir that first. Add the carbonated water last and you will end up with the best chocolate egg cream ever!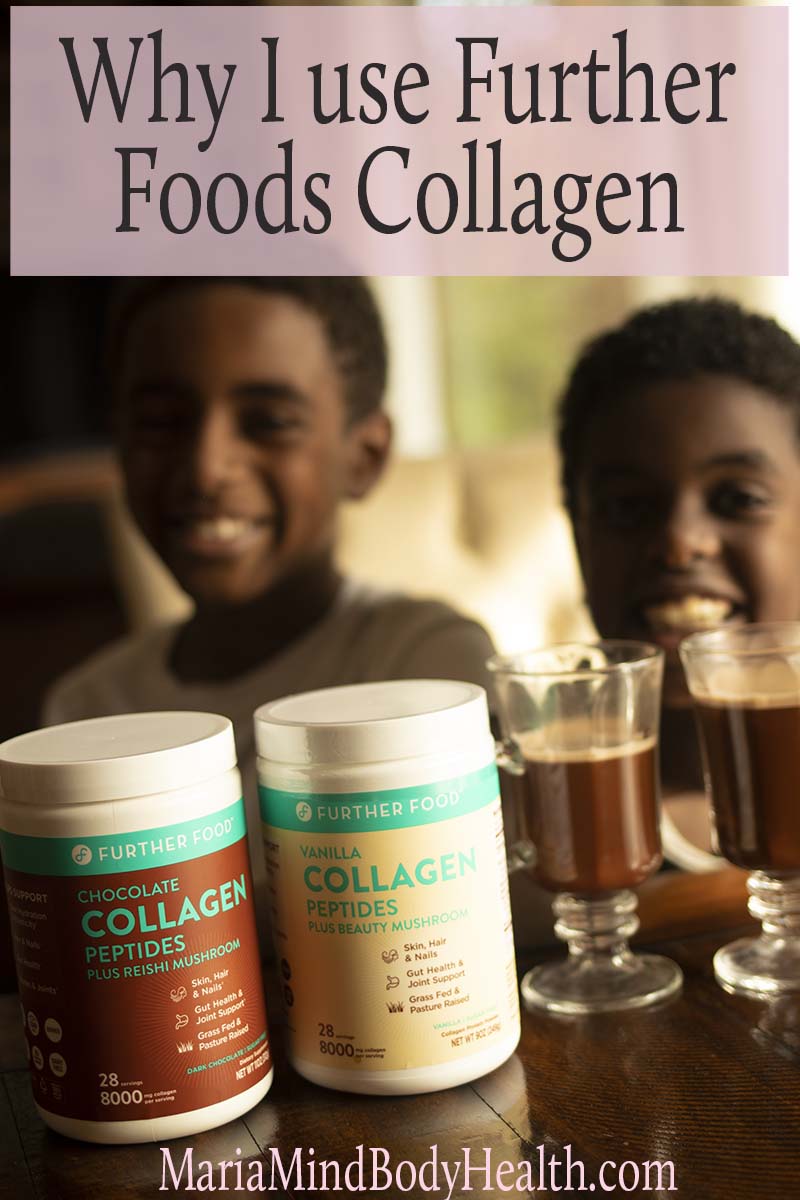 I added Further Foods Chocolate Collagen to this for an added health benefit not only for myself but for my children!There have been many studies showing a wide range of benefits from collagen. You get a lot of glycine from collagen. THIS STUDY showed that the glycine derived from collagen is essential to maintain the normal structure and strength of connective tissue, such as bones, skin, cartilage, and blood vessels. Many other studies have shown benefits ranging form immune health, digestive health, bone strength and much more. It also greatly benefits the skin and reduced wrinkles and aging. Smoking reduces collagen synthesis and that is why smokers have more wrinkles.
Another important benefit of collagen is that it is the second most ferment-able substrate behind FOS (fructooligosaccharides). This study showed that collagen is great for feeding our gut flora, much better than almost any plant fiber (collagen is 7.96 where plant fiber is 1.53). So the push for feeding the gut flora with lots of plant fiber is really not needed. Just add some collagen.

WHERE DOES COLLAGEN COME FROM?
Collagen is derived from the connective tissues, bones and skin of animals (typically beef). This is one of the reasons bone broth is great for health, it contains collagen. The collagen peptide products in Further Foods, isolate the collagen and give you a much more concentrated dose. Collagen Peptides are also very convenient as they dissolve easily into water or other foods and have no taste or smell. That is why we love the Further Foods Collagen (use coupon code: MARIAMINDBODY  for 25% off). It is grass-fed, pasture raised, NON-GMO, kosher and has only 1 ingredient. This makes it really easy to add to any recipe.
HEALTH BENEFITS OF COLLAGEN:
Can help with skin elasticity and aging. This means when losing a lot of weight it can help the skin shrink better, reduce wrinkles and cellulite
It can help strengthen hair and reduce hair loss
Improves joint health
Builds bone strength
Contains 18 amino acids that help muscle and ligament repair and recovery
Contains glycine that helps with immune system health and helps with digestion

In this Chocolate Egg Cream recipe, I used Further Foods NEW Chocolate Collagen with Reishi Mushroom extract! The reason I love this new Further Food product is because it is the ONLY collagen blends on the market made with 4 only real food ingredients and no  gums! It is just collagen peptides, mushrooms (reishi in the chocolate and tremella in the vanilla), cocoa powder/vanilla bean natural flavoring powder, and monkfruit.
Reishi mushroom is a natural mood & immunity booster. And Tremella mushroom is the ultimate beauty mushroom. It's even more effective than hyaluronic acid at locking in moisture, reversing wrinkles, and brightening complexion!
Further Foods is offering their BIGGEST SALE EVER for my readers! You now can get 25% off your order!!!!
Do NOT miss out on the special offer of 25% off your order! Click HERE and use the code: MARIAMINDBODY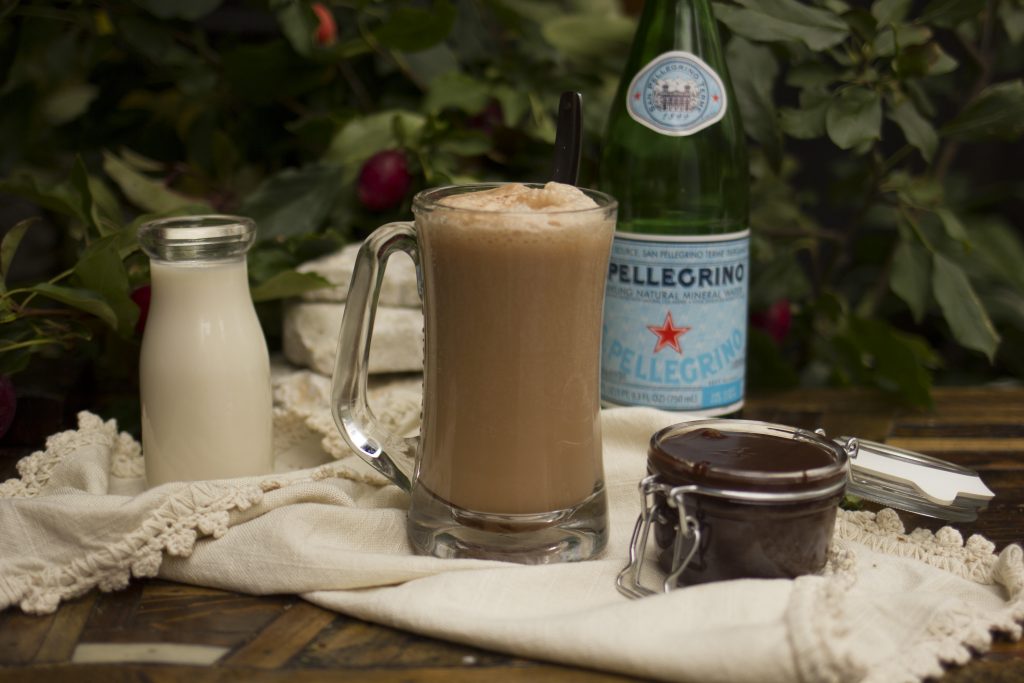 Dairy Free Chocolate Sauce
Ingredients
2 ounces unsweetened baking chocolate, chopped fine
2 tablespoons coconut oil (or butter)
¾ cup canned, full-fat coconut milk (or heavy cream)
1 cup Swerve confectioners (or equivalent natural sweetener)
¼ teaspoon Redmond Real Salt
1 vanilla bean (about 6 inches long), split lengthwise and seeds scraped, or 1 teaspoon vanilla extract
½ teaspoon almond extract
Instructions
In a medium-sized saucepan or double boiler, melt the chocolate and coconut oil over medium-low heat until melted and smooth. Stir in the coconut milk, natural sweetener, and salt.
Continue to cook, stirring constantly, until it begins to boil, then remove the pan from the heat and add the vanilla bean seeds and almond extract. The mixture will thicken as it cools. Once cool, transfer to a jar. Seal and store in the fridge for up to 2 weeks.
Notes
NUTRITIONAL INFO (per serving)
calories
30
fat
3.1 g
protein
0.4 g
carbs
0.9 g
fiber
0 g
70% 9%
Chocolate Egg Cream
Ingredients
2 tablespoons Dairy-Free Chocolate Syrup (from above) (or more if you prefer a darker chocolate egg cream)
3 ounces unsweetened almond milk
5 ounces seltzer water
Instructions
To make the BEST Chocolate Egg Cream, pour the chocolate syrup into the bottom of a glass. Add the almond milk, collagen and stir to mix well. Add the seltzer last and enjoy!
Notes
NUTRITIONAL INFO (per serving)
calories
74
fat
7.4 g
protein
1.1 g
carbs
2.5 g
fiber
0 g
67% 10% 23%
KETO
TESTIMONY OF THE DAY
"Hi Maria! I have officially hit 200 pounds of weight loss right before my one year keto anniversary! " – Zachery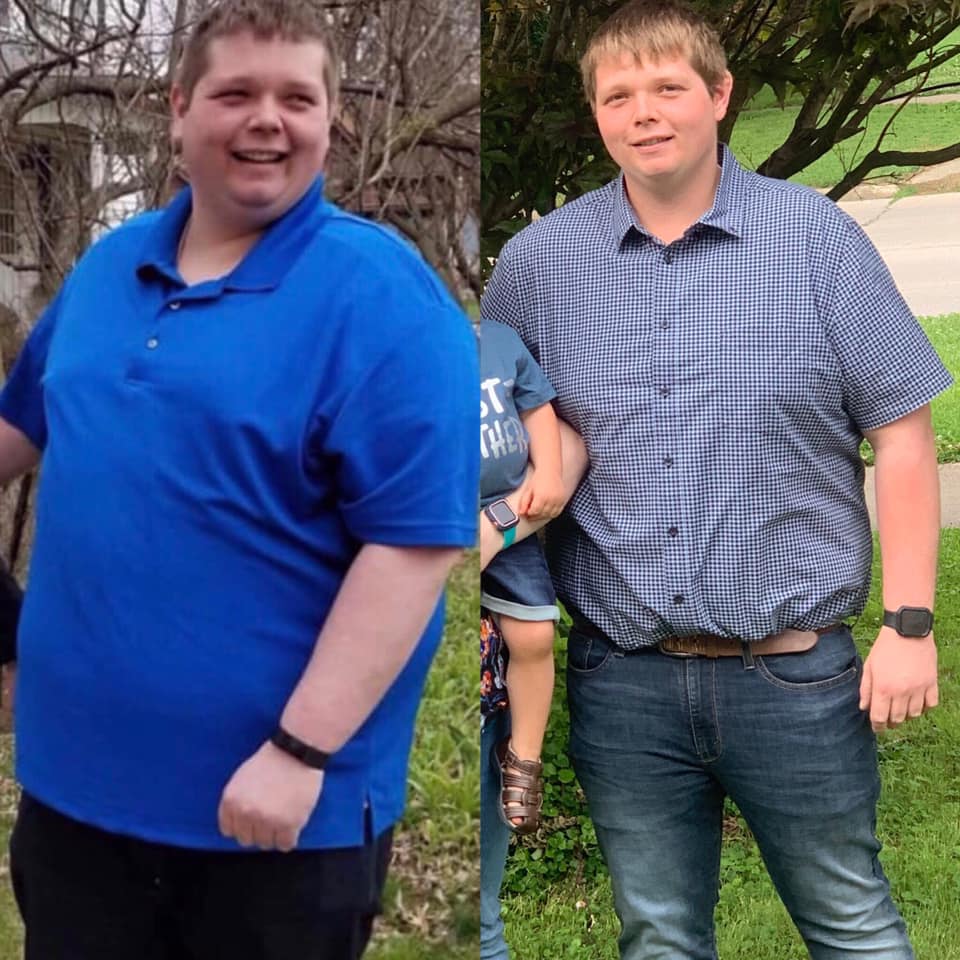 Most people I consult are doing keto totally wrong. Get fast results with the my NEW Keto School!