Testimony of the Day
I received a comment on my Facebook timeline yesterday that totally made my day. She gave me permission to post here so everyone could be inspired by her amazing success. Way to go Gretta! Stories like this motivate me to help as many people as I can! 🙂
"Maria, I have been following you on FB and your blog since I started my weight loss/get healthy journey in Nov. of 2010. With your help, guidance, ti…ps, and phenomenal recipes, I can proudly say, I am down 112 pounds and not only do *I* eat healthier, but so does my family (husband and 2 daughters – ages 3 and 6). We've enjoyed so many of your recipes and I am constantly putting your books on my… "wish lists." Well, Monday, I decided I was going to fill my own wish list, just dove right in and ordered ALL of your books at once through your link.. they came in today and I spent the entire evening reading Secrets to Controlling Your Weight, Cravings, and Mood! So much insight in that little book! You touched on many of the problems I still struggle with and have given me even MORE insight to fight my "issues." I just want to say THANK YOU for all you do.. all you've shared for FREE.. and helping me AND my family find a healthier way and STILL be able to enjoy what we eat without feeling deprived! Love to you!!"
What are your goals for today? Diet does NOT mean deprivation! 
Click HERE to get started today!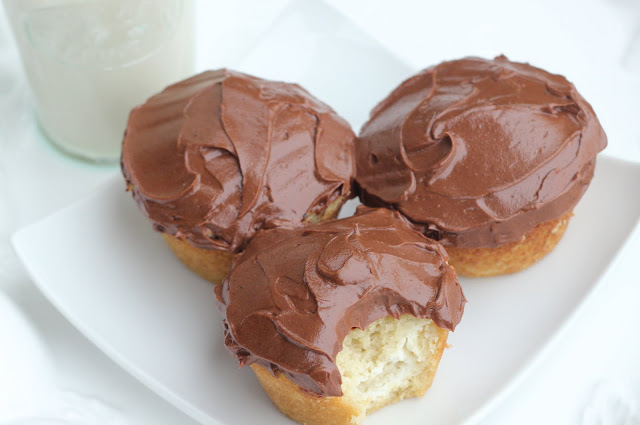 The most common complaint I hear about this diet is that "it costs too much to eat healthy"…well, I have an argument to that!
Parents take the time to research the safest cars, spend tons of money on the best toys, $50 on video games, the best colleges, and vacations, drop $20/ticket to see a sporting event that lasts 2 hours, BUT when it comes to the health of thier children, they don't realize the connection between food and our emotional, physical and spiritual health. I volunteered at a nursing home and I asked a man what the "secret of a happy life" was, he responded "Take care of your health." That was when I was a teenager and I didn't really think much of his answer, but now I understand that when we don't feel good, the whole day suffers and so do the people around us. Healthy food = healthy moods.
Also, this dessert costs a lot less to make even with the "healthified" ingredients that it does to purchase an unhealthy version at a bakery!
CAKE:
6 TBS coconut oil or butter, softened
1 1/2 cups blanched almond flour
1 tsp baking powder
1/2 tsp Celtic sea salt
3/4 cups SWERVE (or erythritol)
1 tsp stevia glycerite
4 eggs
1 tsp vanilla extract
FILLING:
2 (8 oz) pkg cream cheese, softened (or coconut cream if dairy allergy)
1/4 cup SWERVE (or erythritol)
1 tsp stevia glycerite
2 tsp vanilla, divided
CHOCOLATE ICING:
2 TBS butter or coconut oil
1 oz unsweetened baking chocolate
10 TBS heavy cream (or coconut milk if diary allergy)
1/4 cup confectioner SWERVE (or erythritol)
1 tsp stevia glycerite
Make cake: Preheat oven to 325 degrees F. Grease a cupcake pan (coconut oil spray) OR use cupcake liners. Sift together almond flour, baking powder, and salt into a large bowl. In another bowl, beat together butter and sweetener with an electric mixer at medium-high speed until pale and fluffy, 3 to 5 minutes. Beat in eggs 1 at a time, beating well after each addition, then beat in 1 tsp of vanilla. Reduce speed to low, then add flour mixture to blend until batter is just smooth. Spoon batter into muffin pan.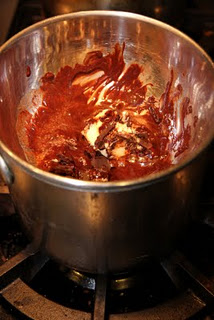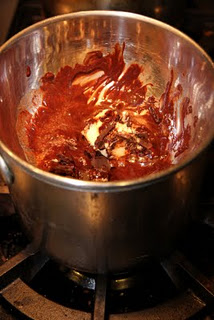 Cream Filling: Beat cream cheese, sweetener and 1 tsp of the vanilla with electric mixer on medium speed until well blended. Place 2 TBS of cream filling into the almond flour batter of each cupcake.
Bake at 325 degrees F for 18 to 24 minutes or until center is almost set. Let cool before frosting.
Chocolate Icing: Place the butter and chopped chocolate in a double boiler (or in a heat safe dish over a pot of boiling water…see photo). Stir well until just melted (don't burn the chocolate!), add in the cream, and sweetener. Stir until smooth and thick. Use to drizzle over cooled cupcakes. YUM! Makes 18 cupcakes.
NUTRITIONAL COMPARISON (per cupcake)
Traditional Cupcake = 240 calories, 15g fat, 2 g protein, 32.2g carbs, trace fiber
"Healthified" Cupcake = 240 calories, 23g fat, 5.5g protein, 3.6g carbs, 1.3g fiber