Testimony of the Day
"I purchased your 30 Day Accelerated Meal Plan and Health Assessment and began taking the supplements right away but it took me awhile to really wrap my mind around the high fat thing after years of being overweight, and feeling judged for my weight I was terrified to put that amount of fat into my body.
I knew that your work and recommendations were evidence based and founded in research, but none the less, I needed to get clear with it and make the mind shift before I could really make the behavioral shift.
Well, I am happy to report that for the past two weeks I have followed your plan (not nearly as difficult as I thought it might be) and that I look and feel very different. I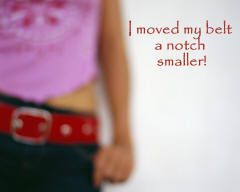 put my belt on this morning and realized that I had to move it one notch smaller, my face is not as puffy, the eczema on my hands is getting better as is the asthma that I have dealt with for over 30 years.
Thank you for your guidance and your wonderful recipes! I could have never done this without your work and the daily encouragement I find in your Facebook posts. I am excited to see how I feel and look after another two weeks :-).
With much gratitude and respect for your work, Cheryl"
If you want to feel happy and healthy again, click HERE to get started!  You deserve it!
 
 Bacon Cannoli
When you think sweets, salt is probably the last word that comes to mind unless you once accidentally used salt in place of sugar! As contradictory as it may sound, salt truly changes a dessert from tasty to jaw dropping and can make your treats taste sweeter. It adds complexity to the entire dish.
Salt balances and elevates flavors and it conveys tones that you didn't even know were in the dish. For example, salt makes spices more fragrant and citrus more vibrant.
The major offense would be to use iodized table salt. First off many times a form of sugar is added for a binding agent. Second you want the salt to compliment the components in the dessert instead of making it taste chemically which table salt can. I love using crystalline sea salt in desserts because it adds a slight crunchy profile. If you are making a creamy dessert and do not want any crunch to your delicatessen I suggest using a salt that dissolves well such as a flaked sea salt which is the fastest dissolving of the salt grains.
Many famous pastry chefs state that you should double the salt in any classic dessert recipe and cut back on the sugar. The take-away lesson here is that salt is a flavor enhancer, not a flavor replacer.
Even fast food restaurants understand this! A small milk shake has more sodium than a small french fry!
Click HERE to find the salts I love!
Who could forget Elvis' favorite sandwich… peanut butter, banana and bacon sandwiches? How about skipping the bread and make these tasty bites for your next dinner party?!
Bacon Cannoli
Ingredients
6 slices bacon
FILLING:
½ cup mascarpone cheese (or cream cheese will work)
¼ cup Swerve confectioners
¼ cup natural creamy peanut butter
1 tablespoon unsweetened almond milk (to thin the filling mixture)
Instructions
Preheat oven to 375ºF.
Line a large baking sheet with defined edges with unbleached parchment paper.
Using cannoli tubes (click HERE to find cannoli tubes), wrap one slice of bacon around each. Wrap the bacon tightly, overlapping the edges so the bacon totally covers the tube.
Bake for 20 minutes or until bacon is crisp. Remove from oven and allow to totally cool.
Meanwhile make the filling. Using a large bowl, combine the mascarpone cheese, natural sweetener, peanut butter and extract using an electric mixer on high. Beat until the mixture thickens.
Once thickened, add the unsweetened almond milk slowly while mixing on low speed until combined and smooth.
Refrigerate the mixture in a sealed container a few hours before using. It will keep well refrigerated for up to a week.
Use your hands to carefully wiggle the bacon to release it from the cannoli form while keeping its shape.
ASSEMBLY: When you are ready to fill, use a pastry bag or cut the corner of a Ziploc bag. Fill each cannoli with some extra filling sticking out of each end. Sprinkle ends with chopped peanuts and enjoy!
Notes
NUTRITIONAL COMPARISON (per serving)
Traditional Cannoli = 125 calories, 2.5g fat, 4g protein, 22g carbs, 0.5g fiber
"Healthified" Cannoli = 134 calories, 12.1g fat, 3.8g protein, 2.5g carbs, 0.7g fiber

81% fat, 11% protein, 8% carbs
Click HERE to find the more traditional cream filling.