Aspartame
What Vitamins Do your kids take?
I hope not these! Trans-fat, food dye and ASPARTAME!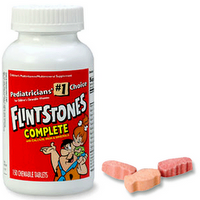 Ingredients: Sorbitol, Dicalcium Phosphate, Magnesium Phosphate, Choline Bitartrate, Sodium Ascorbate, Ferrous Fumarate, Gelatin, Natural & Artificial Flavors (including fruit acids), Pregelatinized Starch, Vitamin E Acetate, Stearic Acid, Carrageenan, Hydrogenated Vegetable Oil (Soybean, Castor), Magnesium Stearate, Zinc Oxide, Niacinamide, FD&C Red #40 Lake, D-Calcium Pantothenate, FD&C Yellow #6 Lake, Aspartame†, Xylitol, FD&C Blue #2 Lake, Cupric Oxide, Pyridoxine Hydrochloride, Sucrose, Riboflavin, Thiamine Mononitrate, Vitamin A Acetate, Beta-Carotene, Monoammonium Glycyrrhizinate, Folic Acid, Potassium Iodide, Biotin, Vitamin D, Magnesium Oxide, Vitamin B12.
Aspartame has been found to "eat" tiny holes in our cellular membrane. When this happens, things like Multiple Sclerosis (MS), cancer, mood disorders and many other serious issues will show up.
One of my clients LOVED her diet Coke. She drank 6 cans a day. As an adult, she developed MS; which became so severe she was bound to a wheelchair. Once I explained to her just what aspartame was doing to her cells she decided to kick her addiction to soda. Guess what? Her body started to heal. She is no longer in a wheelchair. She still has symptoms, but her diagnosis went from "extreme MS" to "moderate!"
Most people I meet say, "I don't have depression, but I do feel lousy, crabby, and "fly-off the handle" over no reason lately." My first suggestion is to kick the aspartame from our lips, which can be very difficult, but in the end, they become a happier person. If you are someone who often chews gum or pops breathmints, check the ingredients! Most have aspartame.  Click HERE to find brands that are sweetened with xylitol. 
Click HERE to find a good children's multivitamin. I also recommend a quality bifido bacteria to keep those little tummies healthy!