TESTIMONY OF THE DAY
"Dear Maria and Craig, I recently bought your accelerated package which is amazing. I have already lost about 4 kgs (8.8 pounds)- not weighing again until Thursday (end of second week).
Also have lost all cravings for sweet things. Fibromyalgia symptoms are reduced and no headaches since day 4!
I cannot believe how wonderful this plan is. I have been unable to lose weight for EVER. I am 59 so at the wrong end of the life cycle and have lost so much muscle over the years with yoyo dieting. 
Hopefully one day this will all be mainstream and not a little bit of a secret.
Thanks again team!" – Deb 
Most people I consult are doing keto totally wrong. Get fast results with the my NEW Keto Packages!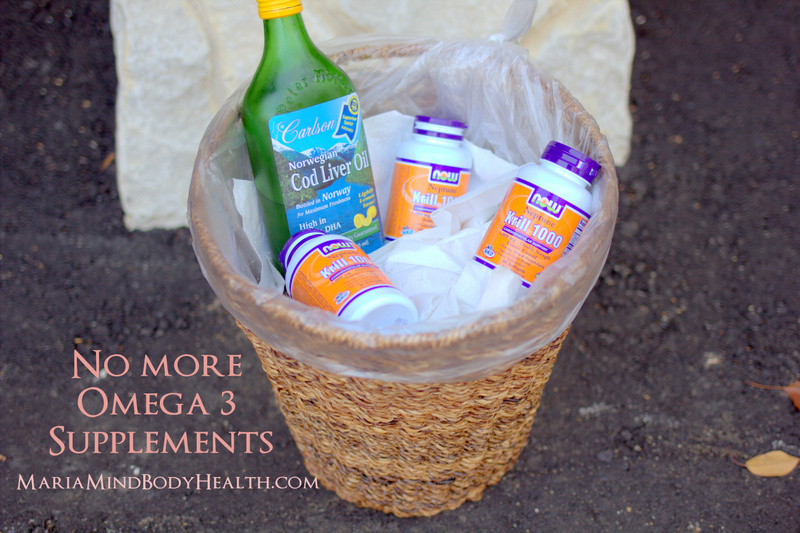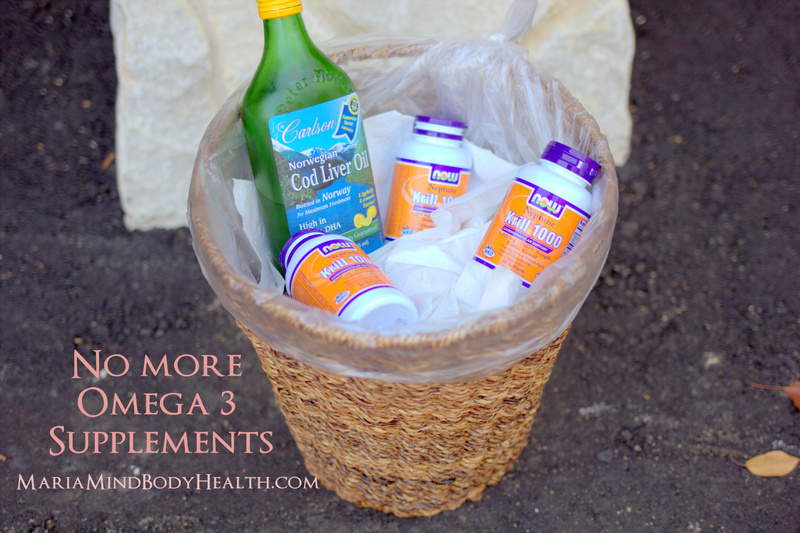 Omega-3's are Poly Unsaturated Fatty Acids (PUFA's) and become oxidized easily. Oxidation causes inflammation in the body which is the source of many health issues. Through a lot of research I have come to the conclusion (and this is new and going to be a big shift in the health community) that the PUFAs EPA and even more so DHA are oxidized at room temperature and in the body. So in supplement form, there is a lot of oxidation prior do ingestion (and after) which causes inflammation.  HERE is one of many sources for this data.

The Complicated Liver Conundrum!

Too much fish oil/DHA can cause elevated liver enzymes.

Also, elevated liver enzymes don't necessarily mean there is a problem with your liver. It may actually be functioning better than it used to, which means it will be more productive.

Also, if you are losing weight, the toxins from the fat being burned will have to be dealt with, so that too will make your liver work harder.
The best way to think about this is that PUFA's are very unstable and are easily oxidized by heat, sunlight, in the body, etc.  So this means that when you consume them you want to get the freshest possible source, cook it as little as needed (raw is best) and only get what your body needs.  If you eat excessive amounts, the extra will be in your body longer exposing it to more oxidative damage which causes more inflammation. This is why I no longer recommend fish oil supplements.  There is too much oxidation occurring prior to ingestion and the high doses result in more oxidation in the body.
So how do we determine how much Omega-3 we need in our diets from food sources?  It depends on how much omega-6 we are consuming.  As you may know the standard American diet is way too high in omega-6 oils (vegetable oils, soybean oils, corn oils, margarines, etc) and not high enough in omega-3's.  We want to have about a 1:1 ratio of omega-6 to omega-3 but most Americans today get 20:1 or even 40:1. So the typical American diet has (based on 2,000 calories a day) 9% of calories coming from omega-6.  To match this with omega-3s you would have to increase your omega-3 intake to about 11 ounces of oily fish a day!
But the body doesn't really need that much omega-3 and 6 and as stated above, the extra becomes oxidized. So a much better strategy is to greatly lower your omega-6 intake and then match it with omega-3.  If you follow my blog and this lifestyle, you are going well with this already.  Eliminating processed foods, fast foods cooked in vegetable oils, corn oils and soybean oils.  So if you limit this to just the sources is a lifestyle like I advocate you are looking at an omega-6 intake much closer to 2% of calories.  To match this with omega-3 you would need to eat about 4 ounces or oily fish 2 times a week.  This will give your body more than enough omega-3 and 6 than it needs and keep your consumption of PUFA's low so there is as little oxidation as possible. In reality, you don't even need that much fish as there are many sources of omega-3 already in your diet (discussed below).  Meats, eggs, avocados, herbs and spices.
Four big takeaways:
1.  Ditch the omega-3 supplements (Krill oil, Fish oil, Cod liver oil, etc). You can easily get enough omega-3 from food sources.  More is not better as your body needs very little for proper function and any extra will be oxidized and cause inflammation.
2. Keep omega-6 intake as low as possible.  Shoot for 2% of calories or less.
3.  Match omega-6 with omega-3 from very fresh, lightly cooked (raw is best) foods.  In this case about two 4 ounce serving of oily fish a week (about 6000mg of omega-3 a week).
4.  Get your fats from stable sources high in Saturated Fatty Acids (SFAs). With this lifestyle fat is your fuel and you want to most stable, most readily available source of fuel and that is SFAs.
Good Fats
Saturated fats like coconut oil, butter, ghee, tallow and lard are protective against oxidation and inflammation and have many other important health benefits.  Remember that when keto adapted, fat is your fuel source. You need lots of healthy fats to burn as fuel. But you want them to be stable fats (not unstable PUFA oils) so look for the highest in Saturated fats (SFA). When it comes to looking for oils to include in this high fat lifestyle, the higher the stable saturated fat content the better.  Here are the best oils:
Coconut oil: 1.9%  PUFA (92% saturated fatty acids (SFA)

Palm kernel oil: 2% PUFA, (82% SFA)

Cocoa Butter: 3%  PUFA (60% SFA)

Beef Tallow: 3.1%  PUFA (49.8% SFA)

Ghee: 4% PUFA (48% SFA)

Butter: 3.4% PUFA (50% SFA)

Lard: 12% PUFA (with 41% SFA)

Duck fat: 13% PUFA (with 25% SFA)

Macadamia oil: 10% PUFA (15% SFA)

Avocado oil: 10% PUFA (11% SFA)

High Oleic Sunflower oil: 9% PUFA (8% SFA)

Hazelnut Oil: 14% PUFA (with 10% SFA)

Almond oil: 17% PUFA (with 8.2% SFA)

Olive oil: 9.9% PUFA (with 14% saturated fat) (although this one should never be used for cooking which will cause oxidation.  So only use in dressings, etc.)
Bad Fats
There are two kinds of fats that should be avoided.  The most inflammatory fat is Trans Fatty Acids (transfat). Transfats are one of the worst substances we can consume for our overall health.  There are many studies that show the heart disease and cancer risks of transfat (source, source, and many more for cancer,source and source).  Here is a list of transfats to avoid at all cost:
Margarine

Vegetable Shortening

Ingredients that list Hydrogenated (fully or partially) Oils
Poly Unsaturated Fatty Acids (PUFA's) are should also be limited as they are easily oxidated.  There are many PUFA oils and here is a short list:
Grapeseed oil: 70.6% PUFA

Sunflower oil: 68% PUFA

Flax oil: 66% PUFA

Safflower oil: 65% PUFA

Soybean Oil: 58% PUFA

Corn oil: 54.6% PUFA

Walnut oil: 53.9% PUFA

Cottonseed oil: 52.4% PUFA

Vegetable oil (soybean oil): 51.4% PUFA

Sesame oil: 42% PUFA

Peanut oil: 33.4% PUFA

Canola oil: 19% PUFA
What has happened over the last 100 years is a huge increase in PUFA consumption and a reduction in other good fats (like saturated fat).  Here is a chart showing the increase in PUFA consumption in the US.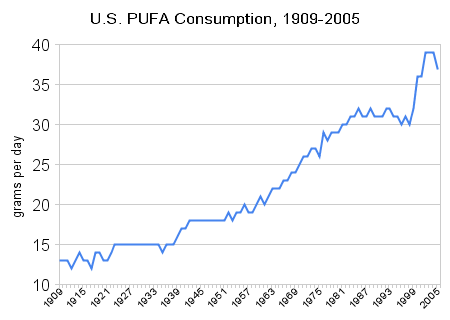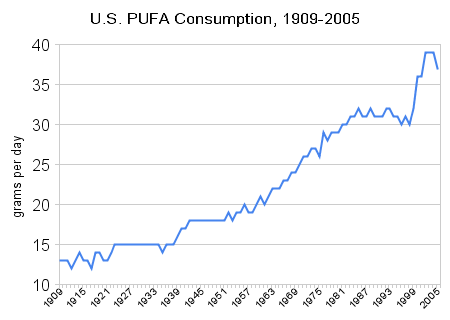 So stick with what the most stable fuel source for our body (Saturated fats) and limit the PUFA consumption.
My top choices for healthy consumption of Omega 3's are:
These are all listed in mg of omega-3 per ounce.  Obviously some are much easier to eat an ounce of than other but it gives a relative measurement of the density of omega-3 in each food.
1. Smoked salmon. 585mg per ounce omega-3. 48mg omega-6.
Click HERE to find a great recipe.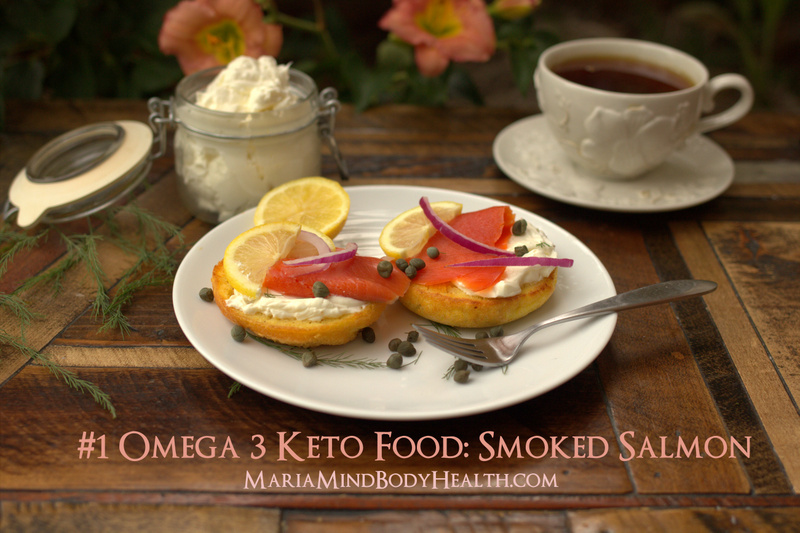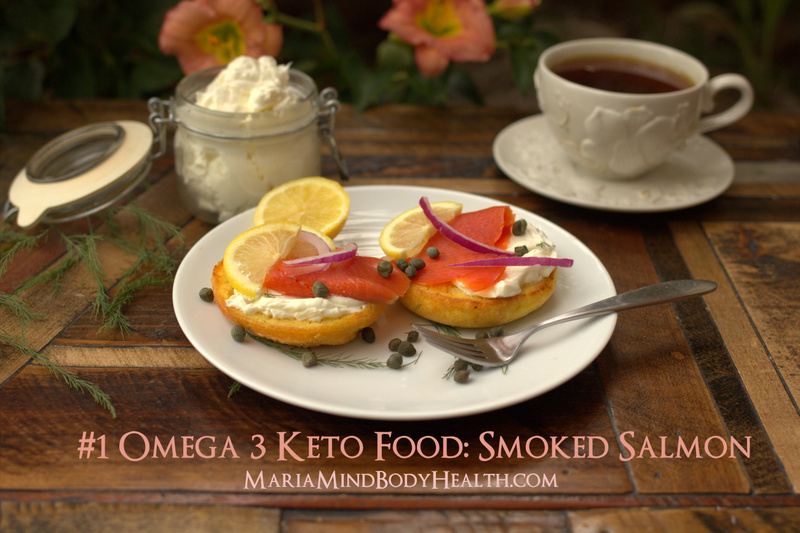 2. Sardines.  414mg per ounce of omega-3. 992mg omega-6.
Click HERE to find a great salad dressing with Sardines.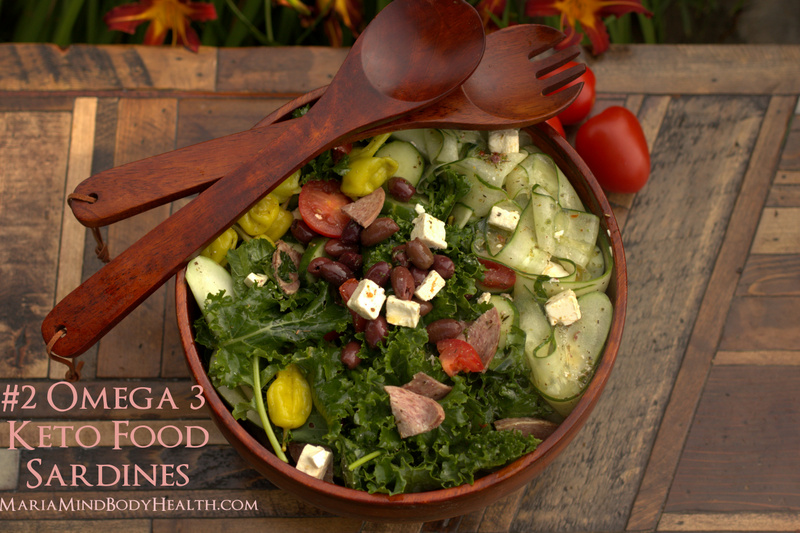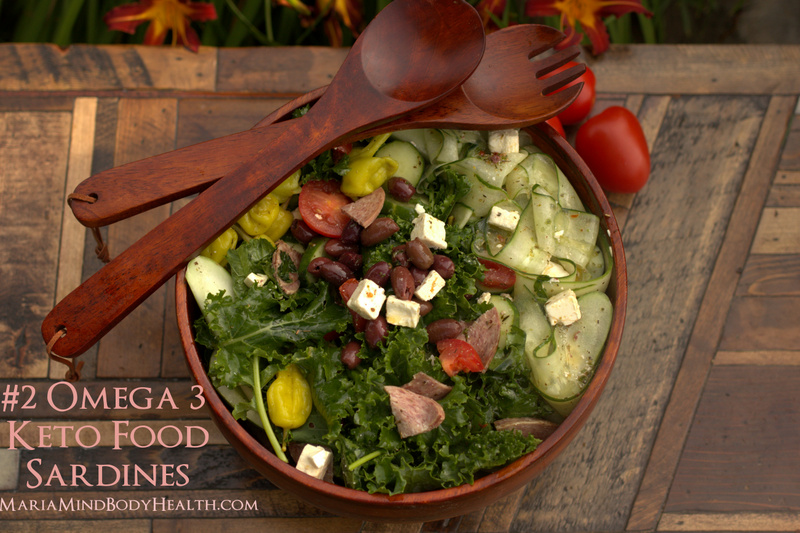 3. Fish broth.
Click HERE to find a broth recipe.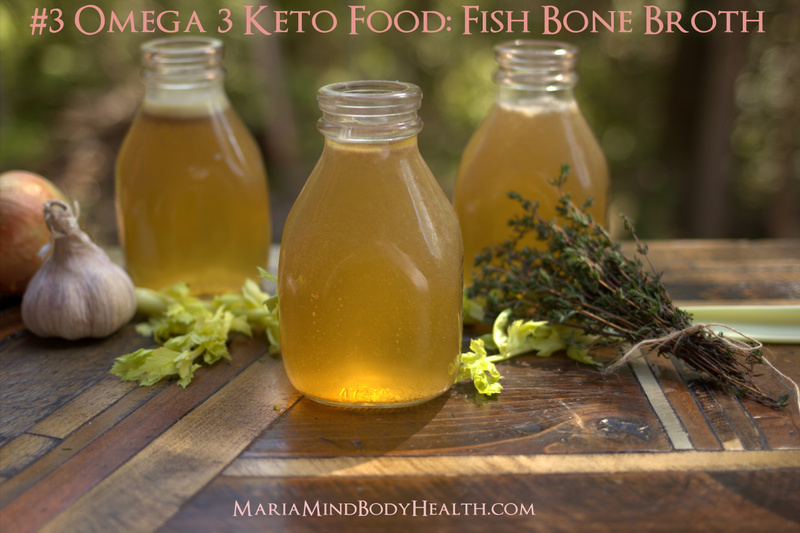 4. Basil. Even I underestimated the power of herbs when I think of Omega 3's.  88mg per ounce of omega-3. 20mg omega-6.
Click HERE to find a tasty recipe filled with basil.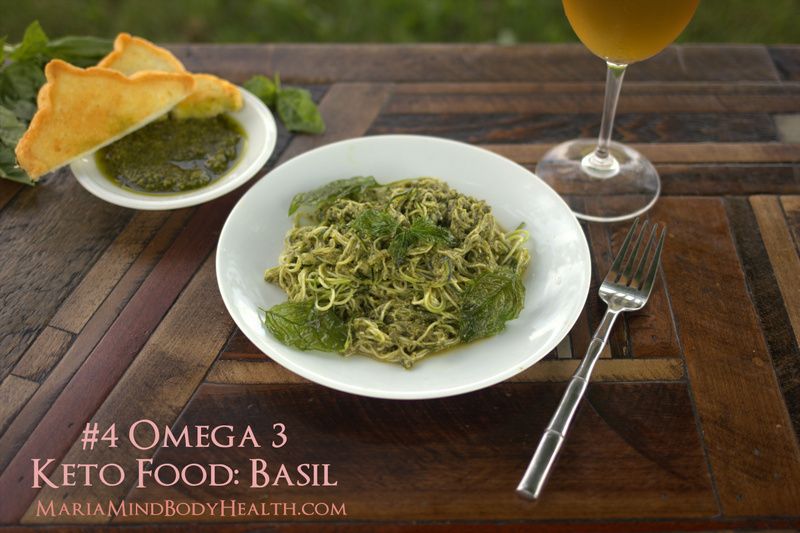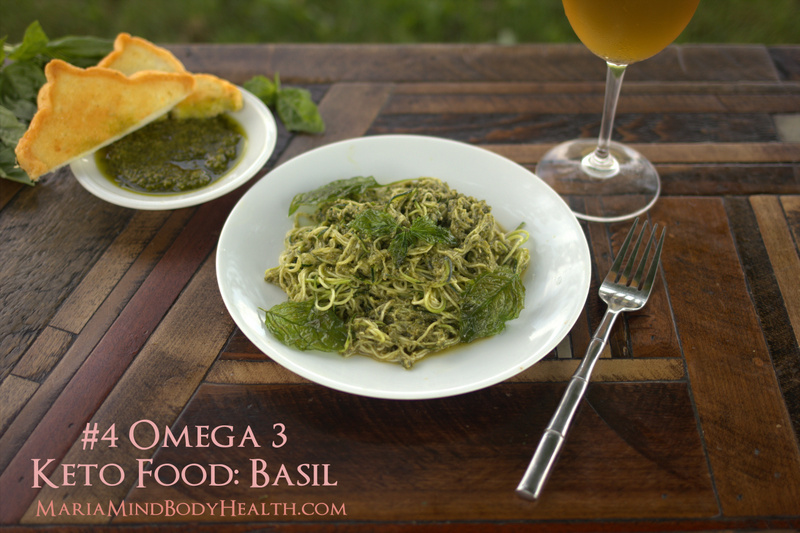 5. Oregano. 1170mg per ounce of omega-3. 294mg omega-6.
Click HERE to find a family favorite keto recipe in my book Keto Adapted (Spaghetti Bolognese) filled with oregano.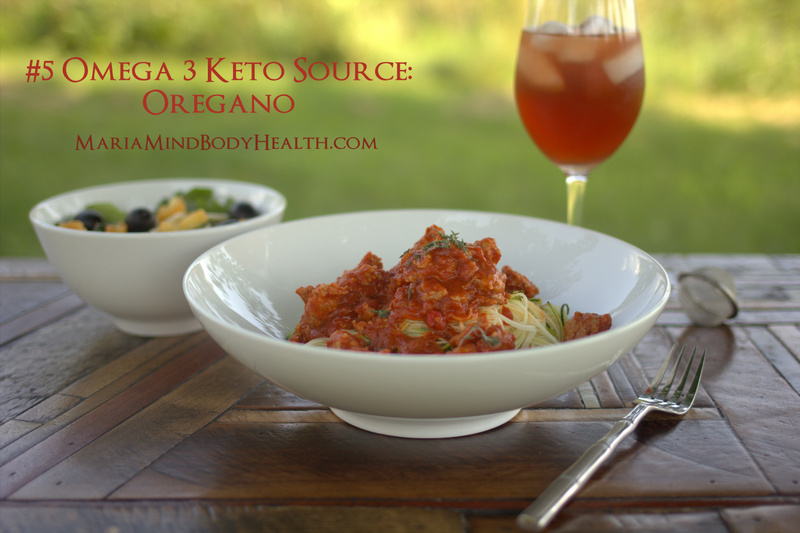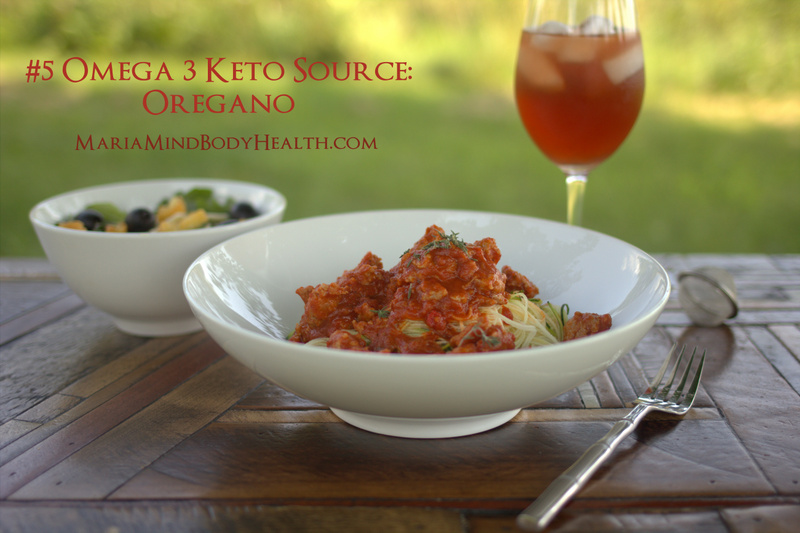 6. Cloves. 1198mg per ounce of omega-3.  724mg omega-6.
Click HERE to find a mouth-watering recipe filled with clove.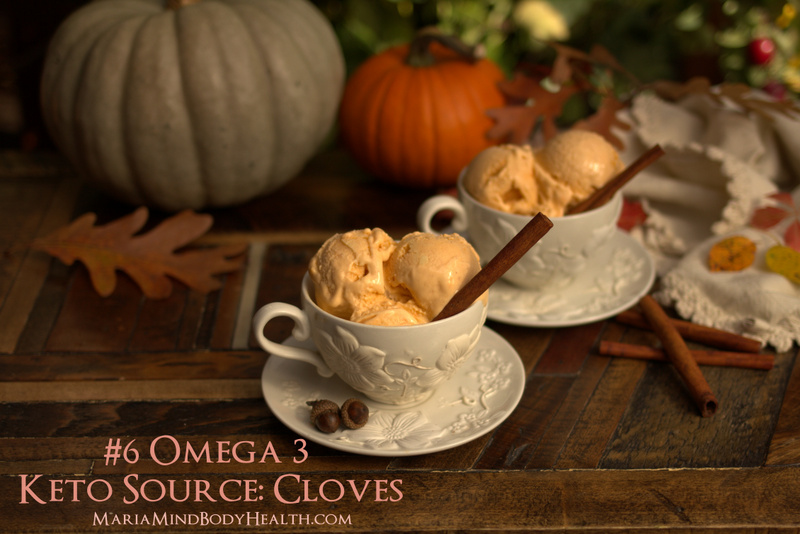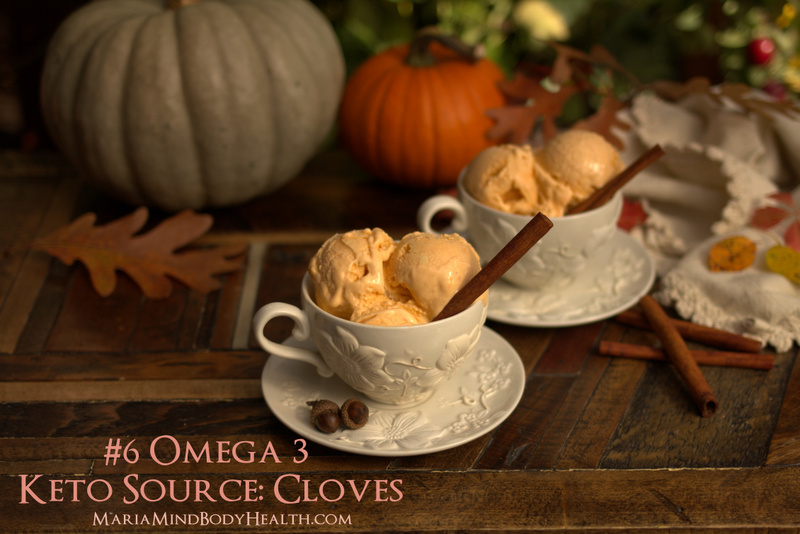 7. Marjoram. 905mg per ounce of omega-3. 329mg omega-6.
Click HERE to find an easy recipe to incorporate marjoram.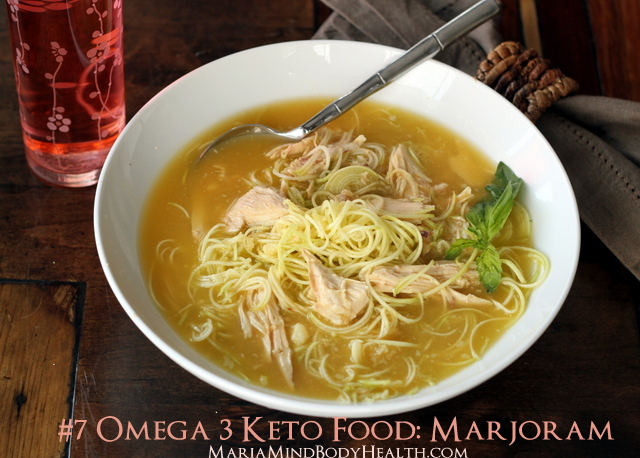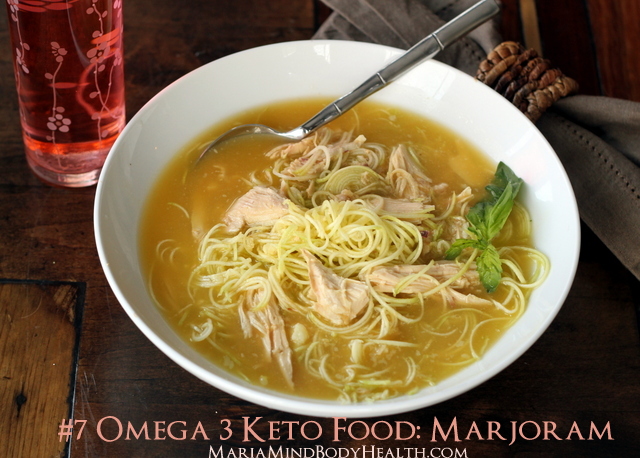 8. Anchovy. 414mg per ounce of omega-3. 27mg omega-6.
Click HERE to find a great way to hide anchovy into your diet!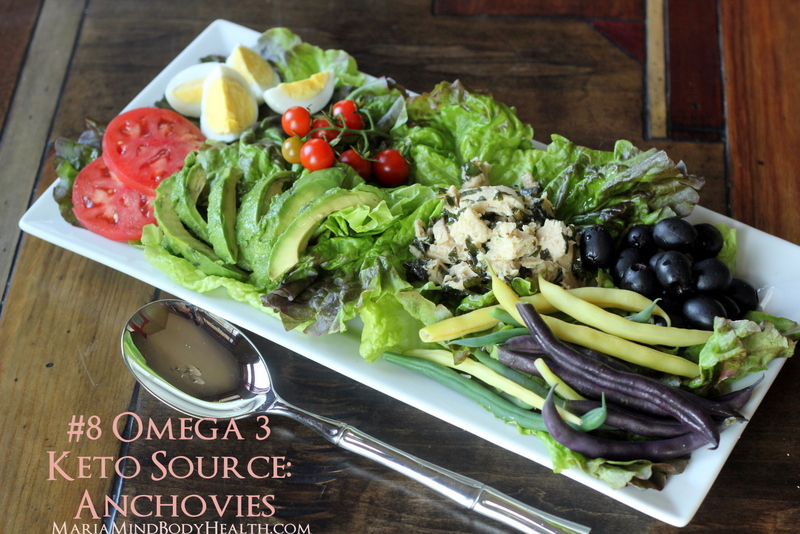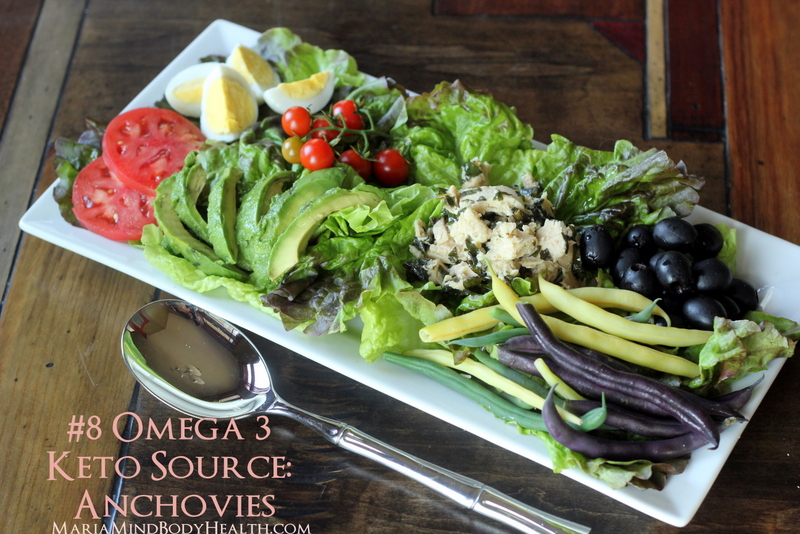 9. Grass-fed Beef! 24mg per ounce of omega-3. 120mg omega-6. (and 1500mg saturated fat)
Click HERE to find my favorite beef recipe.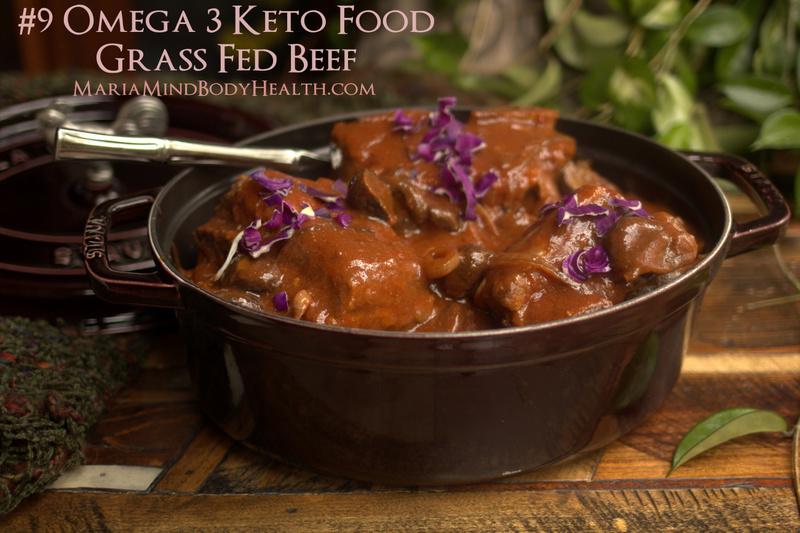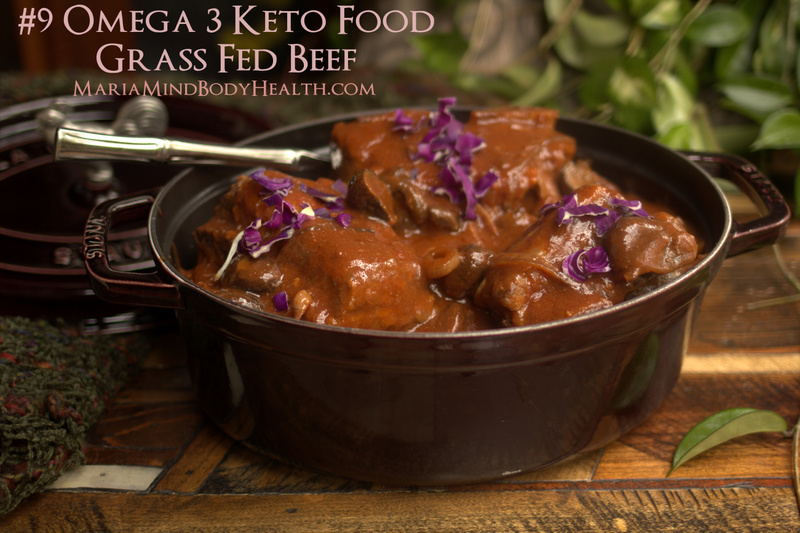 10. Quality Egg Yolks. 64mg per ounce of omega-3. 991mg omega-6. (and 2700mg saturated fat)
Click HERE to find the way I start my day with yolks!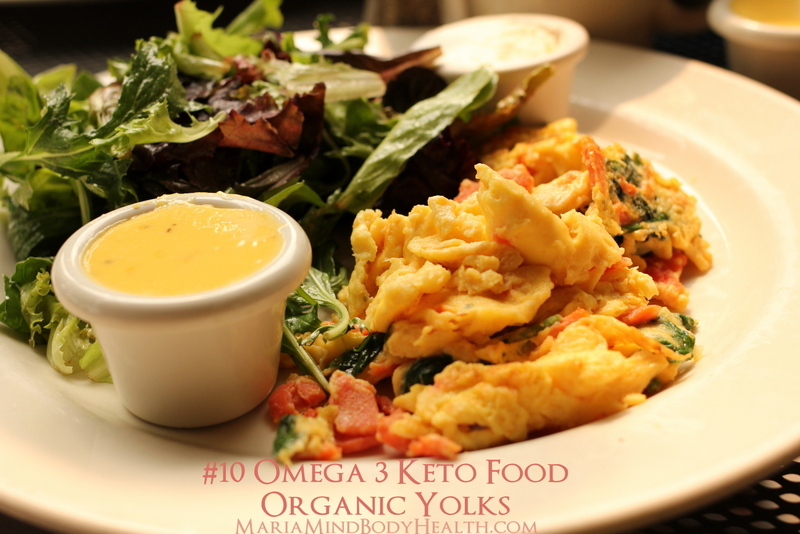 11. Mackerel  and other oily fish (salmon, tuna or trout!). 748mg per ounce of omega-3. 61mg omega-6.
Click HERE to find a tasty tuna recipe.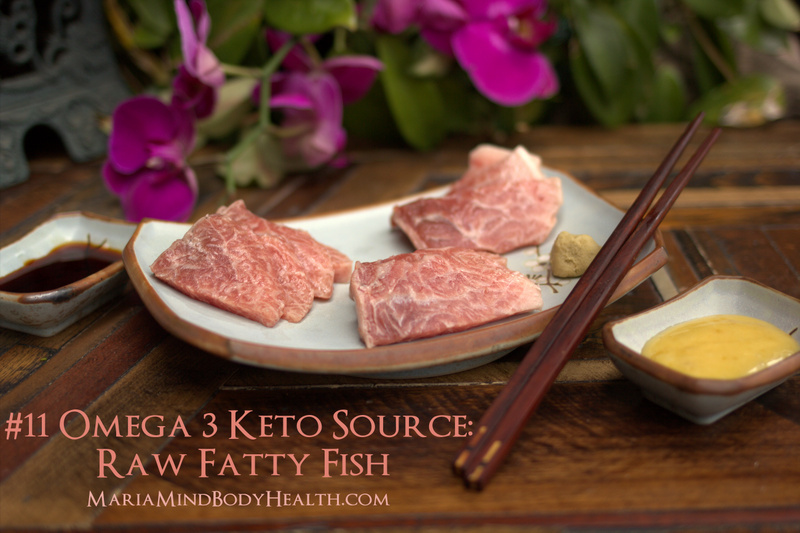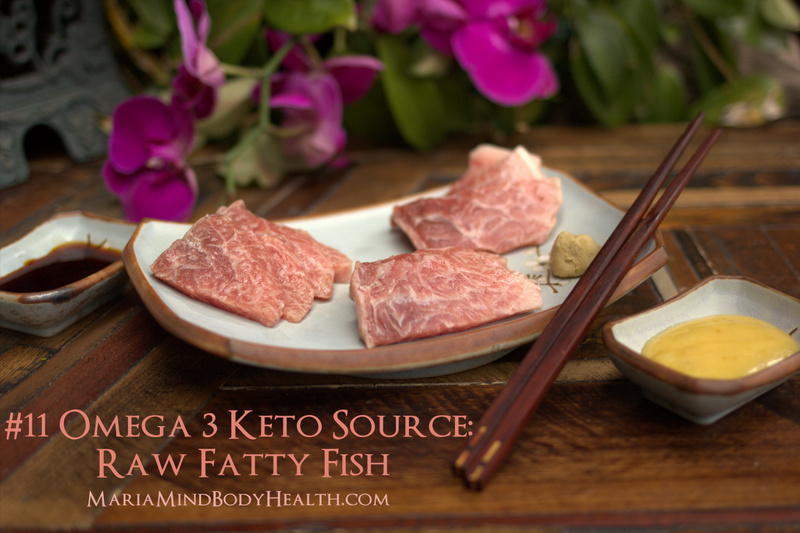 12.
  Ham. 50mg per ounce omega-3. 303mg omega-6. (and 1000mg saturated fat)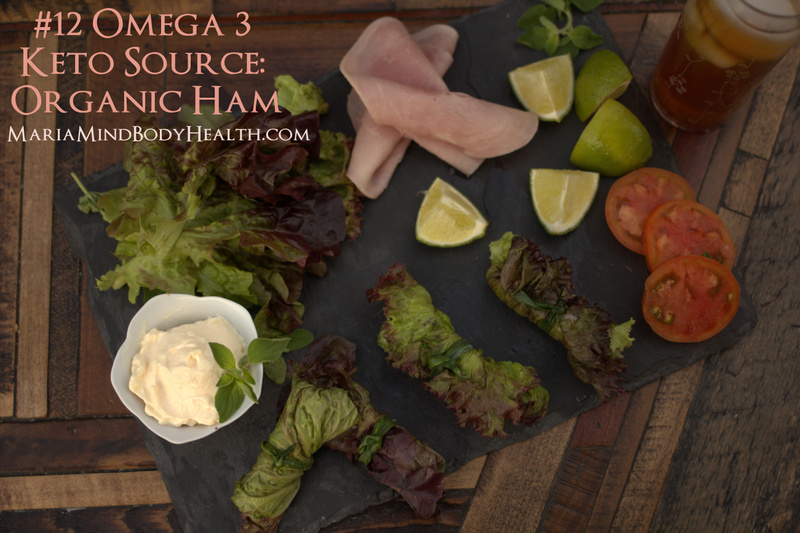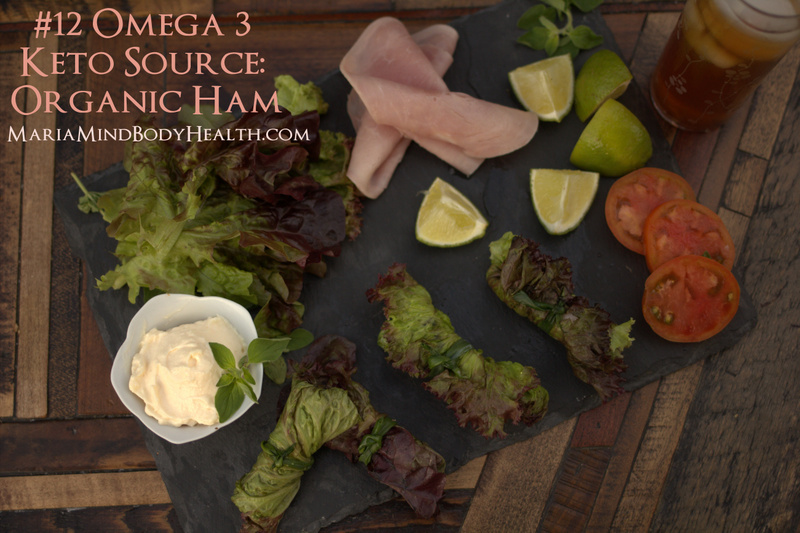 13.
Spinach. 21mg per ounce of omega-3. 158mg omega-6.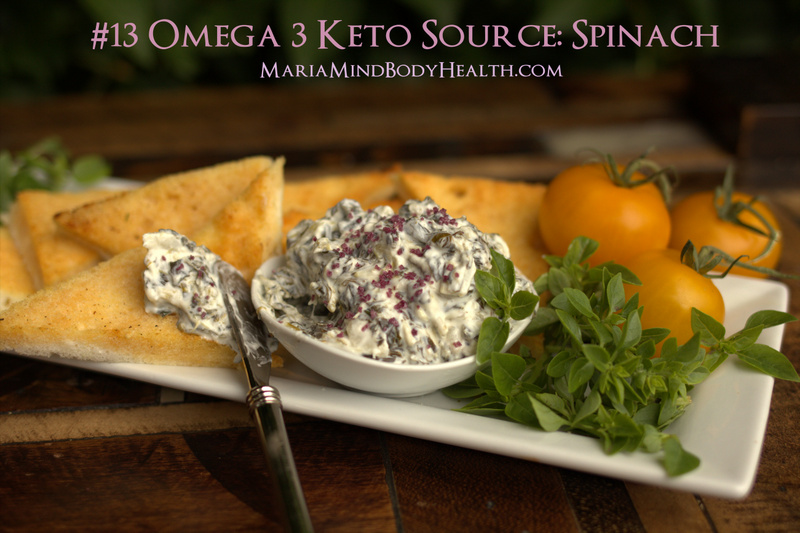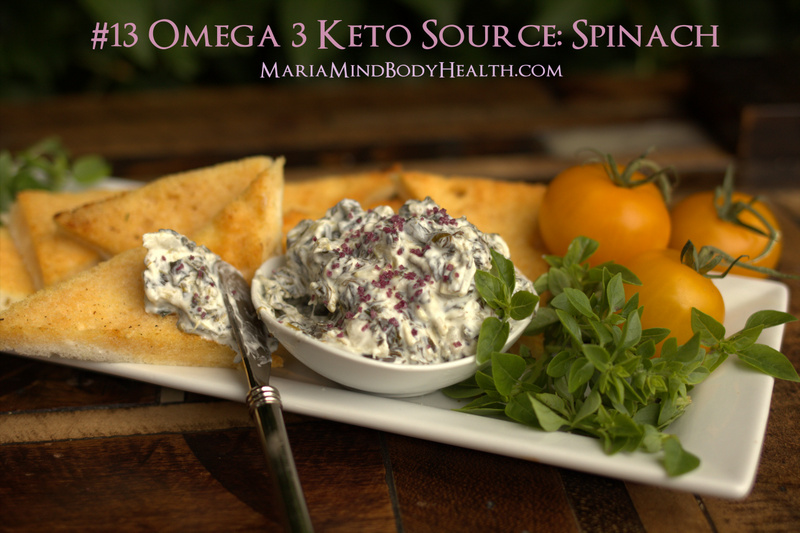 14.
Organic Grass-Fed Butter:
 25mg per ounce of omega-3. 25mg omega-6. (and 14400mg saturated fat)