Low Carb Bisquick
Bisquick Facts
Bisquick is a common staple in many of my client's cupboards. It seems harmless, but look at the ingredients… so is there such a thing as "Low Carb Bisquick"…keep reading to find out.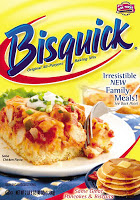 Bisquick ingredients: enriched flour bleached, partially hydrogenated soybean and/or cottonseed oil, leaving, dextrose, and salt.
Harvard scientists studied Trans-Fat (hydrogenated oils) vs. Saturated Fat. All they were studying was heart disease, they weren't even thinking about a weight gain issue.
•Group A and B consumed same calories and fat
–Group A = Trans-fat
–Group B = Saturated-fat
GUESS WHAT…Group A gained 3 times as much weight!!! A calorie isn't just a calorie!
Ok, so you have switched to using the "gluten free" Bisquick, how does that stack up? Well, at least it doesn't have hydrogentated oils in it!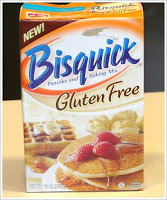 The ingredients for the Gluten-Free Bisquick are: Rice Flour, Sugar, Leavening (baking soda, sodium aluminum phosphate, monocalcium phosphate), Modified Potato Starch, Salt, Xanthan Gum
When I tell clients to eat "gluten free" they often grab all the "gluten-free" pre-packaged foods on the shelf…but that most likely will cause weight gain and slow the healing process in your gut. Rice flour, the common flour substitute in gluten-free products, is higher in calories, higher in carbohydrates, and lower in nutrients than regular flour. It can cause more inflammation in our body. So my recommendation is to use make your own healthier options by using almond flour and coconut flour, which are very easy to digest. The healthy fats in nuts actually are nourishing to our brain. To see charts on "Alternative Flours" and how to transition to use them into your baked goods, check out my cookbooks. You can click HERE to find them on sale!
GLUTEN-FREE "BISQUICK"
2 1/2 cup blanched almond flour
1/3 cup unflavored protein powder (whey or egg white)
2 TBS aluminum free baking powder
1 tsp cream of tartar
2 TBS Swerve (or a drop of stevia glycerite)
1 tsp Celtic sea salt
1/2 cup coconut oil or butter
In a large bowl, mix all dry ingredients together until very well combined. Cut in the coconut oil or butter until it looks like coarse meal. Store in air tight container. I keep mine in the freezer to use for easy baking options.
NUTRITIONAL COMPARISON (per 1/3 cup serving)
Traditional Bisquick = 186 calories, 8.4g fat (TRANS FAT), 5g protein, 24.7 carbs, 0g fiber
"Gluten Free" Bisquick without butter added = 140 calories, 1g fat, 2g protein, 31 carbs, 0g fiber
"Healthified" Bisquick without butter added = 150 calories, 11g fat, 7g protein, 5g carbs, 2.5g fiber
TESTIMONY OF THE DAY
Photo Testimony: ""Here is a before photo of me Jan 2014 and Sep 2014. I used your recipes majority of the time 85%Keto/15% Non, and despite this I saw lots of changes. An increase in energy, less joint pain, when sticking almost 100% to your meals, my psoriasis was barely visible on my scalp not to mention weight loss. I have fallen off the band wagon the last few months and am starting to get back on board. Thank you so much for your valuable information that has been a guide for health, energy and good food." – Annie
If you want to get started on a path to health and healing, click HERE. You will not regret it!