Keto Peanut Butter Cup Protein Chaffles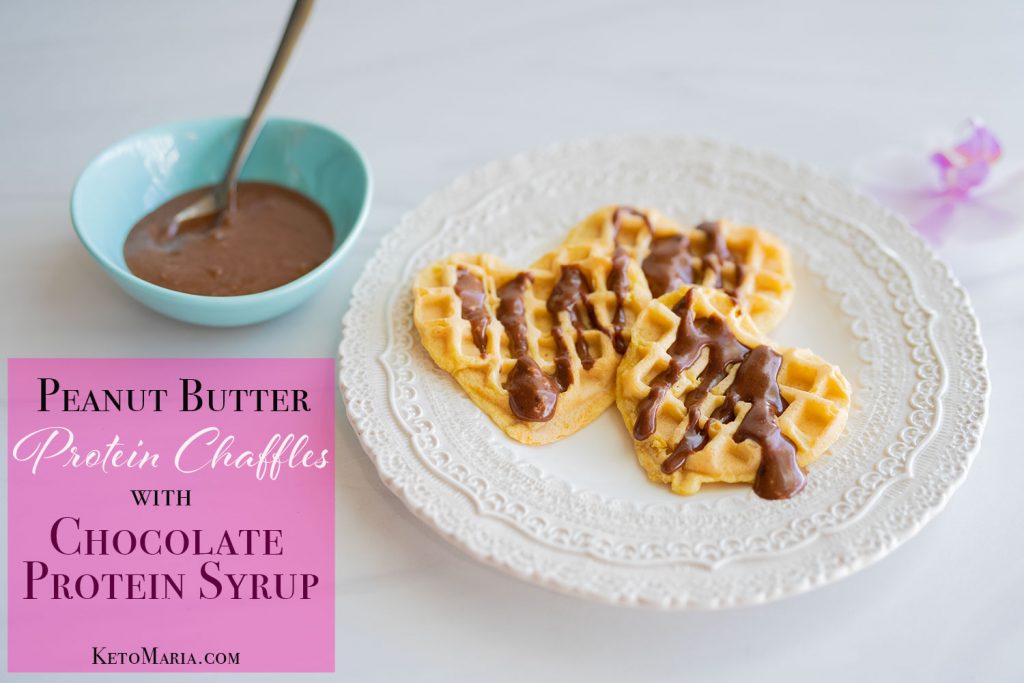 If you love Reeces Peanut Butter cups, you must try my peanut butter protein chaffles with chocolate protein syrup!
These cute mini waffles will knock your socks off!

HOW TO MAKE KETO PEANUT BUTTER CUP CHAFFLES
My peanut butter cup protein chaffles are not only awesome for all of you, but for your children! If you have children that are picky eaters and do not eat enough protein, make them these protein packed peanut butter chaffles! Better yet, have your children make them!
Yes, these chaffles are so easy, your children can make them! Kids are more likely to eat something new if they make it!
These easy protein chaffles are only 4 ingredients; eggs, gelatin, Equip protein powder and baking powder!
Equip Prime Protein powder is my favorite protein powder because it is dairy free and it is made from beef which is the most nutrient-dense food! I also love it because it tastes AMAZING! I am addicted to the strawberry!
Equip is so generous, they are offering 15% off when you use code MARIA!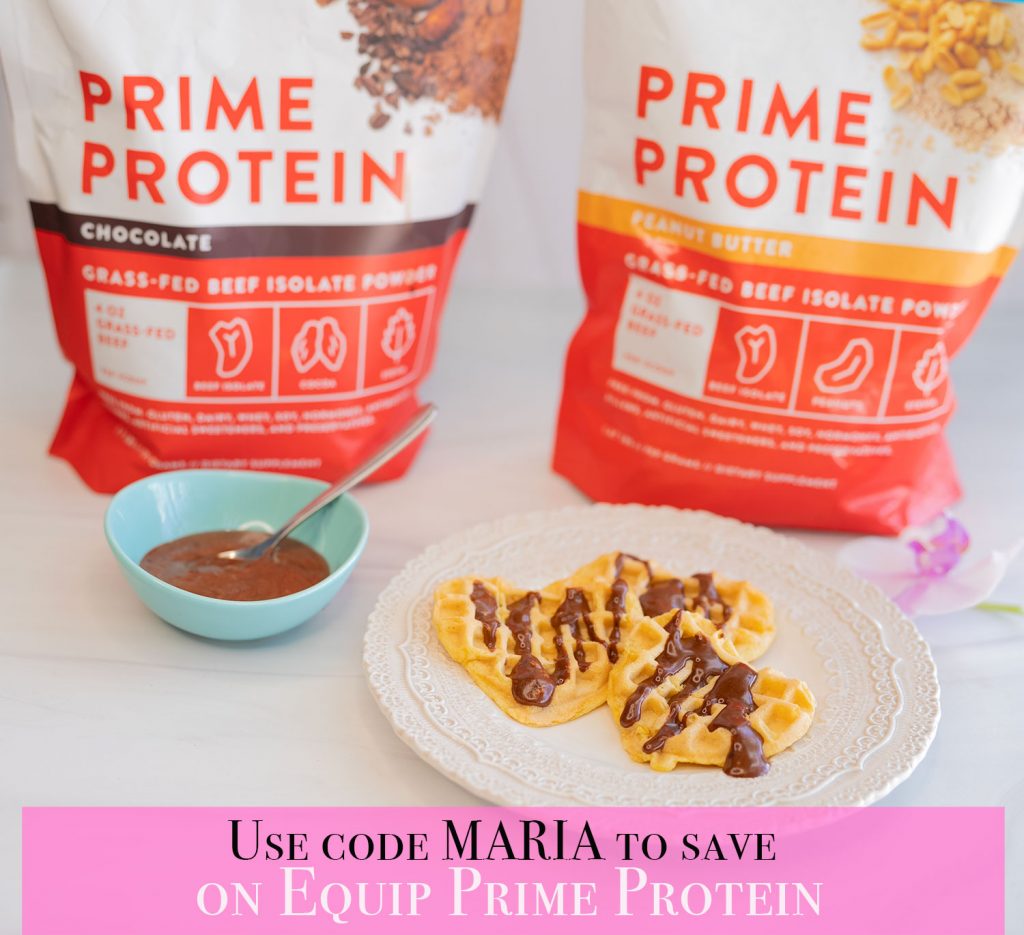 Keto Peanut Butter Cup Protein Chaffles
Equipment
Ingredients
CHOCOLATE PROTEIN SYRUP
1

tablespoon

cream cheese

softened (or Kite Hill cream cheese for dairy free)

1/2

scoop

Chocolate Equip Protein Powder

3

tablespoons

unsweetened coconut milk

(or heavy cream or almond milk)

1/4

teaspoon

stevia glycerite

(or equivalent)
Instructions
Place the eggs, peanut butter Equip, gelatin, and baking powder in a medium bowl. Use a hand mixer on high to combine until light and fluffy.

Grease the chaffle maker with avocado oil spray and place 2 tablespoons of batter into the chaffle maker. Close and allow to cook for 2 minutes or until cooked through and slightly crispy. Remove chaffle and repeat with remaining batter.

Meanwhile make the chocolate protein syrup by placing the softened cream cheese into a small bowl. Use a fork to loosen the cream cheese. Add the chocolate Equip and stir well to make a paste. Slowly add in the unsweetened coconut milk and stir well to combine. Add stevia glycerite and stir well. Taste and adjust sweetness to your liking.

Place the chaffles onto a plate and drizzle with chocolate protein syrup.

Store extras in an airtight container in the fridge for up to 3 days. Can be frozen for up to a month. To reheat, place into a 350 degree F oven (or a warm chaffle maker) for 2 minutes or until heated through.
Video
Nutrition
Calories:
431
|
Fat:
20
g
|
Protein:
52
g
|
Carbohydrates:
6.5
g
|
Fiber:
1.5
g
|
P:E Ratio:
2.1
TESTIMONY OF THE DAY
"Thank you Maria! Today marks one year exactly of deciding to make a change!!

I've lost 85 pounds, have no more swelling in my ankles, no more pain in my knees or back (I used to be in pain when I laid down at night, and woke up in pain in the morning), I can breathe when I lay down because my chest and neck aren't suffocating me!

I have the energy and mood stability to be a great single mom to my three kids who are now 8, 6 and 4, I get out kayaking for fun, just finished a five day cycling trip, and am entered in my first Spartan obstacle race, all while maintaining a 3.85 GPA in my post secondary courses!

The scale doesn't even matter anymore, because I'm finally living the life I want! I'm happy to get up every day and just live!

Maria and Craig  Emmerich certainly understand how our bodies work best and I am eternally grateful that I started with them rather than all the crazy ways others try to "do keto".

I can't wait to see where I am at in another year!!" – Stephanie
Most people I consult are doing keto totally wrong. Get fast results with the my Mind-blowing Keto School!