Keto No Bake Cheesecake Brownies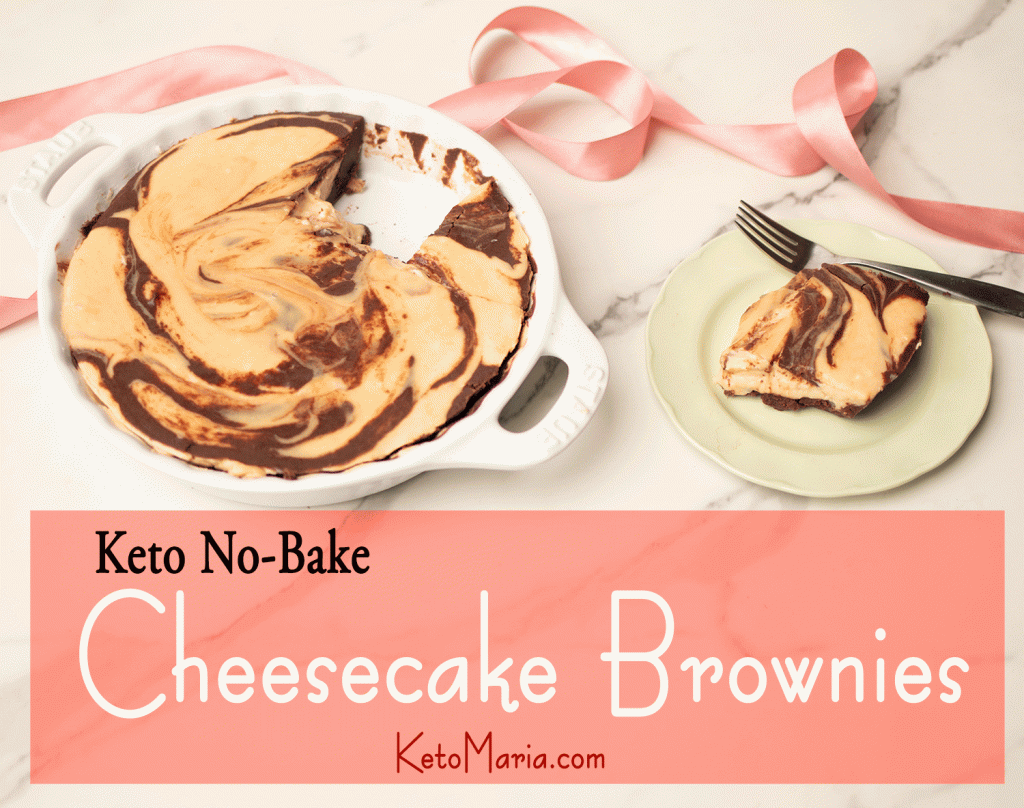 Oh my word my friends! I just made the most delicious easy no bake dessert that will blow your mind!
My cheesecake brownies are gluten free, sugar free, egg free and you can make them dairy free if needed! Plus they are packed with protein!

HOW TO MAKE KETO NO-BAKE CHEESECAKE BROWNIES
To make my no-bake cheesecake brownies, I used Equip Prime Protein! The vanilla protein keeps the np-bake cheesecake layer together so do not skip this ingredient or you will have a runny cheesecake layer! The Equip also gives the cheesecake layer a delicious flavor!
Some of you know that I pack Equip Prime Protein powder in my carry on when I travel! I am in LOVE with it! But at the airport when I was on my way to speak in Baltimore, the security thought my little ziplock with powder in it looked "fishy." So they had to test it! lol!
Equip Prime Protein powder is an all-natural, comes from 100% grass-fed beef protein powder. No fillers, no additives, no chemicals and it is so delicious! It works perfect for making my no-bake cheesecake brownies!
Use code MARIA to save!
Happy Shopping and THANK YOU for all your support!!!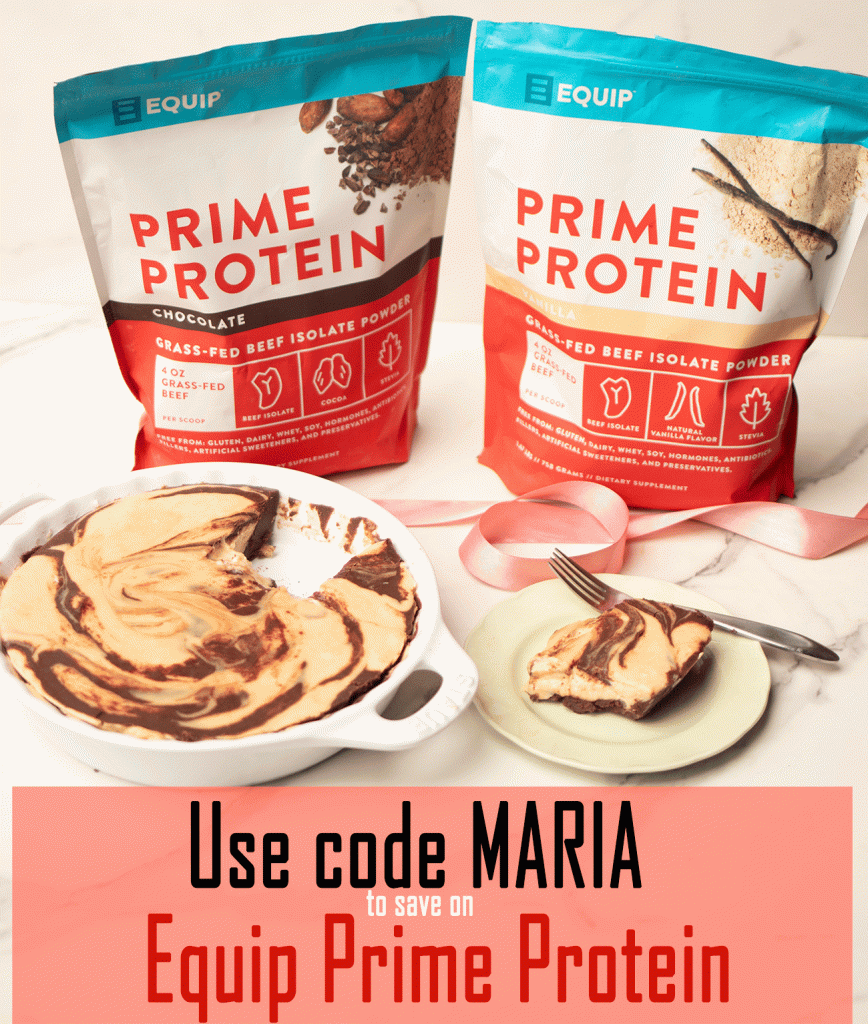 Keto No Bake Cheesecake Brownies
Ingredients
BROWNIE LAYER:
1

ounce

unsweetened baking chocolate

6

tablespoons

butter

or butter flavored coconut oil

3

tablespoons

powdered natural sweetener

(I used allulose and 1/2 teaspoon stevia glycerite)

1

scoop

Chocolate Equip Protein Powder
CHEESECAKE LAYER:
16

ounces

cream cheese

softened (or kite hill cream cheese for dairy free)

6

tablespoons

powdered natural sweetener

(I used allulose and 1 teaspoon stevia glycerite)

6

scoops

Vanilla Equip Protein Powder
Instructions
To make the brownie layer, place the chopped chocolate and butter into a medium bowl. Heat in the microwave at 20 second increments and stirring in between until the chocolate is completely melted.

Add the sweetener and prime protein. Use a hand mixer to combine until smooth. Taste and adjust sweetness to your liking. Pour into a parchment lined 8 by 8 inch casserole dish. Set in the fridge while you make the cheesecake swirl. 

Place the cream cheese, sweetener, protein powder and vanilla in a large bowl and use a hand mixer to combine until smooth. Taste and adjust sweetness to your liking.

Pour over the brownie layer and use a knife to make swirls into the brownie layer. 

Place in fridge for 4 hours to set. Cut into 24 squares. Store extras in an airtight container in the fridge for up to 7 days.
Nutrition
Calories:
241
|
Fat:
19
g
|
Protein:
11.5
g
|
Carbohydrates:
3.4
g
|
Fiber:
0.3
g
|
P:E Ratio:
0.5
TESTIMONY OF THE DAY
"I found Maria many years ago when I completed The 30 Day Ketogenic Cleanse. Little did I know I was preparing for my daughter. Back in August she started to complain about stomach pains, which I blamed on being nervous of the new school year. Fast forward to the end of September and it was blatantly obvious there was something wrong.

As a former failure to thrive infant, I was grateful she was growing, even though I knew she was overweight. After several rounds of blood work, ultra sounds, x-rays and specialists (which we are still seeing to make sure she doesn't have anything autoimmune), she was diagnosed with a severely inflamed liver and fatty liver. After reading on the disease, I realized that going dairy free, and "clean" keto/low carb, would be her best bet.

So, we've been making Maria's recipes from her Sugar-free cookbook and she's down almost 20lbs and feeling a 10000000% better (the before photo was taken 3 months ago). She was almost into a girls 14/16, but is now a size 8/10.  Our new way of eating has made her feel so much better than she now packs her lunch for school and helps me plan our meals for the week.

I'm so thankful to have found Maria many years ago! She will quickly tell you we aren't on a diet, we just have a new way of eating so our bellies don't hurt anymore.

Thank you so much.

Have a blessed day!" Stacey
Most people I consult are doing keto totally wrong. Get fast results with the my Mind-blowing Keto School!