Dairy Free No-Churn Ice Cream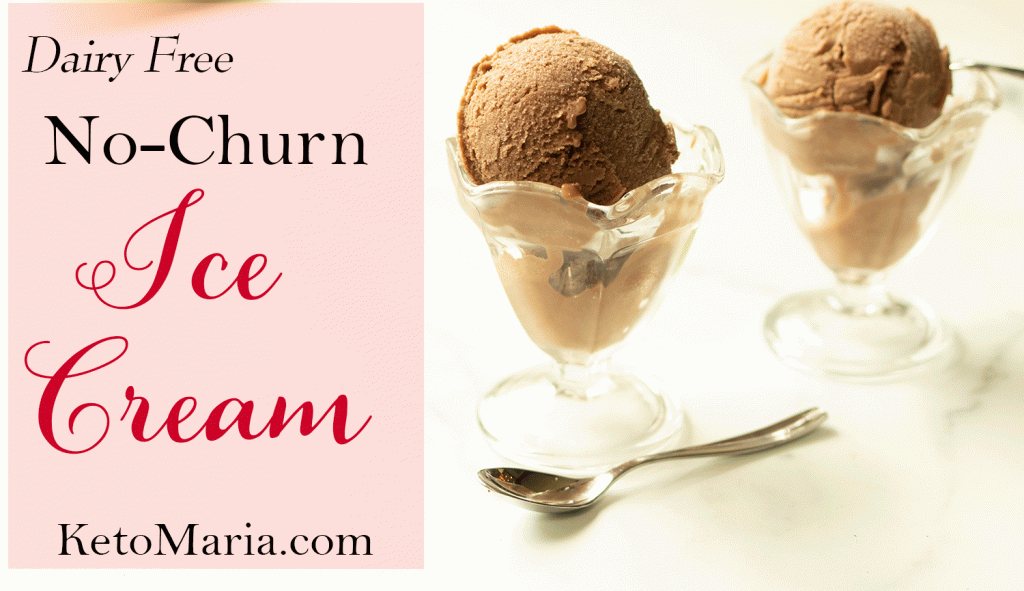 July is National Ice Cream month! As if I needed another reason to celebrate! Even if you do not have an ice cream maker, you can celebrate ice cream month with us!
The flavor of this dairy free no-churn keto ice cream reminds me of a Wendy's frosty! Especially if you use almond extract! It has a delicate chocolate flavor that is just so delicious!
Adding the Further Foods gelatin helps my dairy free no-churn ice cream stay soft. If you skip this, your ice cream will end up very hard.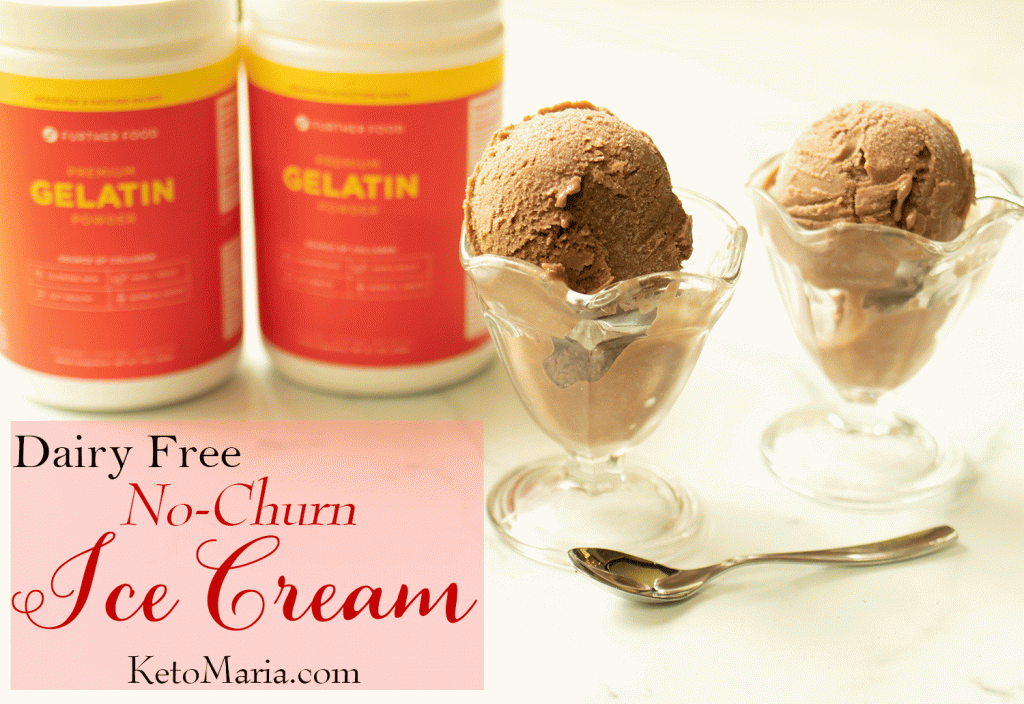 When I make my dairy free no-churn ice cream, I always use Further Food Gelatin! Further Foods gelatin and collagen peptides are both excellent sources of collagen. Both their Collagen & Gelatin are sourced from the highest quality, grass-fed, pasture-raised, hormone-free, and antibiotic free bovine collagen.
The benefits of collagen and gelatin are astounding! Just eating my delicious dairy free no-churn ice cream helps support skin elasticity & hydration, longer hair & nails, stronger bones & joints, faster recovery between workouts, increased flexibility, improved digestion, and it even keeps you feeling full and satiated for longer!
Further Food Collagen Peptides dissolve instantly in any recipe, and Gelatin Powder naturally thickens recipes. It's perfect for making dairy free ice cream, jello, sugar free gummies, cheesecake, or panna cotta!
Use code MARIAMINDBODY is for 20% off site-wide !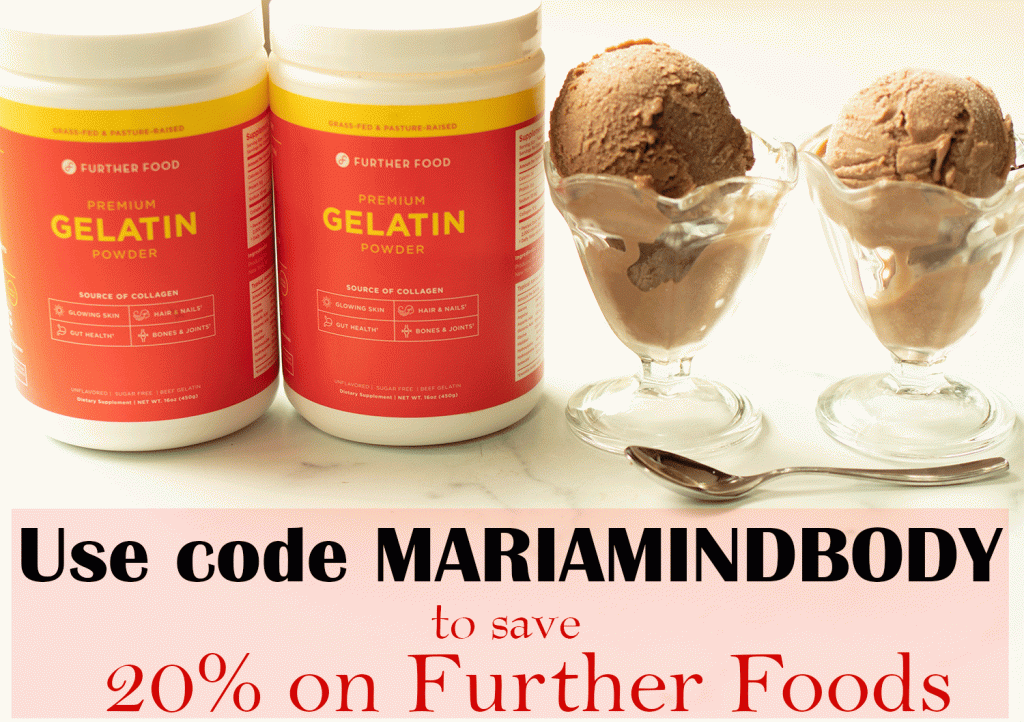 Dairy Free No-Churn Ice Cream
Ingredients
2

13.5 oz cans coconut cream, chilled

1

cup

unsweetened almond milk

or hemp milk if nut free

1/2

cup

powdered allulose

1 1/2

tablespoons

unsweetened cocoa powder

3/4

teaspoon

Further Food gelatin

1

teaspoon

almond extract

or vanilla

1/4

teaspoonRedmond Real salt
Instructions
Chill coconut cream and a large mixing bowl in the fridge for at least 30 minutes or overnight.

Place the almond milk into a sauce pot and sprinkle in the Further Foods gelatin. Whisk so there are no lumps.

Heat over medium high heat just until simmering (you also can heat it in the microwave until it comes to a simmer). Whisk well and set in the fridge to cool.

Once the almond milk mixture is cool, place the chilled coconut cream in the chilled mixing bowl and use a hand mixture to whip until fluffy. Slowly add in the almond milk mixture, sweetener, cocoa powder, extract and salt. Taste and adjust sweetness to your liking.

Place in freezer overnight to freeze.

NOTE: If ice cream is too hard, allow to sit at room temperature for 8 minutes before serving. Or try using allulose.
Nutrition
Calories:
406
|
Fat:
39
g
|
Protein:
1
g
|
Carbohydrates:
1
g
|
Fiber:
1
g
|
P:E Ratio:
0
TESTIMONY OF THE DAY
"Almost 20 years ago, I started following Maria Emmerich.
Being completely transparent, I did not take her advice seriously enough.
Fast forward ten years and my mental health spiraled out of control. I was drinking heavily and put on unhealthy pounds. My doctor suggested I try Zyprexa for anxiety and insomnia. This medication was absolutely detrimental to my health. I gained 40 pounds in 6 weeks and started having cholesterol issues. That was the final straw and decided to switch to a strict keto diet.
Since then, I have reduced my inflammation, lost the weight and my mental health is extremely manageable. It was NOT easy. As Maria often mentions, it's important to stay clear of alcohol and coffee. This was the best advice ever! This is the healthiest I have ever felt!!!
Thank you Craig and Maria Emmerich for all the advice and sacrifices you make to help others. I am so grateful to be able to heal myself with food instead of hormone patches that could potentially cause heart disease and cancer. I am now 52 enjoying my new keto lifestyle. Thank you " – Angie
Most people I consult are doing keto totally wrong. Get fast results with the my NEW Keto Packages!