Biggest Black Friday Keto-Adapted Sale EVER!!
We are having our biggest sale ever!! We have multiple sales going on from today until Cyber Monday! These are our biggest and best sales we have ever done.
Platinum Support Membership!
Our amazing Meal Planner tool is just one of the many great tools you get on our support website Keto-Adapted.com. With a Platinum membership you can get personal macro targets from us and then use this tool to quickly and easily make meal plans to meet your goals fast!
With a platinum membership you also can attend our weekly live webinars where Craig and I answer all your questions. You get this incredible recipe index too where you can search recipes from the website or my books to find specific needs (dairy free, egg free, etc) or a range of fat or protein grams. Check it out here:
From today through Cyber Monday you can get 25% off a full year of our platinum membership! Normally $395, you get it today for only $296! That is only $24.69 a month! And the best part is you get this price for as long as you keep the membership!
Just use Coupon Code: MBZ7RNY
ALL eBooks 25% off!!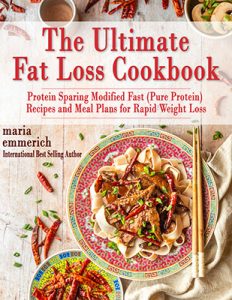 Every single one of our ebooks is on sale for 25% off too! Even our brand new "The Ultimate Fat Loss Cookbook" making it only $22!
You can print any of our ebooks if you like HERE. Giving you a great hard copy like Bella is showing you below.

Coupon: B8WT6TZP
Keto, Carnivore and PSMF packages are all 30% off!!
Last but not least all of our nutrition packages are 30% off! Our nutrition packages are packed with tons of educational videos, cooking instruction and technique videos, meal plans and most come with support memberships too!
My favorite package is the combination package that gives you the VIP keto package, the Protein Sparing Modified Fast package and the Carnivore package. This is over $1200 worth of content and support (you get 90 days platinum support with this package). It was already on sale for only $449 but today through Monday you can get it for only $314!!

You can also get our NEW Protein Sparing Modified Fast package (normally $225) for only $157! This package also includes several of our PSMF ebooks, our PSMF classes, and our best PSMF meal plans and grocery lists.

Just use Coupon Code: H9VPMU4B