WIN 6 Quart Instant Pot
Thank you for all of you who have posted photos of you with your Keto Instant Pot cookbook! They warm my heart and my boys love watching your stories on Instagram of making recipes that they helped taste test!
I received a call from my publisher that I broke a record on pre-orders! I even beat pre-orders from famous authors like Stephen King! I can't describe how grateful I am to all of you!!!!
To show my gratitude towards all of you I am giving away a brand new 6 quart Instant Pot!
Click HERE to find Keto Instant Pot cookbook!

ENTER TO WIN my favorite 6 Quart Instant Pot!
I am so grateful for all of you and your support that I am donating my favorite 6 quart Instant Pot! If you would like to win it is EASY to enter!
1. Follow me on Instagram @mariaemmerich and Facebook at KETO.
2. Share this post on your Instagram wall or Facebook wall and tag me!
3. Comment below on what your favorite recipe is from Keto Instant Pot cookbook!
4. BONUS POINTS: for posting a photo of you making your favorite recipe from KETO INSTANT POT book and tagging me on Facebook or Instagram!
Here is an example of an entry: "My boys love making my keto Blueberry Cereal from Keto Instant Pot!"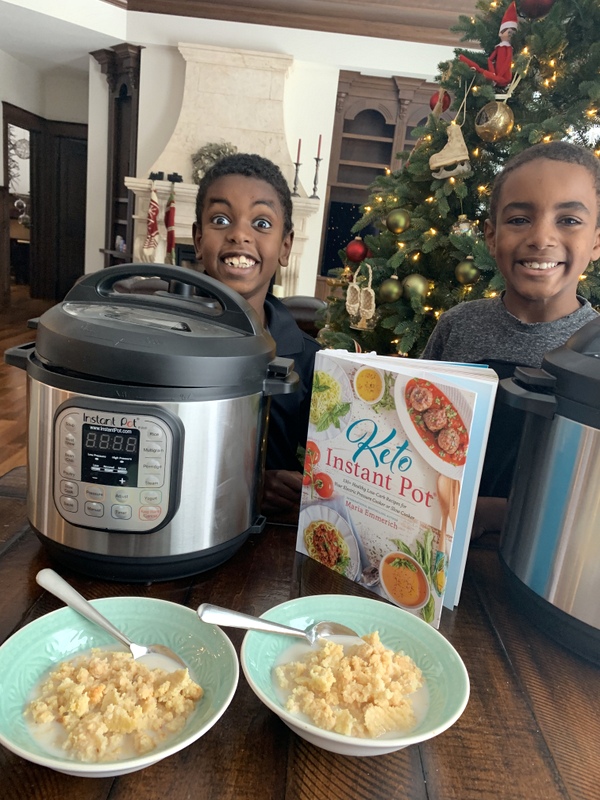 Winner will be chosen on January 13th. Good Luck!
AND OUR WINNER IS… Chris Kegg Swanson!! Congrats!!

Looking for a special way to use an Amazon gift-card?
My favorite Instant Pot is on SALE today! Click here to find!
And Keto Instant Pot Recipes cookbook is on SALE! Click here to find!
Keto Instant Pot Recipes cookbook has a ton recipes with BOTH Instant Pot directions AND slow cooker directions! I also started an Instagram account on my favorite Keto Instant Pot Recipes and giveaways called @KetoInstantPotRecipes where I post tips and tricks! 
Here is a little video to show you the inside of Keto Instant Pot Recipes book:
TESTIMONY OF THE DAY
"Hi Maria! I wanted to thank you for the inspiring talk that you gave at the Ann Arbor, MI book signing!  I've been grain free and sugar free for five and a half years.  I love your recipes!  I've lost 185 pounds from my high weight of 310 pounds but this year I started regaining a few pounds back.  I saw a quote my Dr. Ted Naiman this year about eating less dietary fat…light-bulb moment.  Found Marty Kendall's group…learned even more.  Then read a post from Craig about the new KETO: The Complete Guide to Success on the Ketogenic Diet book.  I quit smoking in June and that uncovered some food issues and trigger foods.  I am cutting dairy and nuts to see if that helps.  Thank you for giving me new direction on my lifelong journey to good health!
I had more than 17 but some took longer to resolve:
High blood pressure
Blood sugar issues
Rosacea
Sacroiliac Joint pain
Skin infections
Arthritis
Body odor (never would have guessed it was sugar causing my foot odor!)
Plantar fasciitis
Acid reflux
Sinus congestion
Headaches
Indigestion
Bloating
IBS
Asthma
Fatigue
Depression (I was at a very dark point in my life.  I didn't know what to do to help my situation.  Maybe that is why I was so open to change.  I am forever grateful.)
I remember after those first few days thinking that something was "wrong" with me because I couldn't hear any noise in my belly.  Then it dawned on me that my tummy was supposed to be quiet!! 🙂 Over the next few months I felt well enough to start physical therapy for my SI joint pain.  I worked very hard to correct my anterior pelvic tilt, bad posture and muscle imbalances.  I asked lots of questions so I could learn how to move my body again.
I was finally diagnosed with Hashimotos in 2014 and learned that grains were likely my biggest trigger.  I still need to find my other triggers…likely dairy.
This was me in 2016 posing with my size 32 jeans.  I now wear a size 4." – Mona
Most people I consult are doing keto totally wrong. Get fast results with the my NEW Keto School!