The Best Exercise You're Not Doing
Guest post by: Mark Sisson
The idea of sprinting—running as fast as you possibly can for short bursts—probably hasn't crossed your mind in a decade or two. It should.
Think back to when you were in grade school. Remember how you got around the neighborhood, the schoolyard, the park? You either walked or you sprinted. It's the natural movement pattern for small humans. Walk, sprint, repeat. Kids don't jog. It's all or nothing. This is actually pretty similar to how most experts depict the movement patterns of pre-agricultural human adults for the tens of thousands of years of human evolution: lots of walking interspersed with instances of maximum effort.
As adults, we find ourselves locked into a completely different movement pattern. We spend most of our time not moving at all, then try to rectify it by doing moderate intensity "cardio" a few times each week. Sit, shuffle, jog for 30-45 minutes three times a week, repeat. This doesn't really work. Just look at the millions of overweight and obese people putting in time on the treadmill who get nowhere.
For many years, sprinting has been my secret weapon. Whenever I'm hard up for a training session but don't have much time, I'll go run six or seven hard sprints. If I'm traveling and there's no gym available, I'll go find the nearest hilly street and run up it a few times as fast as I can. And whenever someone comes to me trying to lose the last few inches of belly fat or get over a weight loss stall, I ask, "Are you sprinting?"
Most exercise isn't actually very good at directly burning body fat. The old idea of mechanistically burning calories, and thus body fat, through protracted exercise is fairly outdated. Exercise certainly helps, but it does so mostly through second order effects—things like making you more insulin sensitive, reducing the allure of junk food, and helping you build muscle mass. But sprinting is different. It has direct and secondary effects on fat loss.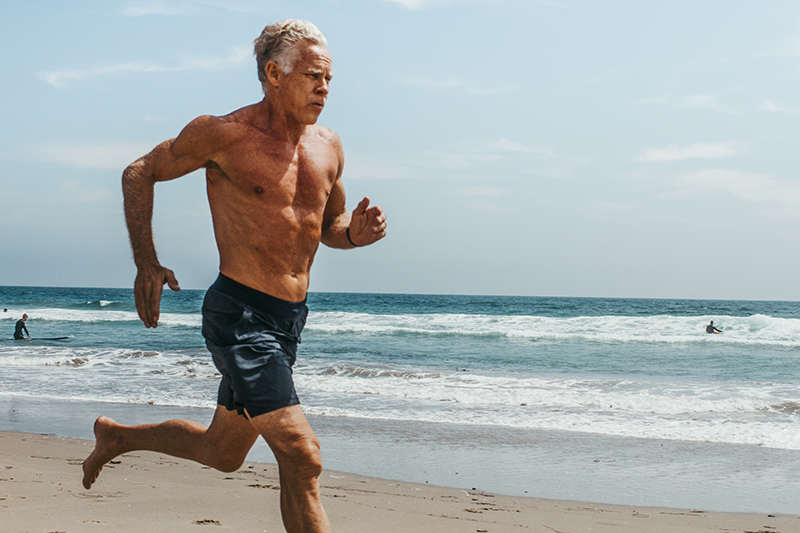 Sprinting increases fat burning for hours and even days afterward a hard session without increasing loss of lean muscle mass. If anything, sprinting has actually been shown to increase lean mass gain.
Sprinting clears glycogen from your muscles. When your muscle glycogen stores are empty, any carbs you eat will go toward filling them—not to the liver to be turned into fat.
Sprinting preferentially targets the most dangerous and hard-to-burn fat—visceral belly fat.
Sprinting creates new mitochondria. Mitochondria are the power plants of the cells, turning the energy we eat into the energy our tissues can use. Having more mitochondria allows us to metabolize more fat and carbs.
Sprinting is "over fast." Although sprinting is physically harder in the moment than jogging, each sprint only lasts 5-15 seconds. This can make sprinting less "daunting" a prospect than committing to an hour-long jog, and make you more likely to stick with it.
The ability of regular sprinting to help you burn body fat and improve metabolic health are the most exciting rewards, but there are other benefits. I'm not in this game to lose weight; that's never been an issue for me. My main justification for regular sprinting is that—fitness-wise—it gives the most bang for the buck.
Regular sprint training improves VO2max, endurance, exercise capacity, and other performance parameters normally associated with endurance training in a fraction of the time. Sprinting improves your endurance performance, even though endurance training doesn't really improve your sprinting ability. That's not to say that sprinting can fully replace endurance training for elite athletes, but it can certainly improve their performance when added to their normal routine—and it's more than enough for most non-athletes who just want to improve their fitness.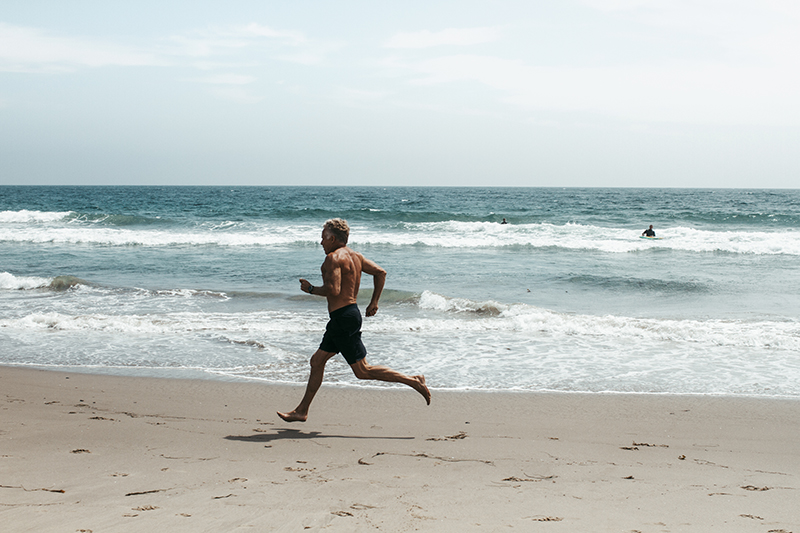 My favorite way to sprint is on the beach, barefoot, with the prospect of a refreshing dunk in the water to follow. The sand provides just the right amount of cushion, and if I want to increase the difficulty I can move onto the dry sand. But running across a flat surface isn't the only way to sprint.
If you have access, hill sprints are fantastic. They're much harder than flat sprints, and they're actually gentler on your joints because the angle lessens the impact and reduces how far your feet "fall" with each stride. When I lived in Malibu, hill sprints were my favorite. Anyone with knee issues who still wants to sprint should definitely try hills.
Sprinting isn't even limited to running. You can do them on a stationary bike, a rower, a Stairmaster, an elliptical, in the pool. The possibilities are almost limitless, and pretty much everyone can figure out a way to sprint that works with their personal capacities. The key is that you give maximum effort—that you go all out and move as fast as you possibly can.
Perhaps the most important thing to keep in mind is that with sprinting, more is not necessarily better. Sprinting is hard. If it's not, it's not sprinting. This makes it self-limiting, and possibly detrimental if you try to do it too often. The vast majority of people will see major benefits from sprinting once a week. Maybe twice, if you're sleeping well and make sure to get enough recovery between sessions. I myself sprint once a week, more if I'm not doing anything else in the gym.
Now, turn off the computer, put down the phone, drop what you're doing, and go run (or cycle, or row, or swim) a few sprints. Enjoy the immediate rush—and the ongoing benefits. You're welcome.
Author Bio: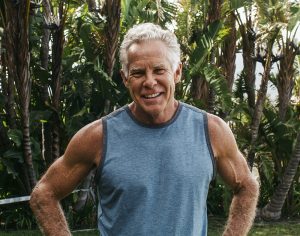 Mark Sisson is a former elite endurance athlete who found his calling as an independent researcher, personal motivator, and thought leader within the ancestral health space. Rather than tying himself to a wheel of deprivation and regimen, he zealously advocates for a pursuit of pleasure and happiness, denying the conventional wisdom that we need to struggle and suffer to lose body fat and successfully manage weight. These days he's almost embarrassed to admit how little time he devotes to exercise to maintain excellent fitness and delay the aging process. Join him and the Primal community at Mark's Daily Apple for no-holds-barred commentary on low-carb nutrition, simple fitness, tempting recipes, and living awesome.
Primal Kitchen Deal!
Another great deal from Primal Kitchen! We love their new Ketchup and all their great sauces and mayonnaise. The garlic aoli mayo is amazing! Now for our followers only, get their Keto Kit and get a free bottle of ketchup! This ketchup is Kai's favorite. And I love that there is no sweetener added!
Offer: 
Buy a 
Primal
Kitchen
 Starter Keto Kit, get a FREE Bottle of Organic Unsweetened Ketchup
Directions: Just click the link and the offer will be automatically added to your cart.
Note: If any one has issues with the link, they can always add the Keto Starter Kit and a bottle of our ketchup, go to checkout and apply code MARIAKETO, and the discount will be applied