Testimony of the Day
"Hi Maria! On 02/15/13 I was diagnosed with a 12mm Pineal Gland Cyst after a sever migraine. In late July I flew to Colorado in hope of finding some answers and second opinions. I was given no information from the 2-3 Neurologist that I have seen as to what caused or is "feeding" this. The doctors are very unhelpful due to where my cyst is located (dead center of my brain). Their fearful that it will grow thus forcing them to operate, so they shove RX's at me in hopes that something will help. Only more bad news followed. Not only was the Cyst causing problems, I was on my way to getting Type 2 Diabetes and leaky gut. I knew I needed to change my life and fast. 
I found out about "The Maria Way" from some very good friends. I have followed your plan since the being of August. On 08/20/13 just 2.5 short weeks of being GF, I had my follow up MRI. It showed that the cyst was now only 1.1cm in size. It had already shrunk 1mm! I know that sounds tiny but when you're talking about something growing in the middle of your brain it means a lot! I have stopped all med's and have been migraine and headache free for almost a month now thanks to you!
My skin has improved and my body has never felt better. I can't wait to see how i feel in a month! My holistic doctors believe that a change in diet and the right supplements will probably shrink or even make my cyst go away. I am really looking forward to TOTAL body health. I truly do feel that "you are what you eat".
I have never felt better! Not only am I losing weight but very soon I will be completely healthy! Thank you Maria!!!!" Megan
Click HERE to start your journey to a keto-adapted diet!
Cancer and Ketogenic Diet
Did you know that men can have 'estrogen dominance' too? Yep, one of the causes of prostate cancer is excess estrogen in men. (reference). Both androgen and estrogen have been reported to stimulate proliferation of cultured prostate cancer cells.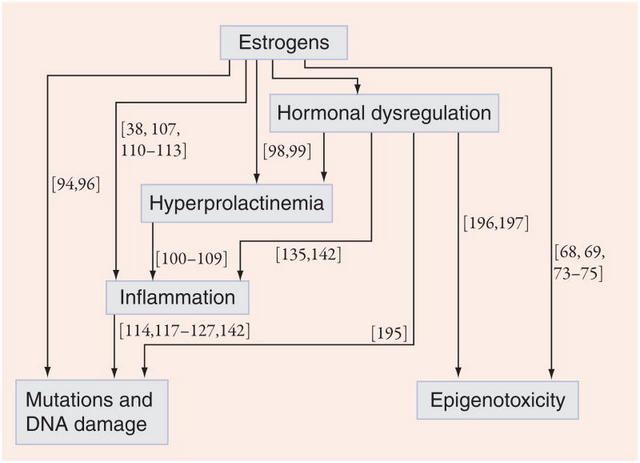 This diagram demonstrates estrogenic carcinogenicity in the prostate. The numbers refer to references supporting the corresponding pathway of estrogenic action. (To find the references and diagram click HERE).
A well-formulated ketogenic diet has an intense and fast effect on cancer. All of your body's cells, including cancer cells are fueled by glucose. Conversely, cancer cells have one huge mortal flaw; they do not have the metabolic adaptability to be fueled off of ketones, but your healthy cells can thrive on ketones. Therefore, since cancer cells need glucose to thrive, and carbohydrates turn into glucose in your body, then cutting out carbs literally starves the cancer cells.
HEALTH TIP: Excess bad estrogen in the liver and fat cells is a leading cause of breast, thyroid and uterine cancer in women, as well as prostate cancer in men. Cutting out all of the estrogenic factors is extremely important (which I list in my Keto-Adapted book). A supplement called Estrofactors helps detox this bad estrogen out of the liver which will in turn heal liver function and increase T3 production for thyroid patients. Click HERE to find.
Unlike healthy cells that can get energy by metabolizing sugar in the mitochondria, cancer cells appeared to fuel themselves only through glycolysis, a less-efficient means of creating energy through the fermentation of sugar in the cytoplasm.
If most aggressive cancers rely on the fermentation of sugar for growing and dividing, then take away the sugar and the cancer can stop spreading. Meanwhile, normal body and brain cells switch to generate energy from fatty molecules called ketones, the body's main source of energy on a fat-rich diet.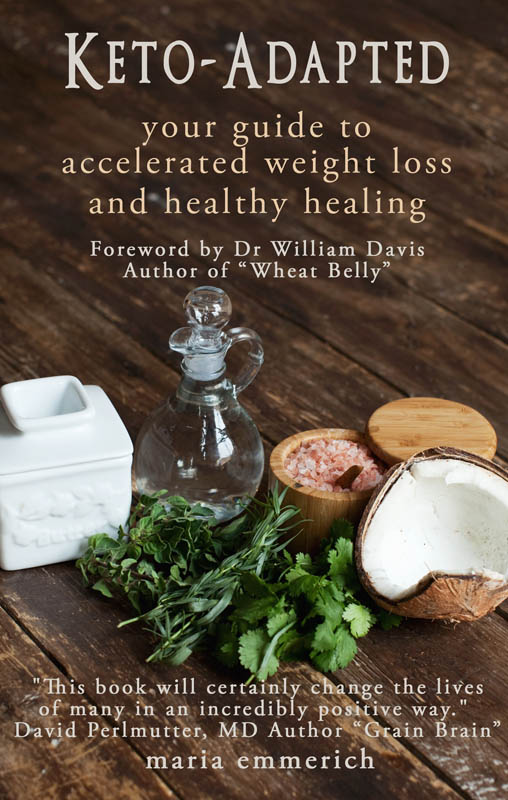 To read more on how to become keto-adapted and starve those cancer cells from glucose, click HERE.
If you would like to help out a small family, rather than large business, I am happy to announce that you can now get my books as a high quality ebook that works on any platform. Plus, most of the profits don't go to Amazon or apple! 
Click HERE or select "My Books" above to get your copy now
!
Click HERE to get a limited edition of the Hard Cover.
Click HERE to get a soft cover.
Thank you all for your love and support!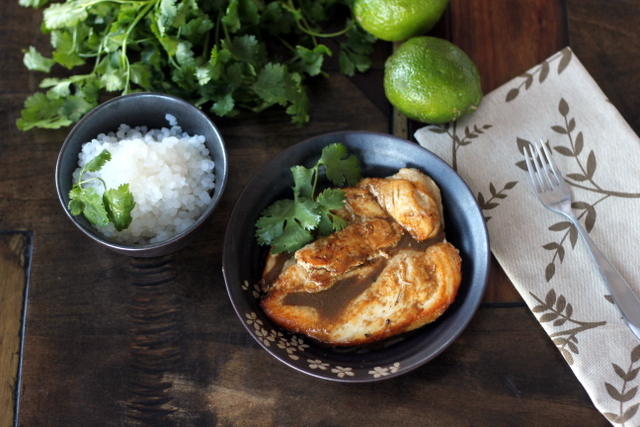 Thai Chicken
2 lbs chicken breasts
MARINADE and SAUCE:
6 TBS coconut oil, melted
zest of 1 lime
5 tsp garam masala (OR 3tsp ground cumin and 2 tsp ground coriander)
4 TBS coconut aminos or organic Tamari sauce (soy sauce)
3 tsp Celtic sea salt
4 TBS Swerve confectioners (or a drop of stevia glycerite)
4 tsp curry powder
1 cup coconut milk
1/2 tsp fish sauce (for "umami")
pinch cayenne
GARNISH:
1/4 cup chopped fresh cilantro
Fresh limes, cut into wedges
Instructions
Slice the chicken breasts starting with the thick side almost in half, then open like a book.
Place each open breast between two pieces of plastic wrap, wax paper or inside a large, open, Ziploc bag.
Using a rolling pin or a small heavy pan, pound out each breast into even thickness.
In a small bowl, mix the marinade/sauce ingredients. Reserve 1/2 the marinade for the sauce.
Add chicken and marinade to a large bowl and chill in the refrigerator 1 hour or overnight.
Once you are ready to cook the chicken, remove each breast from the marinade and discard the marinade.
Pour the reserved sauce into a small saucepan and bring to a rolling boil. Boil continuously for at least 2 minutes, stirring occasionally so it doesn't burn.
In a heavy skillet or grill pan, heat a splash of oil over high heat.
Cook the chicken in batches to prevent over crowding the pan.
Place the breasts in the hot pan and cook without turning for a couple minutes
Flip the breasts over and cook until the other side is golden, it shouldn't take long depending on the thickness of your chicken.
Place cooked breasts on a plate in a warm oven or under foil while cooking the remaining chicken.
Sprinkle with fresh lime juice and cilantro. Serve with sauce on the side.
NUTRITIONAL COMPARISON (per serving)
"Healthified" Chicken BREASTS = 296 calories, 17.2g fat, 33.2g protein, 1.2g carbs, 0.5g fiber
(54% fat, 44% protein, 2% carbs)
"Healthified" Chicken DARK MEAT with skin = 395 calories, 26.7g fat, 29.9g protein, 1.2g carbs, 0.5g fiber
(67.5% fat, 30.5% protein, 2% carbs)
NOTE: if you use dark meat the ratios change for the BETTER!