Oreo Chaffles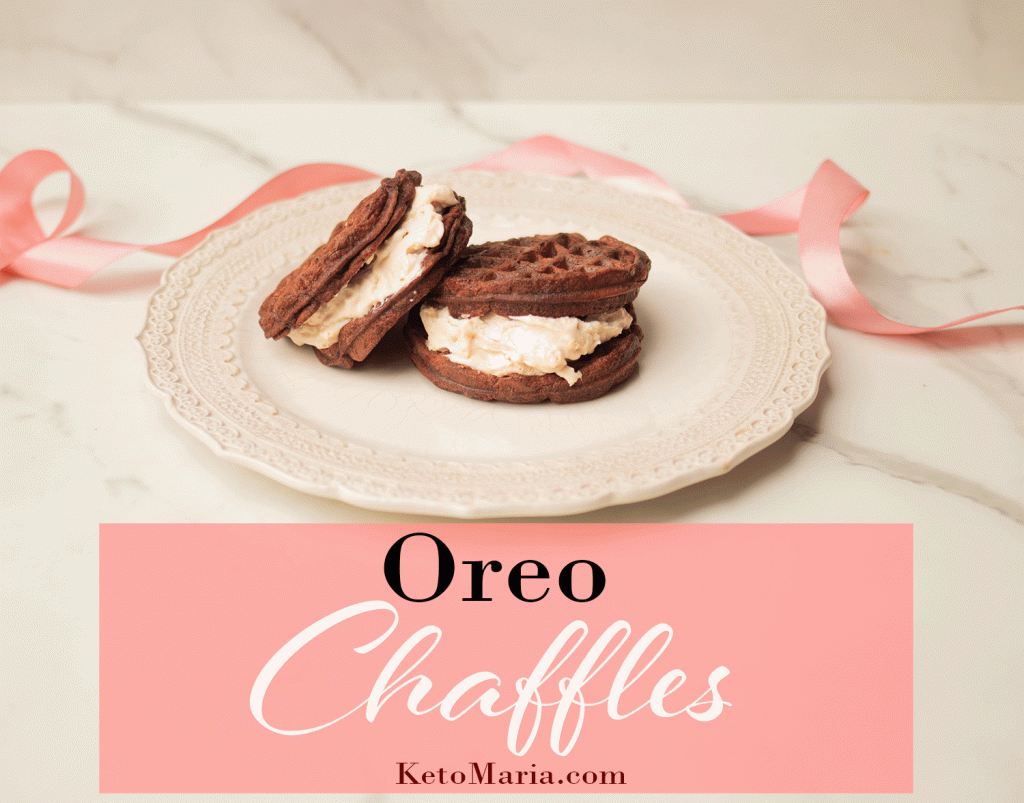 Aloha friends!
If you loved Oreos, you are going to want to try my easy recipe for Oreo Chaffles!
WHY I LOVE CHAFFLES
Have your kids make my Oreo Chaffles! They are super easy to make and if they make them, they are more likely to try them! Chaffles are a great way to get kids off sugar!
HOW TO MAKE OREO CHAFFLES
The secret ingredient in my Oreo Chaffles is Equip Prime Protein! It not only makes my recipe the BEST keto chaffles ever, it also packs them with protein to help build bones! Yes, did you know the sheath of your bones is made up of protein? Do not skimp on your protein! Especially children; most of your bone growth happens before age 18.
One easy way to boost your protein intakes is to add Equip Prime Protein to delicious recipes like keto protein chaffles! These are super delicious and so easy!
Equip is so generous, they are offering 15% off when you use code MARIA!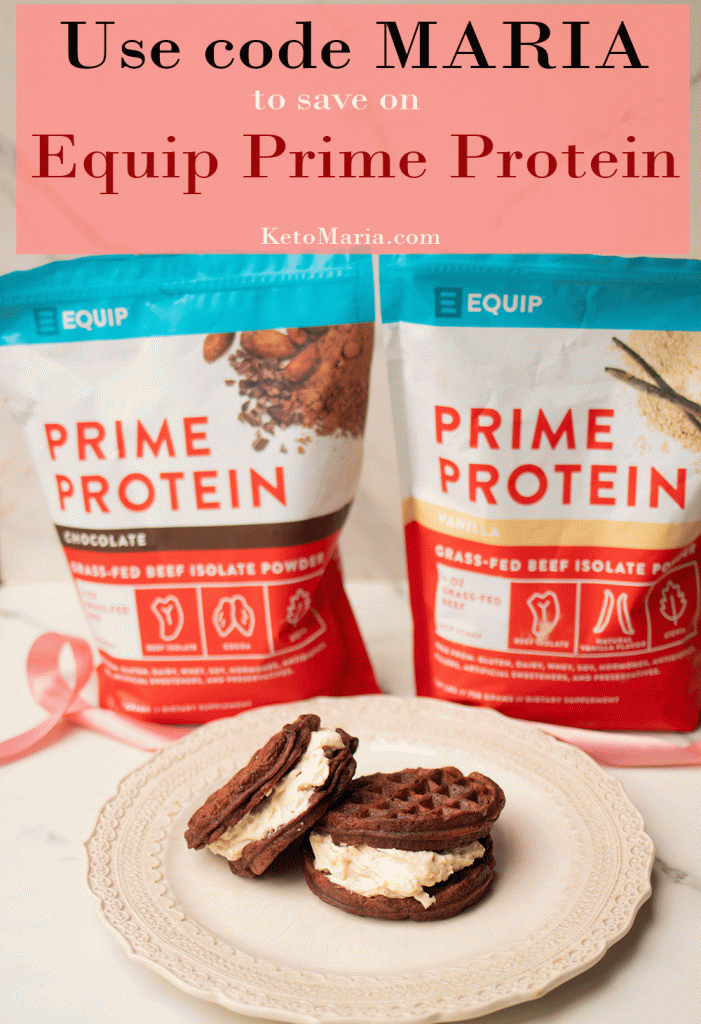 Oreo Chaffles
Equipment
Instructions
Place the eggs, Equip, sweetener, gelatin, and baking powder in a medium bowl. Use a hand mixer on high to combine until light and fluffy.

Grease the chaffle maker with avocado oil spray and place 2 tablespoons of batter into the chaffle maker. Close and allow to cook for 2 minutes or until cooked through. Remove chaffle and repeat with remaining batter. 

Meanwhile make the Oreo filling by placing the softened cream cheese into a small bowl. Use a fork to loosen the cream cheese. Add the protein powder. Slowly add in the unsweetened milk and stir well to combine. Add stevia glycerite and stir well. Taste and adjust sweetness to your liking.

Place one chaffle onto a plate and fill with the Oreo Filling. Top with another chaffle.

Store extras in an airtight container in the fridge for up to 3 days. Can be frozen for up to a month. To reheat, place into a 350 degree F oven (or a warm chaffle maker) for 2 minutes or until heated through.
Nutrition
Calories:
326.5
|
Fat:
17.3
g
|
Protein:
35.4
g
|
Carbohydrates:
7.1
g
|
Fiber:
1
g
|
P:E Ratio:
1.5
TESTIMONY OF THE DAY
Isn't this testimony INCREDIBLE??? Food healed this little boy
"Hi Maria, I had to share how you helped my son.
July 2012, my beautiful first born was brought into this world. He struggled with dairy sensitivity as an infant, nursing and vomiting all day and night.

As a new mom, I had no idea what was plaguing my baby, and doctors brushed it off as "reflux" and normal.

My sweet boy struggled with stomach issues, potty training issues, and mood/behavior/ADHD problems for years while we took him to every specialist in our city. I found Maria in 2018, joined every Facebook group she had, left every other "keto" group and switched my family to clean keto.

My son was better, but still struggled and his gastrointestinal issues were still present. We finally took the final step to carnivore for him at 9 years old – the same year I decided to take the Emmerich courses on Keto-Adapted.com – and we haven't looked back.

My 11 year old is stronger, more focused, and tackling his advanced schooling like we never expected.

I'm really happy to have someone carry our 50 lb feed bags from the car, too!

Thank you!" Danielle Schmitz
Most people I consult are doing keto totally wrong. Get fast results with the my Mind-blowing Keto School!