NEW Chocolate Collagen!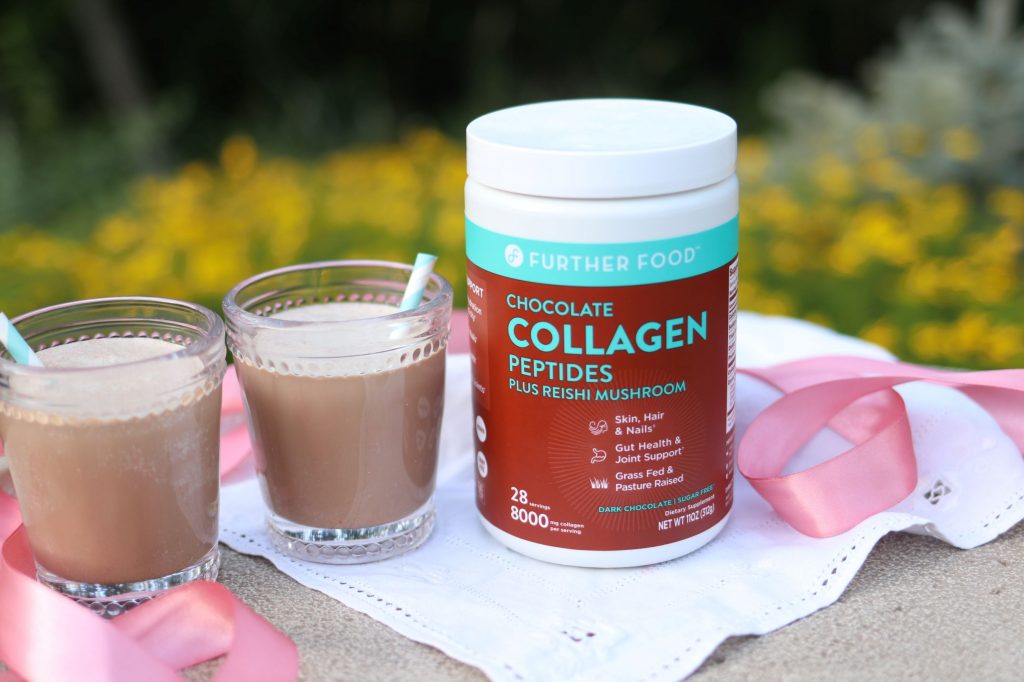 We have talked about all the amazing benefits of collagen. Everything from younger, more elastic skin to joint health. We think it is beneficial for everyone, including kids, to add collagen to their daily routine.
HEALTH BENEFITS OF COLLAGEN:
Can help with skin elasticity and aging. This means when losing a lot of weight it can help the skin shrink better, reduce wrinkles and cellulite
It can help strengthen hair and reduce hair loss
Improves joint health
Builds bone strength
Contains 18 amino acids that help muscle and ligament repair and recovery
Contains glycine that helps with immune system health and helps with digestion
CLICK HERE to read more on why and HOW to add collagen!
There are so many beneficial reasons to add collagen but you must be certain you use a quality collagen that comes from grass-fed pastured sources, which is why I love Further Foods collagen. Not only does Further Foods provide a top quality product, I was able to meet the lovely owner Ashley, of Further Foods and she is generous as well as unbelievably kind! When Ashley asked me what product I wanted them to make, I said gelatin so I can make gummy bears for my boys. Before I knew it, there was a Further Foods gelatin mailed to me! I love that Ashley is a small business owner that cares about what we put into our body!
FURTHER FOODS NEW CHOCOLATE COLLAGEN!
I am excited to announce that Further Foods has just launched a new Chocolate Collagen for chocolate lovers! I still love the unflavored for putting in water but this is a fun way to enjoy a tasty drink! This morning, I made a chocolate breakfast shake with it for my boys and they LOVED it!
Here are some details about Further Foods Chocolate Collagen:
This expert developed collagen blend combines their high quality grass-fed, pasture-raised collagen peptides with dark chocolate & mood-boosting reishi mushroom. It's keto approved, sugar free, and has 0g of net carbs, 0g of sugar! (note, if doing carnivore, I would stick with the plain collagen)
Daily use of collagen peptides can help reduce wrinkles, promote youthful radiant skin, strengthen hair & nails, build stronger bones, and support gut health.
100% CLEAN INGREDIENTS: The ONLY chocolate protein powder made with 100% real food ingredients. And it is sweetened with monk fruit, one of our favorite sweeteners.
It's super easy to use! Add 1-2 scoops of this chocolate goodness to warm almond milk or water to make the perfect hot cocoa.

Exclusive Discount!
To launch this new product we have partnered with Further Food to bring you a 20% discount on your entire order!  Just use the coupon code "MARIAMINDBODY" for 20% off!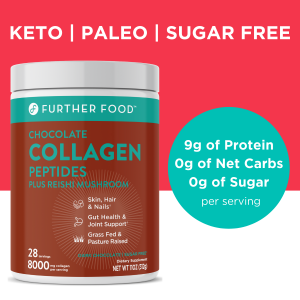 TESTIMONY OF THE DAY
"I just started the Further Foods collagen Maria suggests three months ago (one scoop in my tea each morning) and I took a picture the day I started & today! Can't say I'd believe it if I didn't see so myself! I can't believe so many wrinkles around my eyes are gone! Get some if you haven't already!!! It's flavorless & one tub of it lasts well over a month!! Great skin, hair, nails, gut health & most importantly bone & joint health!" – Betsy

Most people I consult are doing keto totally wrong. Get fast results with the my NEW Keto School!