Keto Retreat to Italy Recap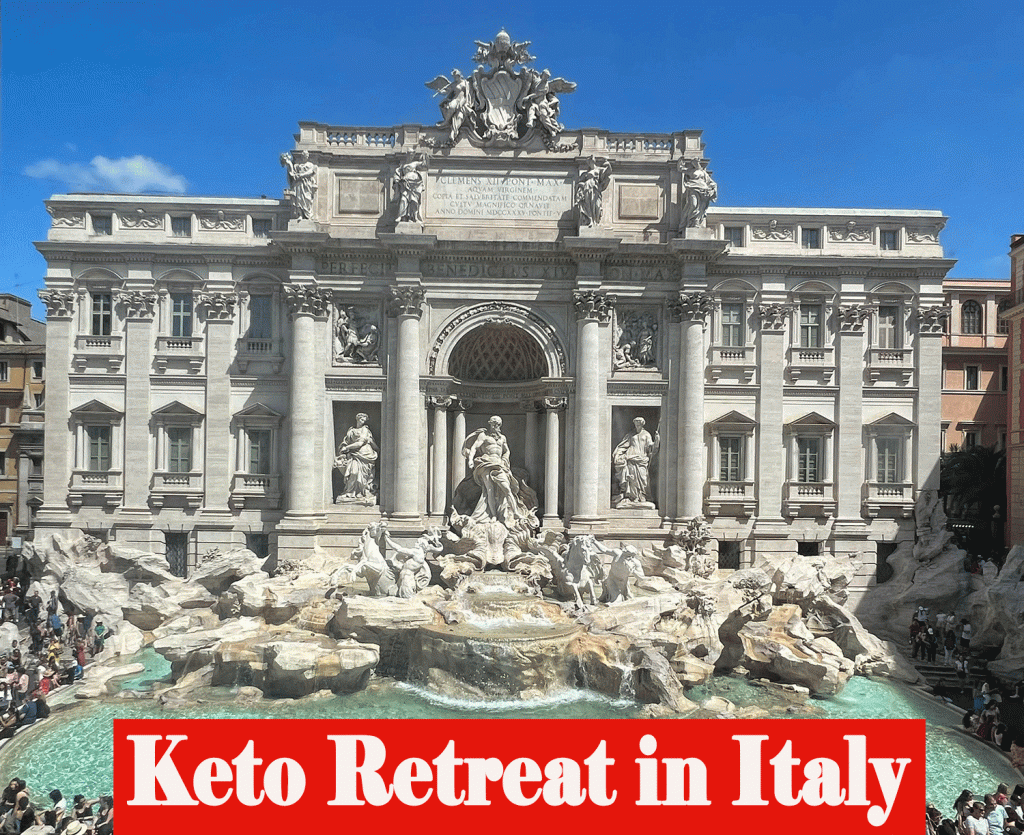 I never thought I would be able to afford to travel. It was always a dream of mine so when an Italian woman named Giuliana asked me to be the keto host on trips to Italy, I thought I was dreaming!
Being able to teach and coach people while traveling the most beautiful places in the World is my absolute favorite thing to do! I usually miss my kids when I travel, but on Giuliana's trips, I have so much fun and laugh so much with my new travel friends, I do not have time to even think about my boys! LOL
The reason I wanted to write this blog post about the past retreat was to make you feel comfortable to come on my next retreat. I wanted to show you how much fun it is to travel with like-minded people and to not be afraid to travel alone! MANY of the people, including myself come alone and we make friends for LIFE! I also love how many people have so much fun, they come on many of my retreats! Check out the YouTube video at the end to see some of our adventures in Italy!
And there is NO JUDGING on any of my retreats. Some people who come are not keto but they leave with the knowledge and inspiration to change. You will have the opportunity to eat completely keto or carnivore, they even made us keto desserts! BUT if you want to eat gelato or pasta, I promise, no one will judge. I will teach you and coach you so when you get home from the trip, you will have the tools to be successful on your keto lifestyle!
Craig came with me to Italy before my keto retreat started and here is a clip of us doing our live weekly coaching with clients from our hotel in Sicily (which was the hotel featured in the White Lotus season 2). Click HERE to join my weekly coaching meetings!

Day 1 & 2: Keto Retreat to Italy
Last night we all arrived in Milan and went to the most amazing restaurant for our arrival dinner. The meal was delicious! It started with a platter of prosciutto, meats, Burrata and cheeses. The main was a grilled steak with salad. Dessert was berries but I asked for more Burrata instead
In the morning, I ran around the streets of Milan. We had breakfast at the hotel which had a harp player every morning. Then we got onto a nice minibus to drive to Lake Como. We saw George Clooney's villa! The person who owned the villa before George was Mr. Heinz (yes, the king of ketchup)
We hopped onto a boat and went to the town of Bellagio (which mean beautiful lake).
Bellagio was so cute! Lots of little shops and restaurants. Half of us dined at a great restaurant along Lake Como. I ordered octopus with Burrata and bacon as my starter and a mixed seafood platter. After lunch I walked and talked with Christine from the group. I found a cute ring with giraffes on it (I like to get a cheap ring from each of my trips).
In the afternoon, we all got back into the boat to make our way back to Como then we drove back to Milan for an evening of fun! In Milan there's live music everywhere! Artists creating beautiful pieces in the streets. It's a very "alive" city!
I look forward to exploring new places of Italy tomorrow with my new friends
It is wild how we all are so close already! It feels like we have known each other for years!

Day 3: Keto Retreat in Italy
Day 3 in Italy started with an early morning run through Milan. After my run we enjoyed a beautiful breakfast at the hotel where there was a harp player every morning.
After breakfast a few people in my retreat went to the castle for a tour and the other half went to the Duomo for a stunning tour. Giuliana and I discussed the 4 future trips next year (Costa Rica, Portugal, and Sicily).
We all went to lunch together at my favorite restaurant in Milan where the waiter Pierre Luigi brought me a rose and called me his girlfriend! I impressed him with the amount of fish I could eat 😉
After lunch we packed up our stuff and made our way to a small village near Cinque Terre. The hotel was AMAZING with a beach and a pool looking over the ocean!
We unloaded our bags then made our way to town for a fun dinner overlooking the ocean.
I made my way to bed because I knew tomorrow was going to be a full day of fun in Cinque Terre!
Day 4: Keto Retreat in Italy
Today I started my morning with a short morning run before a quick breakfast before getting onto our minibus for a ride to Cinque Terre.
The bus ride took us to the top area of Cinque Terre then we got into small cars to make our way down. We met our guide and we wandered through Monteroso which was super cute. We spent about an hour there then we took the train to Manarola which was about 10 minutes away. We got to explore the town and shop (or you could stay with the guide for more facts). After an hour, we took the train to Vernazza.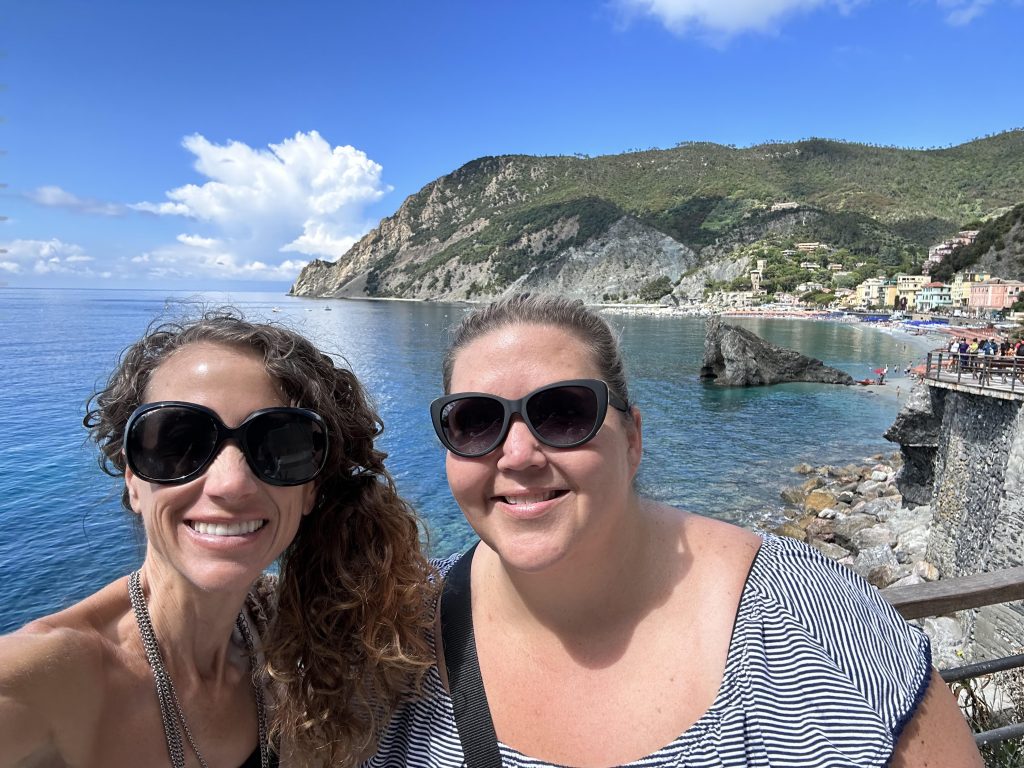 We all had an AMAZING lunch overlooking the sea. So delicious! Then we had time to shop around for a little while until we made our way back to the hotel.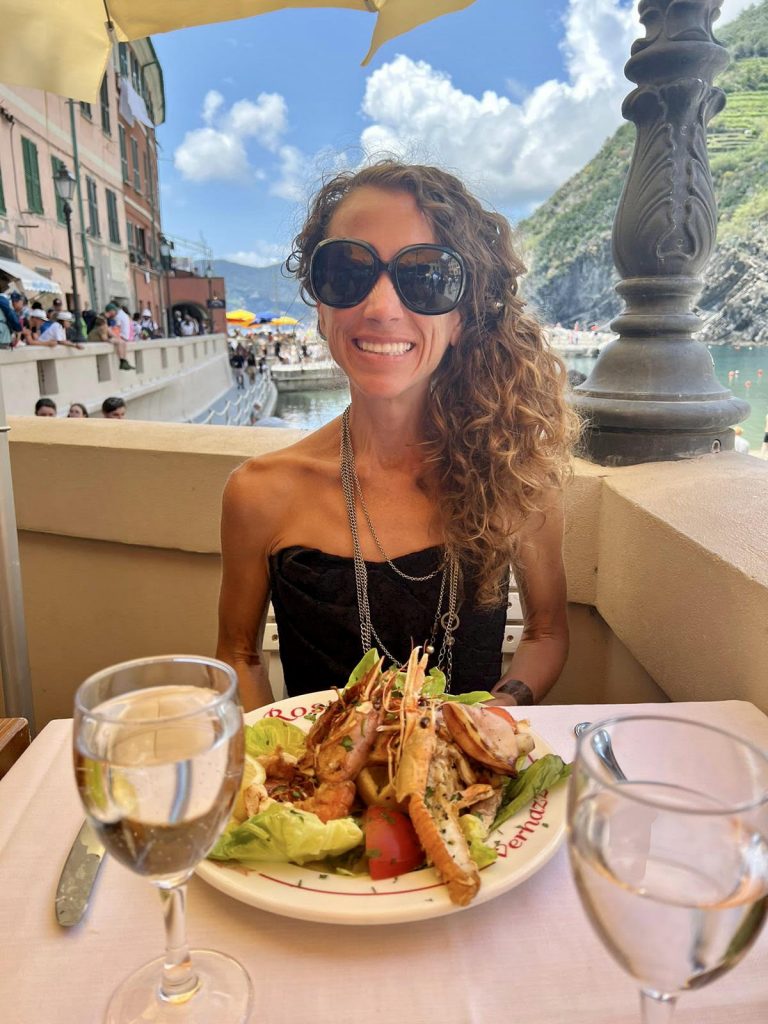 At the hotel, we threw on our suits and made our way to the beach. The sea was chilly but refreshing in the heat. I love visiting with my new friends and hearing their stories
At 7pm we left the beach and found a great meal before an early evening because we knew tomorrow was an early start.
I look forward to the adventure tomorrow with my new friends

Day 5: Keto Retreat in Italy
Today was National running day so I woke up at 5:30am to have a run before our adventure.
We all packed up our luggage and had a quick breakfast at the hotel before jumping into the bus to Tuscany.
Before we went to our hotel in Tuscany, we stopped in Sienna to spend the day. Sienna was such a unique city. We had a guide show us the area. Sienna is known for starting Polo with horses.
After the tour, we had time to shop and wander the city. We had lunch and many of us bought special Italian leather purses that had a delicate flower design. I saw this clutch purse in Bellagio but I didn't buy it. I thought about it the whole trip and luckily I found it! Most of the women loved it so much, they also bought one!
At about 4pm we got on the bus to go to the Tuscan countryside to our hotel.
After me unloaded our luggage, we gathered around the pool to relax before dinner which was SO FUN! This hotel restaurant is only for the guests but if you stay here, it has the most spectacular menu. So different than most menus I've seen all over Italy. There were so many options, I couldn't decide! There were also delicious sauces that came with the meals. I ordered the octopus with turmeric sauce to start and my main was rabbit with truffle cream.
Never have I laughed so much!
This group of new friends is the best! The food was exceptional, the waiter was hilarious, just a perfect evening

Day 6: Keto Retreat in Italy
On day 6 of my keto Italy retreat, I started my day with a morning run through the woods of Tuscany! It was stunning!
After my run, I grabbed a quick omelet with prosciutto and we jumped into 2 small vans to go to a quaint small village high nested in the hills called Pienza. This is where pecorino cheese was invented. We spent an hour exploring then we made our way to Montepulciano for a wine tour and tasting. The winery was called the Wine Cathedral because the Vatican purchased their wine and the church helped them design the areas where the wine was in barrels. The tour was very interesting even though I do not drink.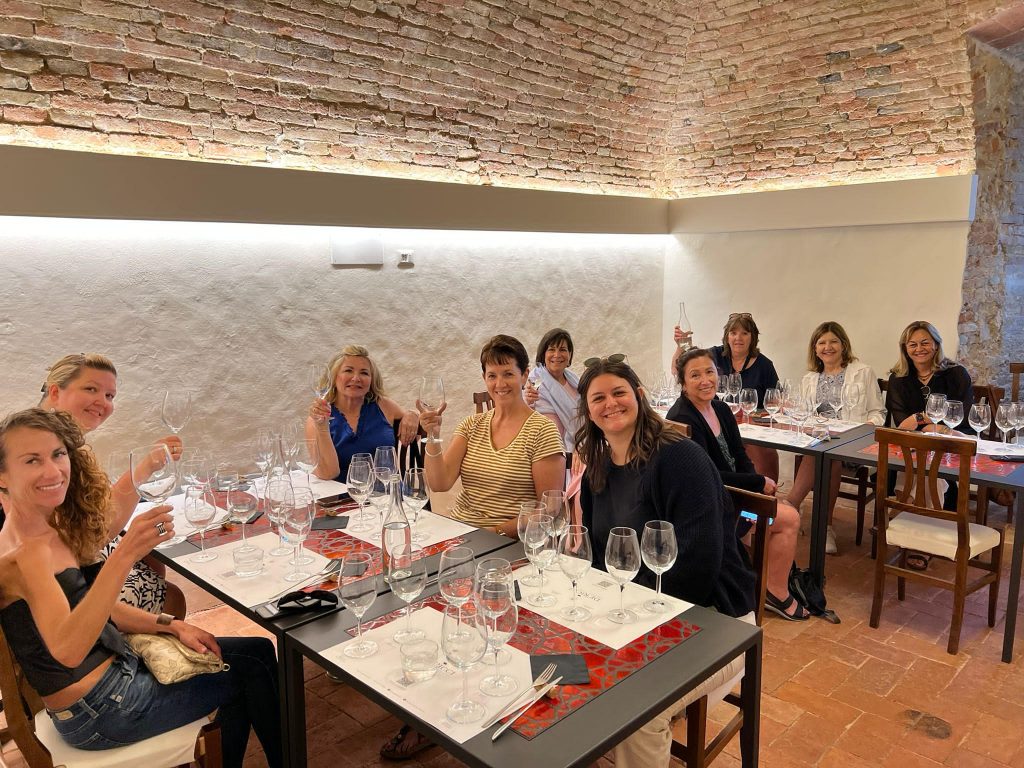 After the tour, we had a wine tasting of 6 wines (I gave my portion to others in my group). We were also served meats and cheeses. It was an afternoon FILLED with laughter and we only broke 2 wine glasses
Once we were done with the wine tasting, we decided to go to the grocery store to pick up things for a picnic by our hotel pool. It was fun relaxing by the pool until 7pm.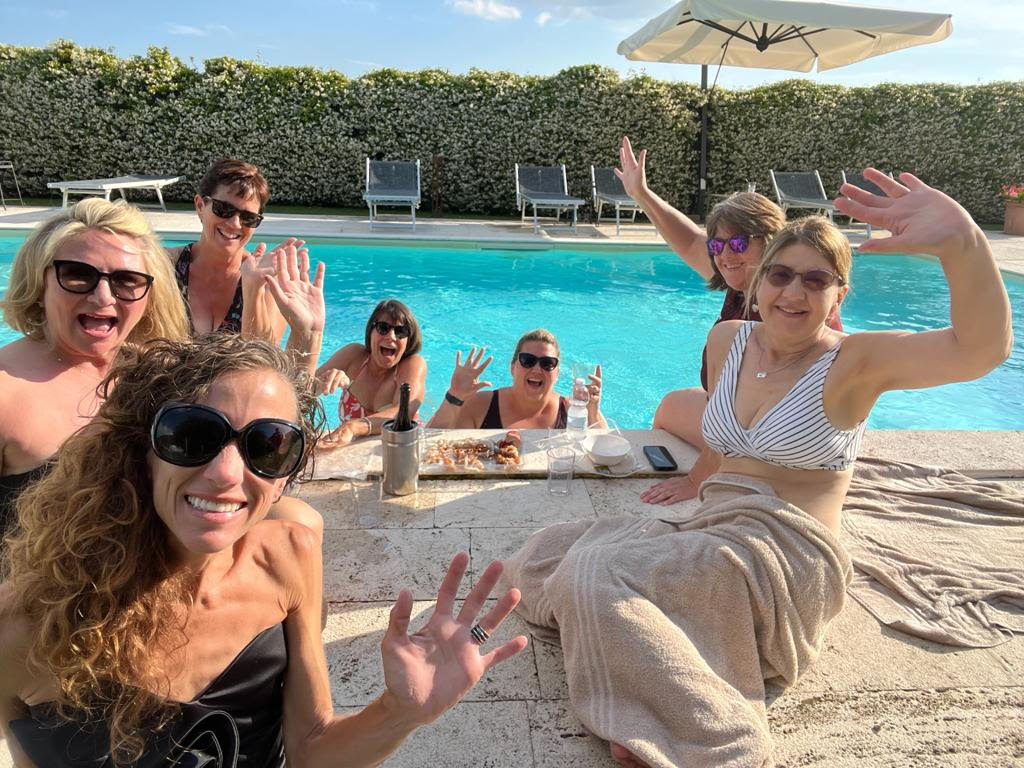 We all got ready for dinner. Dinner was at the villa again and it was even better than the first night. The waiter was so hilarious, we were hysterical with laughter! We were known at the villa for the happy laughing group
We dined on octopus, Burrata, filet mignon, and dessert.
Off to bed for another adventure to dream about
Day 7: Keto Retreat in Italy
For day 7 of my keto retreat in Italy, I started my morning with a run through the Tuscan countryside. I enjoyed a perfect omelet with prosciutto which has become my typical breakfast in Italy. Prosciutto in Italy is spectacular!
At 9:45am, we boarded our mini bus to go to Rome! When we arrived in Rome, we dropped off our bags at our lovely hotel then we went to lunch. I had grilled scormoza which is basically a keto pizza in my mind! Delicious!
After lunch, we had a tour of the colosseum. I actually skipped it and wandered Rome alone because I just had a tour of it with Craig 2 weeks earlier. There's SO much to see in Rome!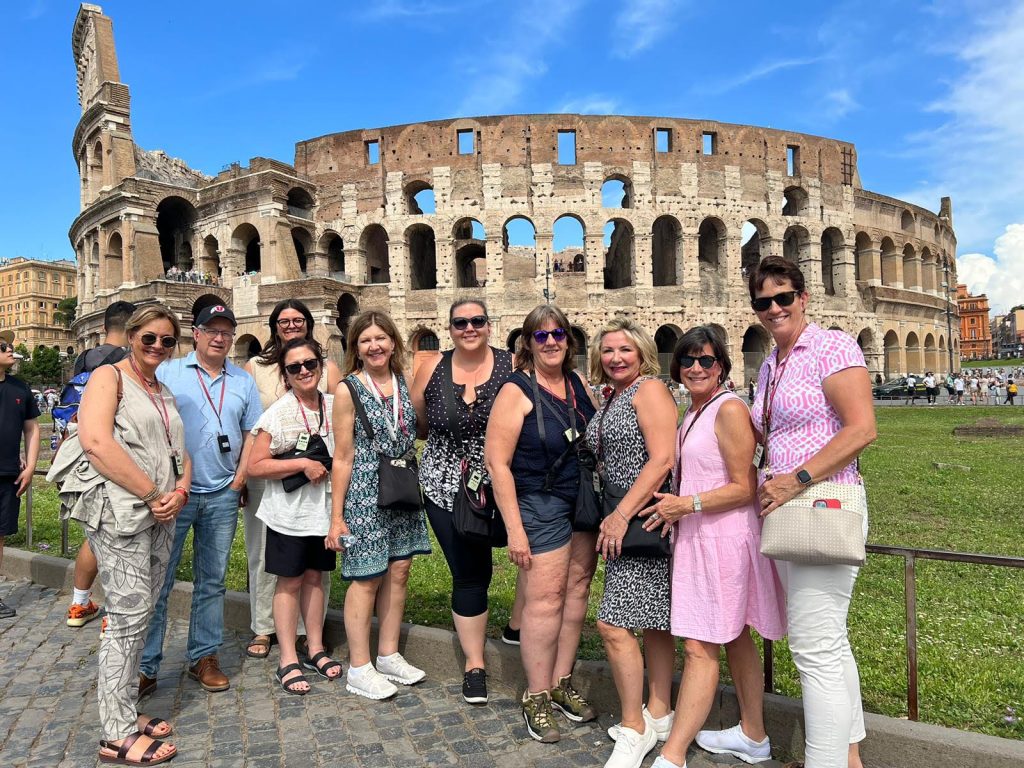 After the tour, I met them at a restaurant around 7:30pm (most restaurants don't open until then). We had a delicious meal! Some had oxtail, Burrata with truffles, steak, I had seafood, it was all delicious! (FYI, I have a Yelp account where I rate keto restaurants around the World if you are interested).
Once we finished dinner we made a leisurely walk back to the hotel. The streets were buzzing with people! The park had a "movie in the park" playing. Man I love Rome
Andrea Bucelli performed in Rome tonight. What a DREAM that would be! If you have never heard him sing, search "Time to Say Goodbye." That song moves me to tears1
Off to bed for rest before another adventure

Day 8: Keto Retreat in Italy
For day 8 of my keto retreat in Italy, I started my day with a longer run since we didn't have to meet until 9:45am. After breakfast (which was on the roof of our hotel and was STUNNING!) we went on a walking tour of the Spanish Steps, Trevi Fountain, Pantheon, St Peters Cathedral and other special areas of Rome.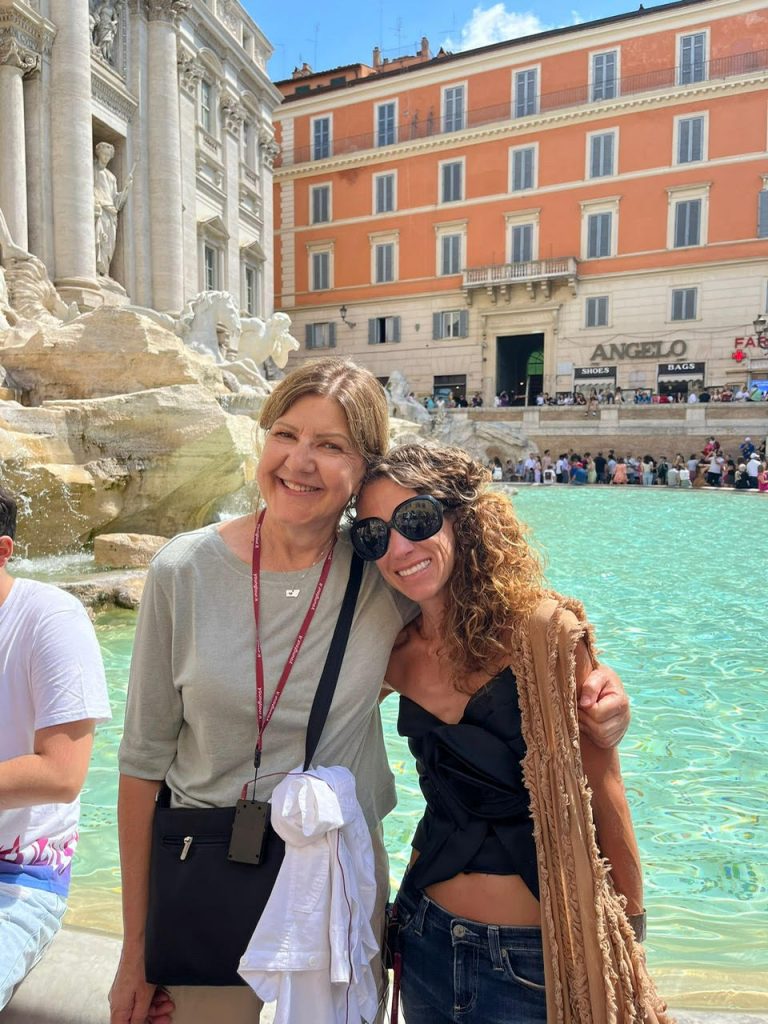 We visited the first coffee shop ever! We also threw coins into the Trevi Fountain for good luck!
After our walking tour, we all went to lunch. Yesterday I found a place that makes grilled scormoza which reminded me of a keto pizza! So today everyone wanted to try it. They all loved it! Even the non-keto people who joined the trip!
When we were done eating, we walked around Rome, shopping and enjoying the sights.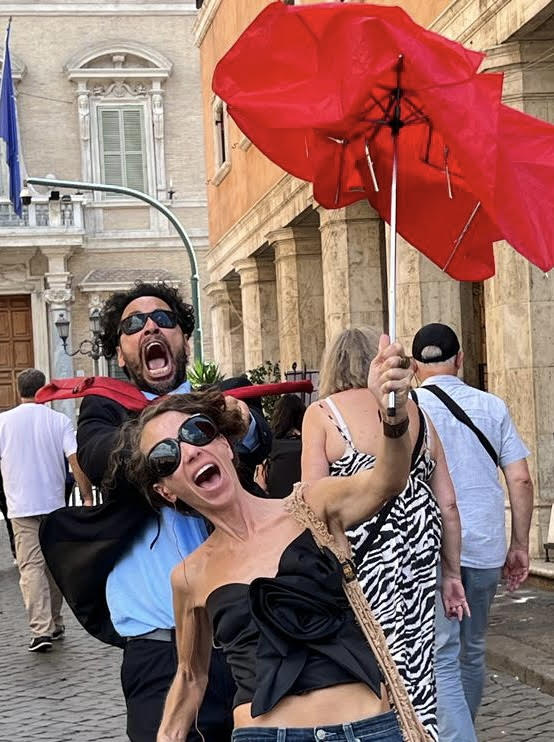 Italy fun fact: Double parking is forbidden but it is legal
. The driving is a bit wild here
At 6:30pm we gathered at the rooftop bar of our hotel to chat and talk about the trip. We all thanked Guiliana for a TRIP of a LIFETIME!!!! Then we made our way to Da Meo Patacca which is a famous Roman restaurant. It was so fun! Live music, dancing and Roman food! It was a great evening of laughter! For once, we weren't the loudest group at dinner
This trip was very special, not just because of the fantastic itinerary, but for me, it was the people who joined my retreat
The first day, it felt like we were friends for years! We were all so comfortable together, it was indescribable
I'm grateful for my new travel friends and I look forward to having them join my future retreats. I adore all of them and as I write, I already miss them
Arrivaderchi Italy! Until next year
 I hope YOU join me on my next retreat
UPCOMING KETO RETREATS
My next Keto Retreat is to Costa Rica January 2024! The coolest part is that everyone who signed up to go is a REPEAT CUSTOMER! That speaks volumes on how much fun everyone has on my retreats!