8-QUART INSTANT POT GIVEAWAY!!!
I was on my way back from a chilly morning run when my boys ran out to give me a big hug and yelled "It CAME! It CAME!" I knew right away that they were talking about my new book Keto Instant Pot Recipes! They get almost more excited than I do! I love that they understand and appreciate how much hard work and love goes into each book I write. They know I get up at 4:30am to write, edit, and test recipes. One morning I was up at 1:30am because my brain was filled with ideas!
This book was truly a labor of love. This book gave me something to focus on while Craig started his process of healing from Lyme Disease. This isn't the first book that helped me deal with difficult times in life. One of my first self-published books, Keto Adapted, was written while we were in the process of adopting Micah and Kai. That book helped me get out of bed in the morning. I tend to find a project that makes me happy during hard times. You may think I am distracting myself from reality, but that's not what I am doing. I embrace reality, but I also like to focus on something positive, something happy. There will always be something negative going on in our lives, but if we focus only on the negative, that wouldn't be a very healthy way to live.
Keto Instant Pot Recipes cookbook has a ton recipes with BOTH Instant Pot directions AND slow cooker directions! I also started an Instagram account on my favorite Keto Instant Pot Recipes and giveaways called @KetoInstantPotRecipes where I post tips and tricks! 
Here is a little video to show you the inside of Keto Instant Pot Recipes book:
Looking for a special gift for your keto friend?
My favorite Instant Pot is on SALE today! Click here to find!
And Keto Instant Pot Recipes cookbook is on SALE for over 50% OFF! Click here to find!
Thank you for your love and support!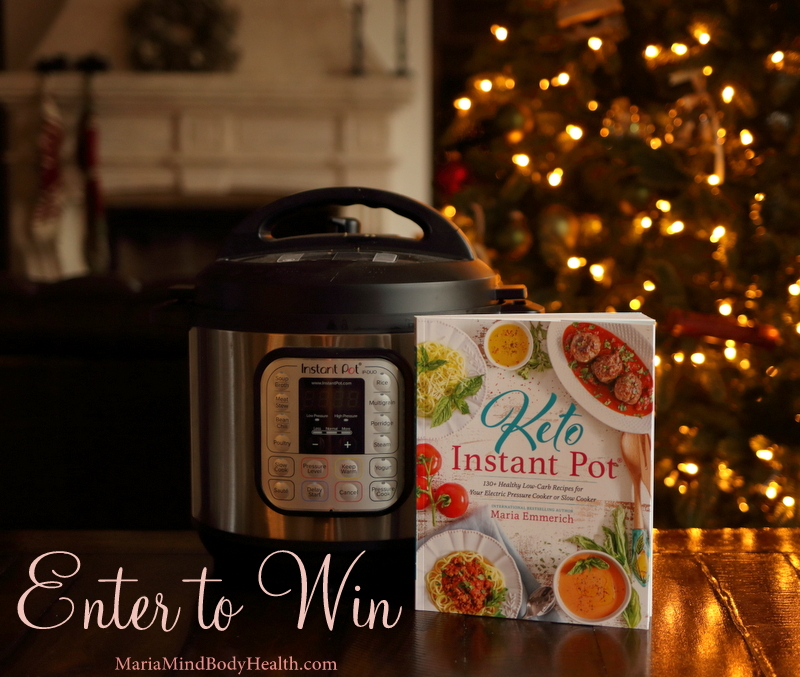 ENTER TO WIN an 8 Quart Instant Pot and Keto Instant Pot Recipes
I am so grateful for all of you and your support that I am donating my favorite 8 quart Instant Pot and my new book Keto Instant Pot Recipes! If you would like to win it is EASY to enter!
1. Follow me on Instagram @mariaemmerich and Facebook at KETO.
2. Share this post on your Instagram wall or Facebook wall and tag me!
3. Comment below on how the Keto Diet has helped you or a loved one!
4. BONUS POINTS: for posting a photo of you making your favorite recipe from KETO INSTANT POT book and tagging me on Facebook or Instagram!
Winner will be chosen on December 27th. Good Luck!
The Winner is… Nancy Gordon! Congrats!
TESTIMONY OF THE DAY
This testimony was posted on our private support group on Facebook called KETO. Click HERE to join! We love helping and supporting you through your keto journey!
"I'm kind of hard headed. It takes a lot to get my attention. I was 398 pounds at my heaviest in 2010. I had struggled with my weight for most of my life, although I often saw myself as being bigger than I really was. Until I really was. I was unhappy and struggled with depression. Food was my everything. Of course in my mind, I didn't see it correctly because it never betrayed me. It was there to make me "feel better". Of course we know that's a lie. But I wanted as much as I could get. I was struggling so hard with daily functioning. The toll on my body was horrid. I was so ashamed of myself that I neglected self and annual exams for years. My shame was stronger than my sense of self preservation. I was literally killing myself, one bite at a time.
Every night I went to bed with my feet propped up on pillows were in tennis shoes to try to control the swelling in my feet. One night before I crawled into bed I sat at the end of my bed to change the channel on my TV. Then I got into bed and indulged in my nightly routine as I fed my face, with my feet propped up. I was curious about the lights that were shining on my wall and the noise that I was hearing. Suddenly there was a huge crash as a car came careening into my bedroom through the glass door, coming to rest at the foot of my bed. The car stop where I had been sitting only 5 minutes earlier to change the channel on my TV. The force of the crash pushed the TV through the wall into the adjoining Room, took out the back half of my house and shattered the glass doors all around me. I was not injured come I was literally untouched. So protected. Despite my own self destructing behavior, my life was spared.
I didn't quite get it yet I didn't understand the bigger picture. My family was displaced for a couple of months will our house was fixed. It was very stressful, and I of course continue to eat to deal with the stress. And gained more weight. We moved back into our house the week before Christmas. We were so excited. The following Sunday I was on my way to church when someone ran a red light and totaled my car. Can I just say what is it with me in cars, seriously!? I mean had my been through enough already. I was so upset and now I didn't even feel safe anymore in my own home or out on the road. The airbag deployed in my car so I was forced to go to the hospital because of the airbag. I wasn't hurt though, at all. I didn't wanna go but they made me. They put me on a stretcher with a neck brace. At the hospital they took X race. They came into the Room and said the x-rays looked fine but that they needed to do a cat scan. They were concerned though because they thought that my weight my cause me to break the cat scan table. I can't tell you all the feelings I had at moment. Of defeat, anger, shame and humiliation to name a few. I need to get out of there as fast as I could so I refused the test and sign out against medical advice. I went home and made no changes. So now it had 2 major incidents that should have got my attention. But they didn't.
About a month later I was driving through my neighborhood and saw a local advertisement at the multi care for a weight loss program they were running. It was called the biggest winner. Something caught my attention and I decided to enroll in their program thinking that if I tried something medically supervised maybe that would help me because I done everything else in my life time. I enrolled in the program. It was hard because nothing in my thought process had changed. But once I decided to take the steps, God moved. He sent people to me who helped me to see that I could learn to love myself. That he loved me. That I was valued and had a place in the world. And that I was worthy. Once I was able to receive these truths and substitute them for the lies I had believed, it put me on a path to healing like none other. This literally gave my body permission to do what it wanted to do and to lose weight. I was dealing with my being in mind, body and spirit. So our weight loss program had teams in of course we were competing and exercise was part of the program. I hated it come a people like me didn't go to gyms. I felt the pressure of my teammates to participate but couldn't make myself go to the gym at 1st so I started moving in my living Room by playing tennis on my WI. I eventually gave in and went to the local YMCA for Zuma class. My life changed again, it was the 1st time I'd ever participated in exercise that I actually enjoyed. Man this is such a long story. Sorry.
So when I did Zumba, I got to work out of the privacy of the gym. Until that day when the before picture was taken that you saw on my post. They were hosting a community event and the class was being held outside in the parking lot with vendors and citizens to see. If you could imagine a little devil and an angel one on each shoulder having an argument with my mind about pursuing or giving up because everybody would see me that's what happened. I fought so hard against the voices that told me to go home because everyone would see the fat girl dancing. I knew I couldn't give in so I stayed and did the class with everyone in the parking lot. Multi care partnered with the YMCA. That day was our last day of free membership. After class I would inside to sign up to become an official member at the gym. When I went inside some buddy who worked there told me they had been watching me and enjoyed watching me dance they said I did well. They had no idea that they had spoken to a dream that had been inside my heart and I had never verbalized it. I wanted to be a Zumba instructor. That was it come and I had a dream and it came to life. Nine months later I was an instructor. My classes were outstanding because I needed my Zumba students as much as they needed me. It was all about community just like Maria and Craig's Keto group is!
Life happens, I had to drop the teaching to take on full time work and some life events challenged me and I began to slip back into old patterns. I imagine on some level I might struggle for the rest of my life. But I have found such a sense of support and community here at Maria and Craig's Keto Facebook Group. I have broken some lifelong bad habits and found something that will sustain me and I'm so grateful for each and every one of you. My story, is still being written. But I can tell you that the glow that someone referred to on my face is what happens when you learn to love yourself and if you can't do that nothing else really matters." – Jackie
Most people I consult are doing keto totally wrong. Get fast results with the my NEW Keto School!