Testimony of the Day
"A lot of people may not be aware of this, but it is pretty much a given that at some point in your eating disorder healing you will realize that you don't know HOW TO EAT!!! It truly sounds ridiculous I know! I struggled with Bulimia & Anorexia for 35yrs before I told anyone…when I began to walk-out my healing journey, I said to myself "I don't even know how to freakin eat"!!!!!
When I wasn't bingeing and purging, I severely restricted from food and water. It was a cycle of pure madness, and I never felt good…and yes! I do mean NEVER! Oh, of course I was a bible of calorie and fat scriptures! But, I did not know how to eat. I did not know how food had such a HUGE impact on not only ones body, but ones brain and spiritual health as well!
As I began to follow Maria Mind Body Health I began to purchase her books, and when I began reading her books I began to incorporate some of her healing techniques into the repair of my 35yr struggle of Bulimia and Anorexia. Along, with my clinically diagnosed Bulimia and Anorexia, I was also diagnosed with PTSD. During my 8yr recovery journey, in and out of therapist and treatment centers, I was left with the results of being on six different medications, and a 50lb weight gain. With Maria Mind Body Health I have been off all medication for almost 2yrs. However I am still working on the 50lbs. Because of all the changes I feel Maria has helped and inspired me with, I make sure I refer all my girls in ANAD Healing 4 Women's Group (Online & Offline Group), and all my gals at Women's Empowerment Alliance check her out. Love you Maria Wojcik Emmerich and all you & Craig do. Thank you.♥" -Tamy
Click here to get started on your path to health and healing!
Poultry VS Beef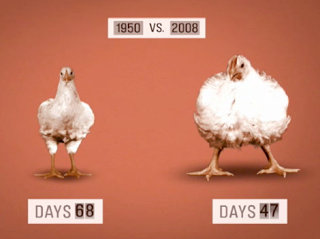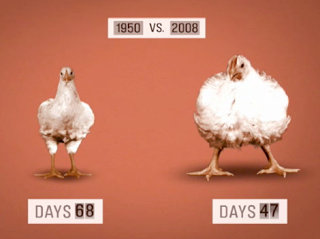 When it comes to burgers, do you choose turkey or beef? Many people trying to eat a healthier diet opt for a turkey burger believing it will be healthier for them. BUT are you often tired, have a hard time losing weight, have thinning hair??? Before you place your next order, you may want to take a closer look at the two types of meat to see how they compare. You may be switching back to the beef!
Iron is necessary to make hemoglobin, the substance that carries oxygen through your blood to all the cells in your body. Hemoglobin is what makes red blood cells red. With insufficient iron, and therefore not enough hemoglobin, red blood cells become small and pale and don't carry enough oxygen. You may have heard the phrase "tired blood." This really means blood that is low in iron and that can't carry enough oxygen to vital organs and muscles. "Tired blood" results in a tired body. I often see clients that I would consider "workout warriors," but they never lose a stitch of weight. When we do a ferritin level test, they are often low in iron. This is problem-some because to lose fat you must get the oxygen you inhale into the mitochondria of your cells where you burn fat.
Iron is needed not only for blood, but also for brains. Neurotransmitters, the neurochemicals that carry messages from one nerve to another, require sufficient iron to function properly. A person with an iron deficiency may have a tired mind as well as a tired body.
To be fair, it really depends on what the beef AND the turkeys have been fed. In order to compare apples to apples, the nutritional value of extra lean ground beef (not more than four percent fat) and extra lean turkey meat is very close. While there are certainly differences between the two, it may shock some to see that the turkey burger and the hamburger only vary slightly across the board.
Now, let's check out grass-fed beef. It is much higher in vitamin E, and very rich in essential fatty acids like omega-3s and conjugated linoleic acid (CLA). CLA also helps convert fat to lean muscle mass. When taken in effective doses, CLA decreases body fat, especially in the area of the abdomen. Various studies prove the following additional benefits:
1. It can increase the rate of metabolism and is evidently very beneficial for thyroid patients.
2. People suffering from high cholesterol level and triglycerides can use this to lower levels at a faster rate.
3. It can also increase the growth of muscles which we now know stimulates our metabolism.
4. Many people suffer from the serious issue of insulin resistance in which CLA can be used to lower this resistance and therefore assist in controlling weight.
5. It can decrease Adrenal imbalances, which decreases abdominal fat stores.
6. It can help calm hormonal shifts; an area of concern to thyroid patients.
7. CLA has a very positive effect on our body by enhancing our immune system.
Many athletes and clients that want to lose weight spend loads of money on supplements containing CLA, but if they would just spend the extra money on quality beef, they could skip the supplements. If you are interested in more information on CLA, check out the supplements chapter in Secrets to a Healthy Metabolism.
Let's go back to turkey…it doesn't have CLA…it does have arsenic though. Since the 1960s, large-scale poultry producers have added arsenic to their poultry feed. Small amounts speed the growth of the birds, make their breast meat pinker, and kill certain bacteria. Chronic exposure to high levels of arsenic has been linked with cancer, heart disease, diabetes and a decline in brain function. But as long as poultry meat has fewer than 0.5 parts of arsenic per million, the USDA has declared that it is safe to eat.
That was set in the 1950s and is way out of date. Within the past few years, studies show that arsenic is a more potent cancer promoter than first believed. It has to do with its effect on blood vessels. The reason that arsenic makes white meat pinker is that it increases the growth of blood vessels in the meat. The more blood, the pinker the meat. That process is called "angiogenesis." It plays a major role in cancer promotion. Cancer cells can't speed up their growth without the creation of new blood vessels to fuel them with nutrients. Arsenic does the trick. The European Union banned the use of arsenic in poultry production in 1999. So with that said… I'm sticking to my grass-fed beef! It tastes WAY better anyway.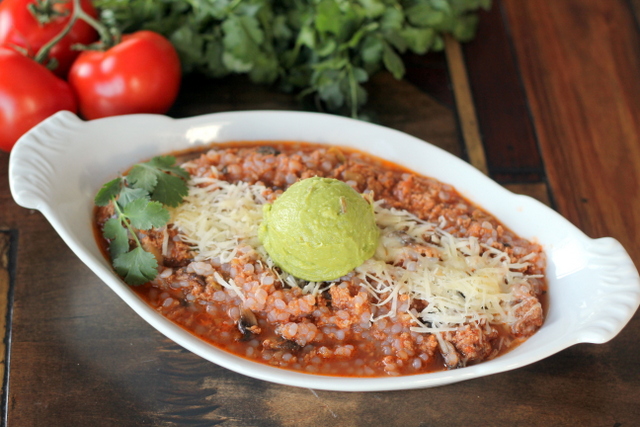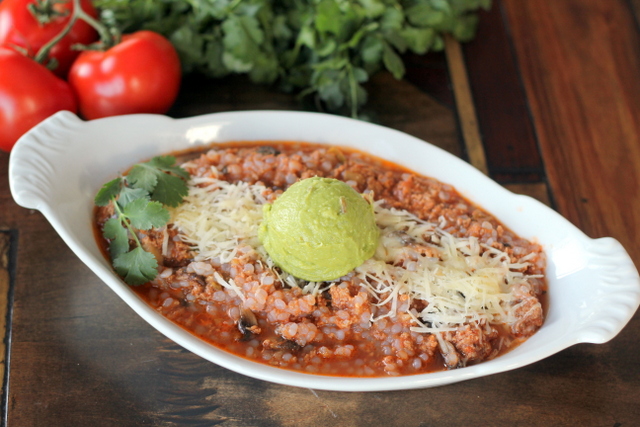 NOTE: I suggest Miracle Rice in place of Cauliflower Rice for advanced ketogenic diets.
4 cups cauliflower, "riced" or Miracle Rice
1 TBS coconut oil or butter
1 small onion, chopped
1 clove garlic, minced
1 pound grass fed ground beef
2 cups fresh mushrooms
Celtic sea salt and ground black pepper to taste
1 (15 ounces)  tomato sauce OR salsa (lowest in carbs and sugar)
4 ounces freshly grated Cheddar cheese (OR guacamole if dairy sensitive)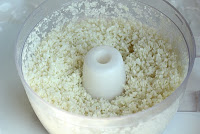 "RICE": Place the cauliflower heads into a food processor (click HERE to find the one I use), pulse until small pieces of 'rice.'
Melt the butter in large saucepan. Add the onion and mushrooms, saute until tender, about 5 minutes. Add the garlic and saute until fragrant, about 1 minute. Add the cauliflower rice and stir to coat with the butter. Stir while simmering until the cauliflower rice is cooked (about 5 minutes). Remove from skillet, and set aside.
In the same pan, brown the ground beef until no pink shows; drain excess fat. Return the onion "rice" mixture to pan. Season with salt and pepper. Stir in tomato sauce. Top with cheese (OR guacamole), and allow to stand until cheese is melted. Makes 6 servings.
NUTRITIONAL COMPARISON (per serving)
Traditional Rice = 370 calories, 12.7g fat, 23.8g protein, 55g carbs
"Healthified" Rice (using Miracle Rice) = 223 calories, 12.7g fat, 22.5g protein, 3.5g carbs
"Healthified" Rice (using Cauliflower Rice) = 237 calories, 12.8g fat, 23.7g protein, 6.5g carbs