Testimony of the Day
30 Day Accelerated Testimony: "By the way, I'm down 15 pounds in 16 days of the nutrition plan! I'm under 150 for the first time in years!" – Dawn
PHOTO TESTIMONY: "Two years ago, my son was diagnosed with Type One Diabetes. We struggled mightily for the first few months until we found the somewhat obvious solution – don't eat sugar. And that means no grains, no starch, no fruit and no 'sugar' – it's all just sugar. Thanks to Dr. Richard K. Bernstein and Maria Emmerich, my son has achieved fantastic blood sugar management and eats a luxurious diet. He has normal blood sugars – regularly achieves A1c's in the 4's – and eats like a king! (I estimate 50% of our meals are directly attributed to your recipes Maria and all are LC).
But this story isn't about him – it's about me. I went along on this diet change ride also, as has the whole family (over my dead body would I eat something which would raise my son's blood sugars). In fact, it was interesting – after diagnosis and before we made the transition to Maria's WOE, occasionally I would test my own blood sugar on something carby – a cookie, or a bowl of ice cream…my blood sugar would be sky high! 150 mg/dL or even higher! (I highly recommend everyone buy a cheap blood sugar meter and experiment for themselves). I've always thought of myself as a healthy guy, tall, strong enough, work out here and there, but I did have chronic GERD – since the age of 12 – and have even had a major surgery (fundoplication) due to morphological damage on my esophagus from the acid reflux. 'But Hey!', I thought, 'that's pretty normal – everyone else seems to have it too'.
So I just took my PPI's and Zantac for over two decades and dealt with it. And then something funny happened. Ever since I have been off all carbohydrates except for green leafy vegetables, my blood sugar has dramatically improved, and guess what? All symptoms of GERD/acid reflux are gone. Vanished. I'm off all medications. I'm even getting sick less and have taken ZERO courses of antibiotics. And I've never eaten better. It looks like it was the wheat…or maybe the higher blood sugars from carbs that caused this chronic GERD all along!
And to think I used to try to soothe my stomach with a piece of toast!!!
I've lost 40 pounds, 10" around the waistline and have tons of late afternoon energy ta boot. Its unbelievable! the damned fountain of youth! No way Im going back now! And look at the attached picture how my body just changed – worked out before and after the same amount! It's the diet! Thank you and Warm Alohas to you and your family Maria! You are thought of as a special 'Auntie Maria' in our house!" – RD
If you want to get started on a path to health and healing, click HERE. You will not regret it!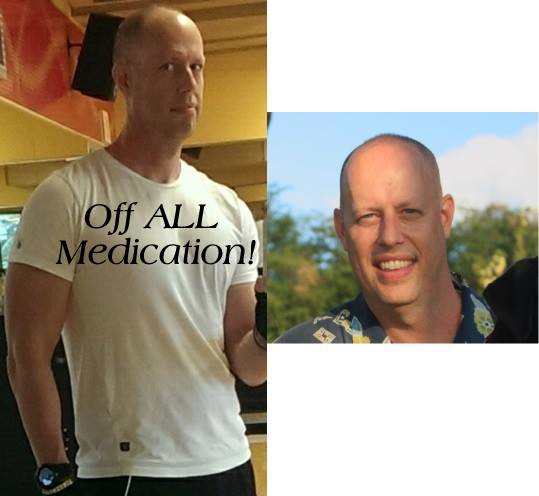 GOURMET WHIP GIVEAWAY!
I am thinking about holding a keto cooking class in my house but I'm having a hard time deciding what to cook and bake. This is where YOU come in! Leave a blog comment on what you would like to see me cook and you could win this amazing Whip Cream Dispenser worth $149.99!
To enter the giveaway all you have to do is 3 things:
1. Visit Keto Adapted on Facebook.
2. Tell your friends and family about Keto Adapted.
3. Comment below on what you would like to see me cook and bake.
And the winner is… Maggie McCoy Pogue!! Congrats and thanks everyone for entering!
DESCRIPTION of this AWESOME Whipped Cream Dispenser! 
Dispense whipped cream, soft cheeses and buttercream frostings in seconds with this powerful tool. Three different dispenser nozzles let you add a decorative flourish for garnishes, cake toppings and festive borders.
Designed for hot or cold use.
Uses N20 cartridges (sold separately) to create swirls of whipped cream, frostings, soup, soft cheese, pastry cream, jellies and more.
Includes three different spouts for creating decorative shapes.
Makes approximately 2 quarts whipped cream.
Add Gourmet Injectors (sold separately) to use the Gourmet Whip for filling pastries, poultry and more.
Crafted of dishwasher-safe brushed stainless steel.
Hygienic airtight system, HACCP qualified.