I grew up in Medford, Wisconsin, home of the first frozen pizza: Tombstone! It started in a bar located across the street from a graveyard.
My dad worked at the bar making pizzas for his friend who owned it. When the pizzas started to get popular, my dad's friend asked him if he wanted to be a part of the business. He politely said no, since my grandpa owned a plumbing and heating business and my dad always knew that he was destined to be a plumber (which he is to this day, as are my brothers). But it does make me think of the "butterfly effect" and how my destiny could have been different if he had said yes! I'm happy he declined, though—not only because I love my job, but also because I know how to fix plumbing and lay in-floor heating!
Anyway, Craig and I grew up on frozen pizza. It was even our school lunch on Fridays!
I am always looking for easy and tasty ketogenic meal options for those of you who are on-the-go all the time or do not like to cook. So when I saw this frozen pizza, I knew I had to try it out for you! They are little personal single serving frozen pizzas!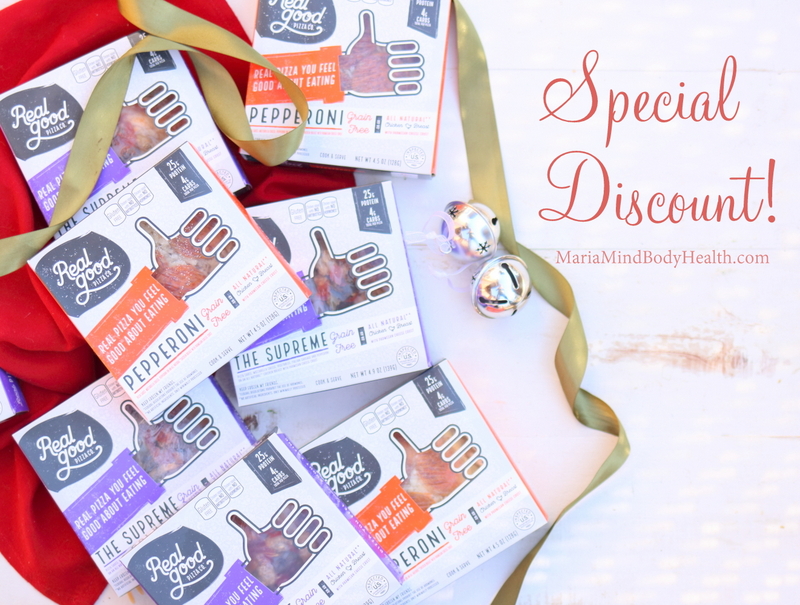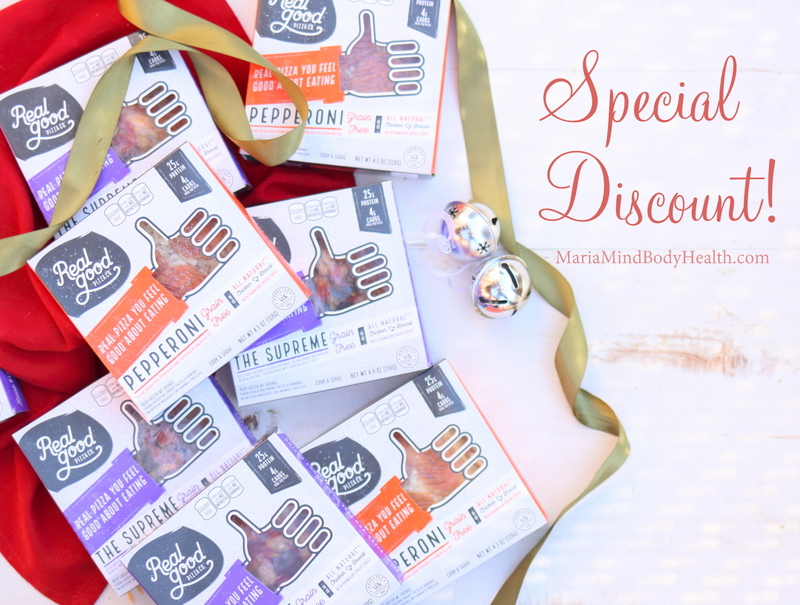 It is getting to be a very busy time of year for all of you! With holiday activities and gatherings means less time in the kitchen to cook! Which brings me to this awesome deal by Real Good Pizza! They are a very kind small company that really does care about their costumers! They have had such amazing feedback from my readers that they are now offering a 15% discount off your order for Maria fans! I love how kind you all are!!!
I can't tell you how nice it is to be able to pop a few of these into my beloved toaster oven and not have to think about what to make.
These awesome keto frozen pizzas have a crust made from chicken breast, broth and Parmesan cheese. Really great flavor and super convenient!
What a GREAT Christmas gift idea!
USE COUPON CODE: Maria FOR 15% OFF!!

TESTIMONY OF THE DAY
"1 month after my youngest son was born I weighed in at a whopping 110kg (242 pounds)…. this was the heaviest I'd ever been (I didn't even get close to this with my twins).
over the past 2 years I've exercised intermittently but never enough to really make a difference. I tried isagenix, weight loss pills, skipping meals & fad diets…. until a year ago when my cousin rang me from Switzerland desperate to find a way to save her own life as she had stage 4 cancer. Sadly she didn't make it, but it was due to that call that got me looking at cancer research and what role food/preservatives/sugar/wheat/gluten played in all of this.
I had unexplained bleeding & a biopsy that 'concluded' I had an autoimmune disease & Was lactose intolerant. I had prior tests showing I was also wheat intolerant.
I then found/read Maria's books and blog…. I decided to change my diet to exclude wheat & sugar & in the past 6 months began a ketogenic diet. I am keto adapted & slip out randomly as I like to eat fresh fruit on occasions, but I'm back in ketosis within a day. I never eat sugar/wheat products though.
I had a severe car accident in 2006 & as a result I have a significant back injury. I was prescribed slow release endone, 8 panadeine fortes a day, 2x lyrica & Celebrex…. oh and sleeping pills + anti reflux tablets of course. I've stopped taking all of these as I feel minimal pain whilst in ketosis… I sleep better, have more energy & began crossfit training. I do still get cortisone injections/spinal block but this is for movement. I also have 3 young kids (3yr old twins & a 2yr old), I am studying & working full time so life is busy but manageable as I have the patience, energy & natural pain relief to help me.
Maria, you've given me the tools to change my life & I am eternally grateful. For anyone out there wondering if this is right for them…. I can't express the benefits enough. It's not hard… you just need to plan it & execute that plan. I use the app 'my fitness pal' & keep my meals simple as I'm obviously busy & like simplicity. Give it a go…. check out what elite athletes eat (even crossfit champions, weightlifters etc)… it's pretty much ketogenic but keep in mind they burn ALOT more considering they train for 4-6hrs a day. So 1 avocado to them would be like 1/8 to me.
I've wasted ALOT of time/money looking at other keto diets/information & I have to say that Maria covers it all…. the keto summit is amazing & I will never look elsewhere again. Anyone can write a book/blog but only a select few can do it correctly! Well done Maria, you have truly found your life's purpose & are making a difference.
Tanja
(Australia)"