A lot of you messaged me that you didn't want to get the Protein Sparing Modified fasting ebook and begged me to make the ebook into a REAL book. Since my husband Craig is such an awesome helper, he made your wishes come true! You can now get this Protein Sparing Modified Fast Cookbook as a real book mailed right to your front door! Click HERE to order. You will not be disappointed! The meal plans in this book has had amazing results so far!
This cookbook is perfect for summer because the recipes are easy, many are grilling recipes and are perfect to get you into your summer wardrobe fast!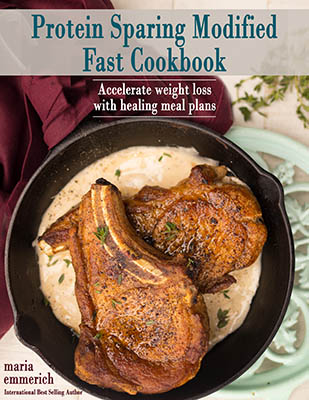 The idea behind a protein-sparing modified fast (PSMF) is to reduce carbs and fat as much as possible while still hitting your protein goal or even getting a bit more protein than your target. Instead of 0.8 times your lean mass for your protein goal, you want 1.0 times your lean mass when doing a PSMF. The additional protein makes your body use even more stored fat for fuel, helps break stalls or accelerate weight loss and healing, and helps keep you feeling full, while also giving you the added benefit of the high thermic effect of food with protein, which means that you effectively lose 25 percent of the calories you take. You also want to get some fat during this type of fast to ensure that you keep your hormones happy and that fat-soluble vitamins (A, D, E, and K) get absorbed. 30 to 50 grams of fat will be enough. But lower the fat this much forces the body to use more stored body fat for fuel, exactly what you want for weight loss.
PSMF is something we typically have clients do a couple days a week. Then regular keto eating the other days. For example, let's say a woman weighs 170 pounds and has 38 percent body fat, which means she has 105 pounds of lean mass. Her macros would be 20 grams or less of carbs, 105 grams of protein, and 40 grams of fat. As you can see, this is like fasting while preserving lean mass because she is only getting about 860 calories, though only about 730 of those calories are useful because of the thermic effect of food. She will get enough protein to preserve important lean body mass, but she will have to use a lot of stored fat to fuel her body. This is what makes PSMF such a great tool for accelerating weight loss or breaking a stall.
Eight to ten years ago, Maria called this practice a "pure protein day." Back then, we hadn't heard of PSMF. We just knew the properties of the thermic effect of food and how our metabolisms worked, so we knew this could be helpful for people to lose weight faster. PSMF is becoming more popular and well-known and is a great tool for improving results.
We have just launched an all new Protein Sparing Modified Fast cookbook!  This ebook is loaded with over 47 great recipes and 2 weeks of PSMF meal plans with full grocery lists!
TESTIMONY OF THE DAY
"Hi Maria! I've reached new "lows" 4 times this week, this morning I was 138. My goal was 150!
Had someone told me a year ago that I'd be comfortable in my own skin, love the person I see in the mirror, and wake up happy everyday with overflowing joy, I'd have asked you what you were smoking. 
I have won my battle with depression too. Life is good! No, it's fantastic! I'm gonna Keep it Keto and make myself breakfast at almost 1pm, then I should probably weed my asparagus beds. It's ready to harvest again too!
I'm 48 years old, and mom to 4 kids, currently 25, 24, 23, and 21. This lifestyle has been the easiest thing I've EVER done! You want results like this, stay on plan, do not cheat yourself. Put it into your mind to fully commit to this lifestyle. I committed to the first 30 days, but was hooked after a week or two. I refuse to cheat myself when it comes to food, I've come way too far. ️" – Alexa
Most people I consult are doing keto totally wrong. Get fast results with the my NEW Keto School!