Testimony of the Day
"Hi Maria, You have been helping me get my life back by getting healthy. My main request was to help me get pregnant. Since starting your way less than 3 months ago I have lost 31 pounds and am off all my autoimmune disease medications. And today, I can tell you that I found out I am expecting. I am only a few weeks along and so I can't share with everyone yet but I owe you my gratitude. After a year long emotional journey, your way restored my body back to health." Carrie
Get started on your path to health today with the recently improved 30 day accelerated package! Now every day has calculations for percent of fat/protein/carbs. It has never been easier to follow the keto-adapted lifestyle.
Dawn looks amazing too!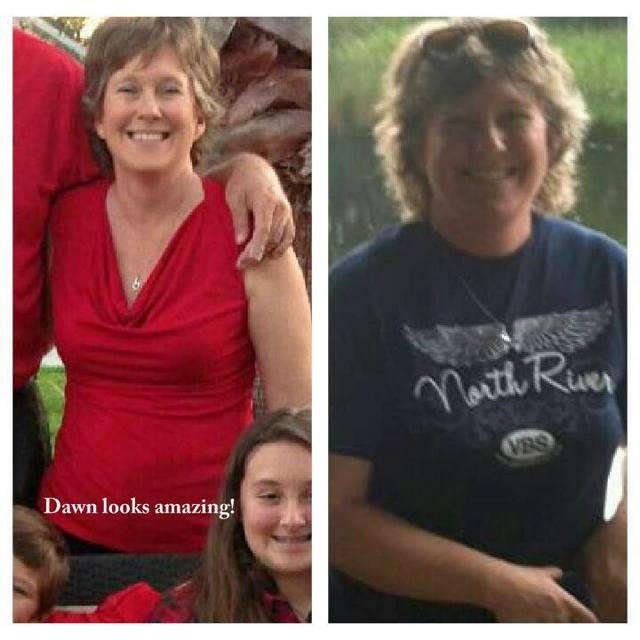 Great deals on Nut and Seed Flours
Great news!  If you use this link for your Nuts.com flour orders I can a little percentage that enables me to buy flours to experiment and make more great recipes!  So stock up on one of these great "Maria Approved" flours:
Almond Flour (I buy the 25 pound bag and keep extra in the freezer, only $4.29 a pound!)
Coconut Flour
Peanut Flour
Hazelnut flour
OR Pumpkin seed flour
Just Click HERE.  Thanks so much for your support! 🙂
PREBIOTICS
If you read labels you might see ingredients like oligofructose and inulin starting to show up on food packages. These 2 words are called 'prebiotics' in the nutrition world. Prebiotics are non-digestible foods that make their way through our digestive system and help good bacteria grow and flourish. Prebiotics keep beneficial bacteria healthy. They are found in small amounts in many plants. Plants with large amounts of oligosaccharides include chicory root. About 90% makes it past digestion in the small intestine and reaches the colon where it performs a different function: that of a prebiotic.Just Like Sugar contains 96 grams of inulin fiber per cup! The ingredients of Just Like Sugar = Chicory Root, Calcium and Vitamin C.
Prebiotics help increase probiotics, which are beneficial bacteria that help keep your digestive system healthy. The majority of my clients have malfunctioning digestive systems for a variety of reasons. Our typical 'Western' eating habits and stress can all negatively impact the 'good bacteria' in our gut. Probiotics are helpful micro-organisms that live in our intestinal tract. In a healthy body, good bacteria make up most of the intestines' micro-flora and protect digestive health. If you have primarily good bacteria, your immune system will function optimally and it will help you extract essential nutrients in the foods you eat. In order to feed our cells, we need to absorb the nutrients from our food, otherwise our brain will keep telling us to eat until the cells are fed.
Here are the most common warning signs of a bacterial imbalance, if you suffer one or more of these problems it is quite likely that eating prebiotics and taking a probiotic supplement could help you get your 'system' back on the right track:
1. Allergies and food sensitivities
2. Difficulty losing weight, sugar/carbohydrate craving
3. Frequent fatigue, poor concentration
4. Frequent constipation or diarrhea
5. Faulty digestion, acid reflux and other gut disorders
6. Sleeping poorly, night sweats
7. Painful joint inflammation, stiffness
8. Bad breath, gum disease and dental problems
9. Frequent colds, flu or infections
10. Chronic yeast problems
11. Acne, eczema skin and foot fungus
12. Extreme menstrual or menopausal symptoms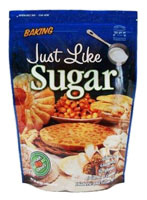 There are many stresses and factors that can kill your 'friendly bacteria' every day. Here is a summary of some of the commonest good-bacteria-KILLERS:
1. Antibiotics
2. Birth control pills
3. Steroidal & hormonal drugs
4. Fluoride (added to toothpaste and sometimes to drinking water!)
5. Chlorine (added to water to kill bacteria…it kills friendly-bacteria too!)
6. Coffee/Tea
7. Carbonated drinks
8. Stress
9. Preservatives
10. Additives (colorings, flavorings and chemicals in processed foods)
11. Pesticides (choose ORGANIC fruit and veggies to avoid this!)
12. Fertilizers (choose ORGANIC fruit and veggies to avoid this!)

Our moods are directly correlated to the intestinal flora of our gut…the nervous system actually come from the gut to the brain; in the past scientists thought the nervous system ran the other way. This is why what we put in our stomach is so essential to our mental health. Having healthy intestinal flora; which you can achieve with probiotics and fermented foods, increase our moods and decrease our cravings.
To read more on Probiotics and Cravings, check out my book Secrets to Controlling Your Weight Cravings and Mood.
So BRING on the JUST LIKE SUGAR! Click HERE to find.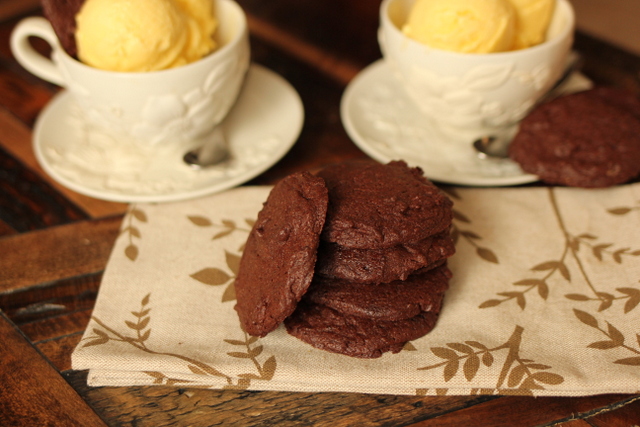 "Healthified" Fudge Cookies
1/2 cup butter or coconut oil
1 cup Just Like Sugar
3/4 cup erythritol (or Swerve)
1 tsp stevia glycerite (omit if using Swerve)
1 cup unsweetened cocoa powder
2 eggs
1/4 tsp Celtic sea salt
2 tsp vanilla
Preheat the oven to 350 degrees F. In a medium bowl, cream the butter, erythritol, stevia and the Just Like Sugar together. Add in the eggs, stir until well combined. Finally mix in the cocoa powder, salt and vanilla. Form 2 inch balls. Place on a cookie sheet about 2 inches apart. Bake for 10 minutes. Allow to cool on the cookie sheet before removing. Makes 12 cookies.
NUTRITIONAL COMPARISON (per cookie)
Traditional Cookie = 151 calories, 9.4g fat, 1g protein, 21 carbs, 2g fiber
"Healthified" Cookie = 97 calories, 9.4 g fat, 2.4g protein, 6.5 carbs, 4.6g fiber (1.9 effective carbs)
VARIATION: Smoosh in-between my "healthified" ice cream recipe!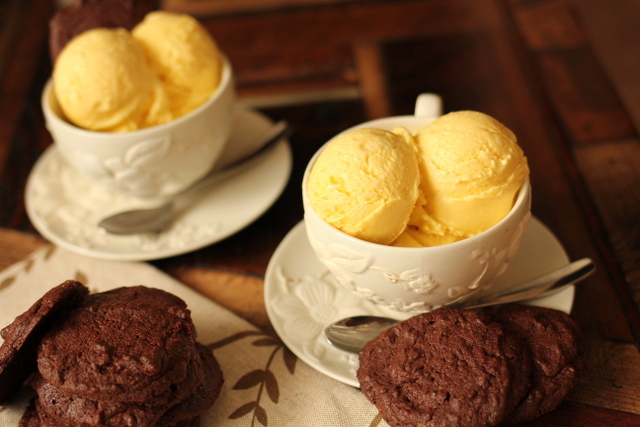 If you would like to help out a small family, rather than large business, I am happy to announce that you can now get my books as a high-quality ebook that works on any platform.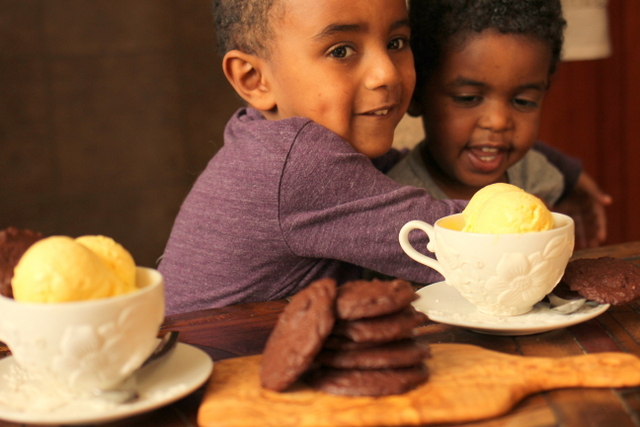 This is an ebook format that works on any computer or mobile device. It is a beautiful pdf that has all the full-color pages and layouts as the printed books with a click-able table of contents and searching capabilities. This is extremely useful when trying to find a recipe. These books are much higher quality than the ebook platforms (kindle, apple). Plus, most of the profits don't go to Amazon or apple! Just go here to get your copy!
Click HERE or select "My Books" above to get your copy now!