The EASIEST Protein Sparing Bread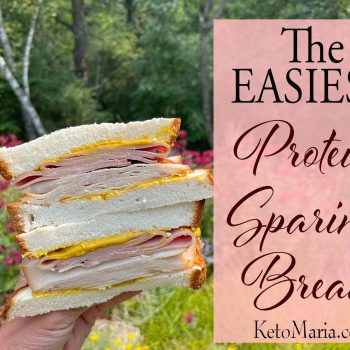 1½ cups egg white protein
¼ cup allulose (optional)
½ teaspoon Redmond Real salt
½ teaspoon cream of tartar
1½ cups water
Preheat oven to 325 degrees F. Grease a bread pan with avocado oil spray. Set aside.
Place the egg white protein, allulose, salt, and cream of tartar into the bowl of your stand mixer (or any large bowl). Stir to combine well.
Add the water. Turn the mixer to high (or a hand mixer on high speed) and whip for at least 5 minutes or until stiff peaks form. Click HERE to find the 8 quart stand mixer I have so I can make 2 loaves of psmf bread at once! Makes a GREAT gift!
Bake for 15 minutes or until golden and cooked through for buns. Bake for 30 minutes or until cooked though and golden brown for a loaf.
Remove from the oven and cool completely before slicing.
Click HERE to watch a very helpful video on Protein Sparing and how to do PSMF properly and avoid the weight loss mistakes I see all the time!
Nutritional Information:
44 calories, 0g fat, 9g protein, 0.5g carbs, 0g fiber
P:E ratio 18.0
Recipe by
Maria Mind Body Health
at https://mariamindbodyhealth.com/the-easiest-protein-sparing-bread/