Protein Sparing Pumpkin Pie Sorbet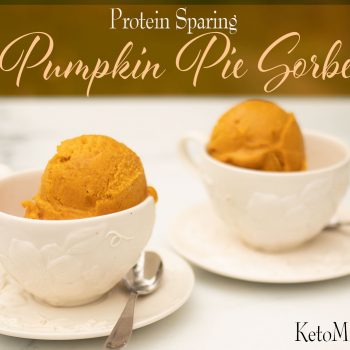 2¼ cups unsweetened almond milk
1 teaspoon Further Food gelatin
½ cup Brown Allulose
½ cup unsweetened pumpkin puree (see Note)
2 tsp pure vanilla extract (or 1 vanilla bean scraped clean)
¾ tsp pumpkin pie spice: ¼ tsp cloves, ¼ tsp ground nutmeg, ¼ tsp ground cinnamon
½ teaspoon Redmond Real Salt
Sprinkle powdered gelatin over ¼ cup cool almond milk. Stir and set it aside for at least 5 minutes to bloom while you mix the base.
In a sauce pan, whisk together remaining 2 cups almond milk, brown allulose, pumpkin puree, vanilla extract, pumpkin pie spice, and salt.
Heat this mixture on medium heat while whisking to a simmer.
Remove from heat. Pour into blender. Add bloomed gelatin-almond milk mixture. Blend for 1 minute.
Cool sorbet base to room temperature. Taste and adjust sweetness to your liking.
Place into your ice cream machine (click HERE to find the one I LOVE)and watch the magic happen within 15 minutes or according to your ice cream maker's directions. Freeze until set.
NOTE: if your pumpkin pie sorbet hardens too much, let it thaw 15 minutes before serving.
Nutritional Information:
31 calories, 1g fat, 1g protein, 3g carbs, 1g fiber
P:E Ratio 0.3
Recipe by
Maria Mind Body Health
at https://mariamindbodyhealth.com/protein-sparing-pumpkin-pie-sorbet/