Protein Sparing Chicken Enchiladas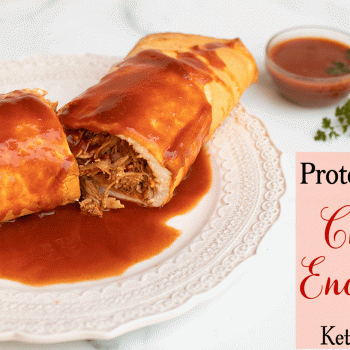 INSTANT POT CHICKEN ENCHILADAS
1 cup salsa or pico de gallo
1 cup chicken broth
1½ tsp ground cumin
1½ tsp chili powder
1½ teaspoon onion powder
1½ teaspoon garlic powder
1½ teaspoons Redmond Real salt
½ tsp Mexican oregano
PROTEIN SPARING TORTILLAS
8 egg whites
2 tablespoons gelatin
½ teaspoon cream of tarter
4 teaspoons powdered Allulose
4 tablespoons unflavored egg white powder
ENCHILADA SAUCE
½ tablespoon chili powder
2 teaspoons cumin
1½ teaspoons Redmond Real salt
1 teaspoon onion powder
1 teaspoon garlic powder
1 cup chicken broth
1 cup tomato sauce (or 1 tomato diced)
Place the chicken breasts, salsa, chicken broth, and seasonings into the shell of an instant pot (OR a slow cooker).
Secure Instant Pot lid, making sure the valve is set to "sealing". Press the Pressure Cook or Manual button and use the +/- buttons to set the timer for 15 minutes.
Once the timer beeps, let the pot depressurize on it's own for 10 minutes, then release any remaining pressure. When the pin drops, remove lid and set aside.
IF USING A SLOW COOKER: place all the ingredients into a slow cooker. Cover and cook on HIGH for 3 hours or on low for 6 hours, or until chicken shreds easily with a fork.
Remove chicken breasts to a large bowl and shred. Set aside.
To make the protein sparing tortillas, Place the egg whites, gelatin, cream of tartar, salt and allulose in a large bowl. Use a hand mixer on high and whip the whites until double in size and very stiff. Add the egg white powder and blend until just combined.
Heat a large non-stick skillet to medium heat. Spray with avocado oil spray. Use a spatula to spread ¼th of the protein sparing tortilla dough out on the greased skillet, about ⅛ inch thick. Cook for 3-4 minutes per side or until light golden brown. Remove from skillet and repeat with remaining protein sparing tortilla dough until you have 4 tortillas.
To make the enchilada sauce, the ingredients into a blender and puree until smooth. Taste and adjust seasoning to your liking.
To assemble the enchiladas, place one protein sparing tortilla onto a large plate. Fill the tortilla with ¼ of the chicken enchilada mixture. Roll up the tortilla like a burrito. Cover with ¼ of the enchilada sauce. Repeat with remaining protein sparing tortillas, chicken and enchilada sauce.
Store extra chicken, protein sparing tortillas and enchilada sauce in separate airtight containers in the fridge for up to 5 days. Can be frozen for up to a month.
Nutritional Information:
287 calories, 5g fat, 53g protein, 8g carbs, 1g fiber
P:E Ratio 4.4
Recipe by
Maria Mind Body Health
at https://mariamindbodyhealth.com/protein-sparing-chicken-enchiladas/