Protein Sparing Wonder Bread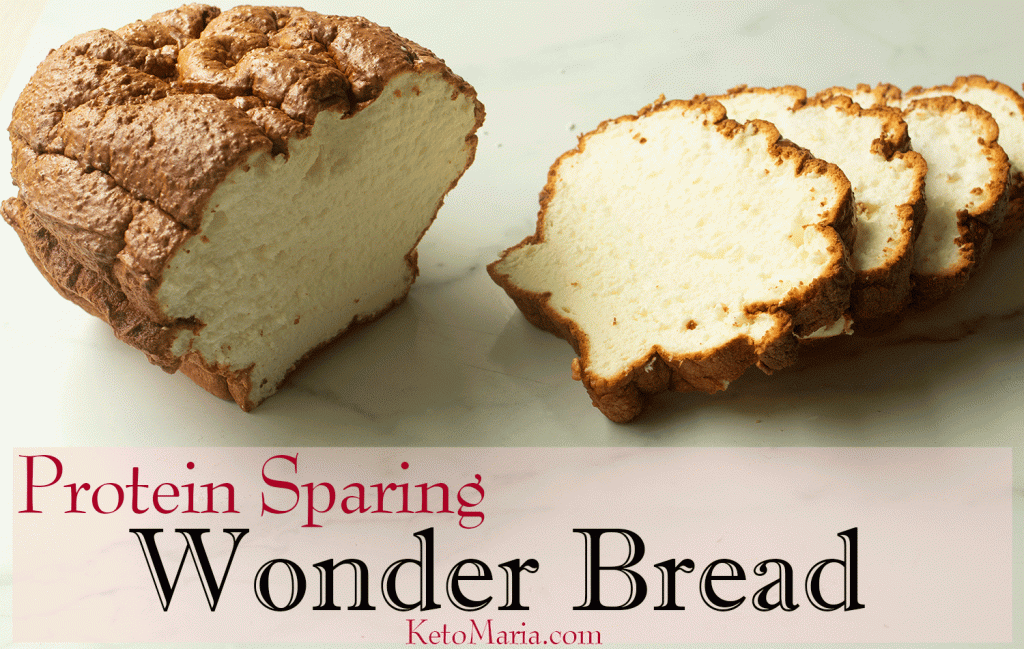 12 egg whites (separated from whole eggs)
¼ cup powdered Allulose
½ teaspoon Redmond Real Salt
½ teaspoon cream of tartar (to help stabilize the whites)
Optional: Add back in 1-2 tablespoon egg yolk powder (or reserved egg yolks), improves texture and flavor, but adds fat.
Preheat the oven to 325 degrees F.
Separate the eggs (save the yolks for another recipe like my keto ice cream, hollandaise, mayo or lemon curd), and place the whites into a large bowl or stand mixer. Add the allulose, salt and cream of tartar if using and whip the whites for a few minutes until VERY stiff.
Turn the mixer to low and gently mix the Jay Robb egg white protein powder into the whites.
Grease a bread pan with Primal Kitchen Avocado oil spray and fill with protein sparing Wonder Bread mixture.
Bake for 30 minutes or until golden brown. Turn oven off and leave bread in the oven for 15 minutes to avoid the bread from falling.
Let completely cool before cutting or the bread will fall. Cut into slices.
Store leftovers in the fridge for up to 4 days or in the freezer for up to a month.
OPTION: Make bread into 18 buns on a greased cookie sheet bake for 13-15 minutes.
Nutritional Information:
32 calories, 0g fat, 7g protein, 1g carbs, 0g fiber
P:E ratio 7.0
Recipe by
Maria Mind Body Health
at https://mariamindbodyhealth.com/protein-sparing-wonder-bread/