No-Bake Strawberries and Cream Custard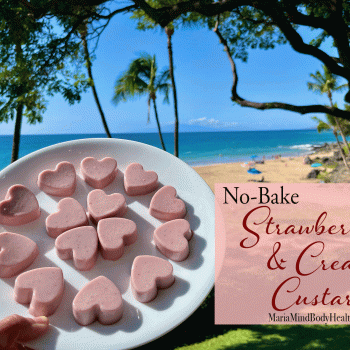 2 teaspoons unflavored Further Foods gelatin (or 4 teaspoons to make heart gummies)
1 cup unsweetened almond milk (or unsweetened hemp milk if nut free)
1 pound fresh strawberries
1 cup heavy cream (or coconut milk if dairy free)
1 teaspoon vanilla extract (or strawberry extract)
½ cup Swerve confectioners (or equivalent)
⅛ teaspoon Redmond Real Salt
Fresh strawberries for garnish
Place the almond milk into a medium saucepan; slowly whisk in the gelatin. Let stand until gelatin softens, about 10 minutes.
Meanwhile, place the strawberries into a blender of food processor and puree until smooth. Place the puree through a fine-mesh sieve and discard the seeds. Set aside.
Add to the saucepan, the strawberry puree, cream, vanilla, natural sweetener and salt. Whisk over medium heat just until gelatin dissolves, about 2 minutes. Remove from heat. Divide among cute martini glasses or heart shaped ramekins.
Cover; chill until set, at least 5 hours or overnight. Store covered in the fridge for up to 4 days. Do not freeze.
Nutritional Information:
174 calories, 15g fat, 3g protein, 7g carbs, 1g fiber
Recipe by
Maria Mind Body Health
at https://mariamindbodyhealth.com/no-bake-strawberries-and-cream-custard/