Cheeseball Christmas Tree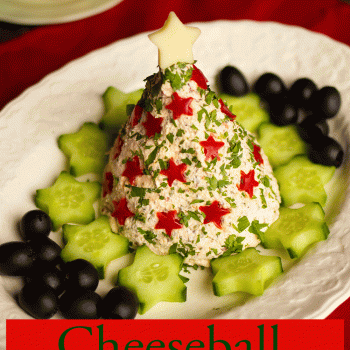 CHEESE BALL
1 (8-ounce) package cream cheese, softened
½ cup thick salsa
1 cup shredded pepper jack or sharp cheddar cheese
COATING
1 red bell pepper
1 thin slice cheddar cheese
⅓ cup chopped fresh cilantro
SERVING SUGGESTIONS
Sliced red and green bell peppers
Celery sticks
Cucumber slices
Parmesan crostini
Make the cheese ball: Place the cream cheese, salsa, and shredded cheese in a large mixing bowl and stir until smooth and well combined. Form into a ball, wrap in parchment paper, and place in the refrigerator for 1 hour to set.
Meanwhile, use a tiny star-shaped cookie cutter and cut about stars out of the red bell pepper. First, cut the pepper into ½-inch slices. Then lay the slices flat and cut out the stars.
Cut a star out of the slice of cheese for the top of the tree. Alternatively, you can use a sharp knife to cut the pepper and cheese into diamond shapes.
Place the chilled cheese ball on a serving tray and form it into a tree shape. Press the chopped cilantro all over the tree, then decorate with the bell pepper stars and top with the cheddar cheese star.
Serve with red and green bell pepper slices or other dippers of choice. Store extras in an airtight container in the refrigerator for up to 5 days.
calories 155 • fat 13g • protein 5g • carbs 2g • fiber 0g
Recipe by
Maria Mind Body Health
at https://mariamindbodyhealth.com/cheeseball-christmas-tree/