No Bake Pumpkin Cheesecake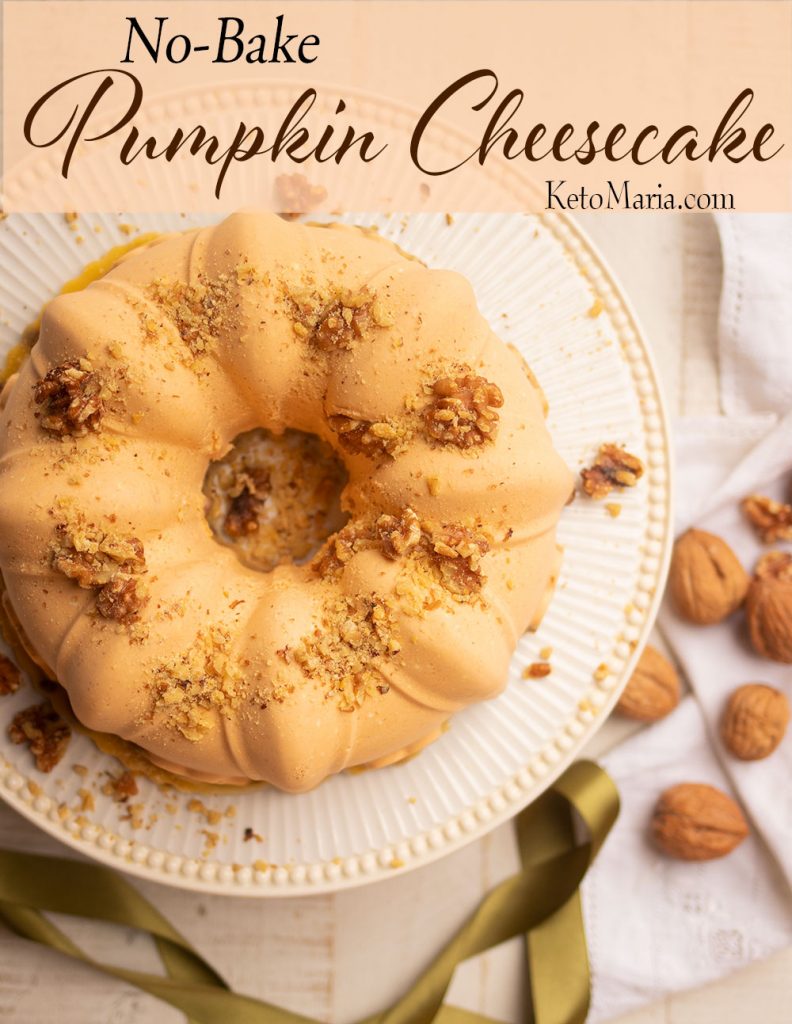 Cheesecake Layer:
1 cup unsweetened almond milk (or hemp milk if nut free)
1 tablespoon Further Foods gelatin
3 (8 ounce) blocks of cream cheese, softened
1 (15 oz.) canned pumpkin
¾ cup Swerve brown (or to desired sweetness)
2 teaspoons pumpkin pie spice
1 vanilla bean, scraped clean (or 1 teaspoon vanilla extract)
CRUST:
1 cup butter
1 cup crushed walnuts (or pecan)
¾ cup Swerve brown (or equivalent powdered sweetener)
1 teaspoon cinnamon
For the pumpkin cheesecake: Place the almond milk in a small saucepan (or small microwave safe bowl). Sift the gelatin into the almond milk. Heat gelatin mixture until the gelatin melts, over medium high heat for about 2 minutes. (or in the microwave for 10 seconds or until liquefied). Add in the cream cheese, pumpkin, natural sweetener and pumpkin pie spice and mix well with an electric mixer. Add extract and beat until smooth. Taste and adjust sweetness to your liking. Pour the batter into a silicone Bundt pan or a 9x5-inch loaf pan (note: if you use a loaf pan, make sure to line it with parchment paper that overhangs so you can release the cake since it will need to thaw a little before it will release. Gently put the mold in the freezer while you make the crust and coating.
To make the crust, place the butter in a large saucepan and heat until butter starts to bubble and brown flecks appear, stirring often. To watch a video on browning butter, click HERE: http://mariamindbodyhealth.com/videos/
Once the butter is dark brown, but not black, add the natural sweetener. Remove from heat and add the crushed nuts and cinnamon. Stir well to combine.
Remove cheesecake from the freezer. Place 1¼ cup of the nut mixture onto the cheesecake layer (this will be your crust). Place back in freezer until frozen. Place the extra praline mixture in aside to cool to room temp.
Once the cheesecake is totally frozen, remove it from the mold or loaf pan. Place on a serving platter with the crust side down and drizzle the top with reserved nut mixture (you may need to re-heat the topping if it hardened too much by placing it back on the stove or heating in the microwave until you are able to drizzle it). The topping will harden since the cheesecake is frozen.
Store in fridge for up to 3 days or freezer for up to a month. Allow to thaw before cutting into slices for serving.
Nutritional Information:
265 calories, 25g fat, 3g protein, 5g carbs, 2g fiber
Recipe by
Maria Mind Body Health
at https://mariamindbodyhealth.com/no-bake-pumpkin-cheesecake/