Candy Cane Caprese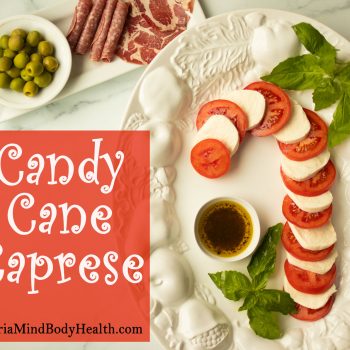 1 (1 pound) log fresh mozzarella cheese
2 large ripe tomatoes
Fresh basil leaves
OPTIONAL ADDITIONS:
Salami
Prosciutto
Olives
Slice the roll of fresh mozzarella and tomatoes into ¼ inch thick slices.
On a large serving platter, make a candy cane shape with the tomatoes and mozzarella. Start at the bottom part of the candy cane shape and alternate layering a slice of tomato and then a slice of fresh mozzarella. Continue until you have a large candy cane shape.
Place fresh basil leaves around the candy cane.
Just before serving, drizzle the candy cane caprese with Primal Kitchen Oil & Vinegar dressing and sprinkle of Redmond Real salt.
Serve with olives, salami and prosciutto.