Protein Noodle Alfredo Lasagna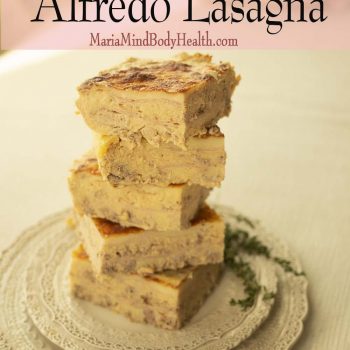 SAUCE:
1 cup butter
4 cloves garlic (omit for carnivore)
8 ounces cream cheese, softened
1 cup freshly grated Parmesan cheese
FILLINGS:
2 pounds ground chicken
2 teaspoons REDMOND REAL salt
2 cups shredded mozzarella
2 cups shredded Parmesan
12 slices thinly shaved deli chicken (I use Applegate Farms)
Preheat oven to 350 degrees.
Place butter in a saucepan and heat over high heat while whisking until golden brown flecks appear (this is brown butter), stir constantly, or the butter will burn. Turn to a low heat. Add the garlic cloves (or roasted garlic) in the butter. Stir in cream cheese, broth, and Parmesan. Simmer for at least 15 minutes...the flavors open up if you simmer longer:)
Place the ground chicken into a large skillet. Season with salt and cook over medium high heat while crumbling. Cook for 5 minutes or until chicken is cooked through and no longer pink.
To assemble, spread half of the sauce in the bottom of a 9x13 inch baking dish.
Top with half of the ground chicken.
Top with 1 cup of mozzarella cheese,1 cup of the Parmesan and one layer of deli slices. Repeat layers, and top with remaining mozzarella and Parmesan cheese.
Bake for 25 to 35 minutes or until golden brown on the top.
Cool for 45 minutes before serving.
NUTRITIONAL COMPARISON (per serving):
482 calories, 35g fat, 30g protein, 2g carbs, 0g fiber
Recipe by
Maria Mind Body Health
at https://mariamindbodyhealth.com/protein-noodle-alfredo-lasagna/