Protein Noodle Enchilada Lasagna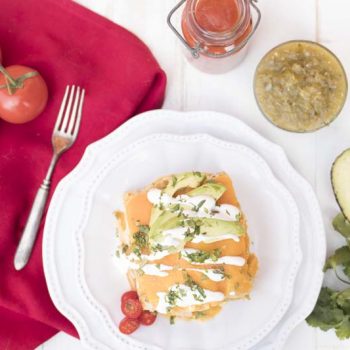 2 tablespoons duck fat, butter or coconut oil
1 yellow onion, roughly chopped
1 tablespoon chili powder
2 teaspoons cumin
4 cloves garlic, roughly chopped (or 1 head roasted garlic)
28-ounces canned diced tomatoes (or tomato purée)
3 tablespoons taco seasoning (click HERE)
10 slices deli shaved chicken
3 cups shredded Monterey jack cheese
Garnish with Avocado, cilantro and Cotija cheese
Heat the fat to medium high heat in a cast iron skillet. Add the onions and saute for 4 minutes.
Reduce heat to medium and add the garlic, chili powder, cumin, and salt. Saute for 2 more minutes.
Add the broth and tomatoes/puree and simmer on medium high for 8 minutes. Use a stick blender to purée or pour sauce into a blender and combine until smooth and set aside.
Place another tablespoon ghee or oil to the skillet to medium-high heat. Add the ground beef or ground chicken and season with taco seasoning. Cook for a few minutes while crumbling with a wooden spoon. Add reserved sauce and cover. Cook for 5 minutes on medium or until the beef/chicken is cooked through and no longer pink. Set aside.
Preheat the oven to 350 degrees F.
Place 5 slices of deli chicken in the bottom of a 9 inch cast iron skillet or casserole dish. Top with ½ the ground beef/chicken mixture, ½ the Monterey Jack cheese. Top with more deli slices, saucy chicken and cheese. Place in oven and bake for 20 minutes.
Garnish with slices of avocado, cilantro and Cotija cheese.
Nutritional Information:
453 calories, 25g fat, 38g protein, 8g carbs, 2g fiber
P:E Ratio 1.2
Recipe by
Maria Mind Body Health
at https://mariamindbodyhealth.com/protein-noodle-enchilada-lasagna/