Sous Vide Bacon and Gruyere Cheese Egg Bites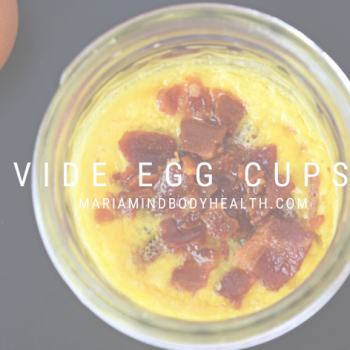 6 eggs
4 tablespoons cream cheese
½ cup Gruyere cheese shredded
¼ teaspoon Redmond Real salt
4 pieces cooked bacon (or ham)
Set your sous vide for 167 degrees. While the Sous vide heats up, place the eggs, cream cheese, ½ cup Gruyere cheese and salt into a blender and purée until smooth.
Grease 4½ pint wide-mouth mason jars with butter or bacon fat. Crumble a piece of bacon into each jar.
Pour egg mixture into jars. Wipe the rim of the jar to make sure it is clean, then place the lid on the jar. Place jars into the sous vide. Once the sous vide has reached 167 degrees cook eggs for about 35 minutes or until the eggs are completely set.
Once the eggs are set, you can serve directly from the jars or store extras in the jars for easy breakfast on-the-go!
Nutritional Information:
307 calories, 23g fat, 20g protein, 1g carbs
Recipe by
Maria Mind Body Health
at https://mariamindbodyhealth.com/sous-vide-bacon-and-gruyere-cheese-egg-bites/