Healthy Halloween Food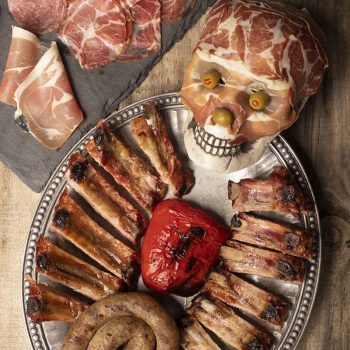 1 rack of my Smoked baby back ribs (click here for my recipe and video)
1 sausage in a circle shape (I picked up at the butcher)
½ red bell pepper (for the heart)
1 skeleton head (click here)
1 package Prosciutto
1 package salami
3 Green Olives with pimentos
To begin making the skeleton, make the smoked ribs. I always have extra in my freezer so all I have to do is throw them in the oven to finish and get tender. Once the ribs are done cooking, slice into individual riblets.
Meanwhile, boil the circle sausage for 8 minutes or until cooked through. Finish by grilling (or sauteing) on medium high for 2 minutes each side. While you grill the sausage, slice the red bell pepper in ½, core and discard the seeds. Brush with bacon fat and place on the grill with skin side down. Cook until chard, about 2 minutes.
Place the riblets onto a large serving platter in a manner to replicate a body. Place the chard bell pepper into the center of the ribs to replicate the heart. Place the grilled circle sausage below the heart to replicate the intestines.
Wrap the prosciutto around the skeleton face. Wrap the salami around the brain area. Place the olives in the eye sockets and nose.
Serve warm!