Strawberries and Cream Ice Cream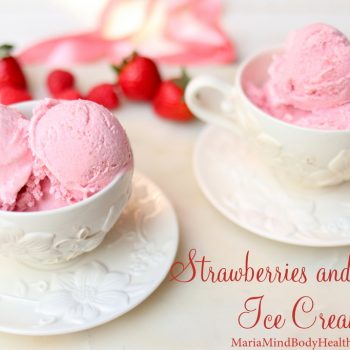 1 cup strawberries, cleaned and stems cut off
½ cup heavy cream (or coconut milk if dairy free)
½ cup unsweetened almond milk (or unsweetened hemp milk if nut free)
1 teaspoon stevia glycerite (non bitter stevia)
Few drops Monk Fruit extract
⅛ teaspoon fine grain sea salt
Place all of the ingredients into a blender and puree until smooth. Taste and adjust sweetness to your liking.
Pour into ice cream maker and churn for 15 minutes or until the magic happens and ice cream is thick. Store in airtight container in the freezer for up to a month.
NOTE: If ice cream is too hard, allow to sit at room temperature for 8 minutes before serving.
Nutritional Information:
115 calories, 11g fat, 1g protein, 4g carbs, 1g fiber
Recipe by
Maria Mind Body Health
at https://mariamindbodyhealth.com/strawberries-and-cream-ice-cream/