Pumpkin Cookies with Cream Cheese Frosting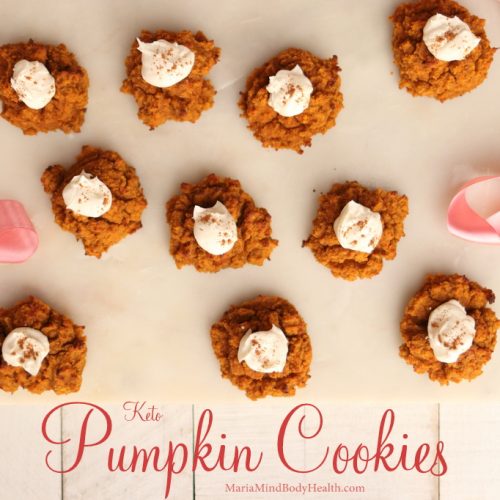 Cookies:
1 cup blanched almond flour
¼ cup coconut flour
½ teaspoon baking soda
¼ teaspoon fine sea salt
2 teaspoons Pumpkin Pie Spice (or a blend of cinnamon, nutmeg, ginger and cloves)
2 tablespoons butter (or coconut oil if dairy-free), softened
½ cup Swerve brown (or confectioners) sweetener or equivalent
2 large eggs
¾ cup fresh or canned pumpkin puree
FROSTING:
4 ounces cream cheese (Kite Hill brand cream cheese style spread if dairy-free), softened
¼ cup Swerve confectioners sweetener or equivalent
1 teaspoon vanilla extract
Preheat the oven to 325°F. Place a piece of parchment on a cookie sheet.
In a large mixing bowl, stir the almond flour, coconut flour, baking soda, salt, and
spices until well combined. In another bowl, mix together the butter, sweetener, eggs, and pumpkin until smooth. Stir the wet ingredients into the dry. Spoon the batter into the prepared cookie sheet, placing each cookie about an inch apart.
Bake the cookies for 20 minutes, until a toothpick inserted into the center comes out clean. Allow to cool before removing
from the pan.
Meanwhile, make the frosting. Using a hand mixer, beat the softened cream cheese in a medium-sized bowl until smooth. Add the sweetener, and vanilla and beat until well combined. Top each cookie with about 1 tablespoon of the cream cheese frosting. Sprinkle with pumpkin pie spice if desired.
Store extras in an airtight container in the refrigerator for up to 3 days.
Nutritional Information:
135 calories, 11g fat, 4g protein, 5g carbs, 2g fiber
Recipe by
Maria Mind Body Health
at https://mariamindbodyhealth.com/pumpkin-cookies-with-cream-cheese-frosting/