Butter Pecan Ice Cream Bites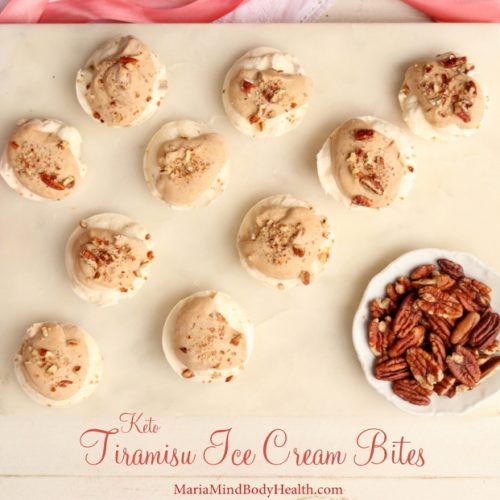 1 cup heavy cream, chilled
1 cup cream cheese, softened (or Kite Hill brand if dairy free)
¼ cup ALLULOSE, or equivalent (to desired sweetness)
1 teaspoon vanilla extract
BUTTER PECAN LAYER:
½ cup butter
4 oz cream cheese, softened
½ cup pecans, plus more for garnish
1 cup unsweetened almond milk
½ cup ALLULOSE
1 teaspoon vanilla
Place the heavy cream in a chilled bowl and beat until stiff peaks form. Add in the softened cream cheese, natural sweetener and vanilla; combine until smooth.
Place the mixture into a bendable chocolate mold (I used this muffin pan and placed it on a cookie sheet for stability). Place in freezer until frozen.
To make the Butter Pecan layer, Place the butter in a medium saucepan over high heat. Use a whisk to stir occasionally. Heat until butter starts to froth. Start to whisk often while brown flecks appear. Continue to heat and whisk until the butter turns a dark golden brown (not black).
Place the brown butter and the rest of the ingredients into a blender and puree until well combined. Taste and adjust sweetness to your liking. Divide the mixture into each ice cream bottom. Garnish with additional pecans.
Place in the freezer for at least 2 hours before serving. Store covered in the freezer for up to 1 month.
Nutritional Info:
227 calories, 28g fat, 3g protein, 2g carbs, 0.4g fiber
Recipe by
Maria Mind Body Health
at https://mariamindbodyhealth.com/butter-pecan-ice-cream-bites/