Smothered Pork Chops in Mushroom and Onion Gravy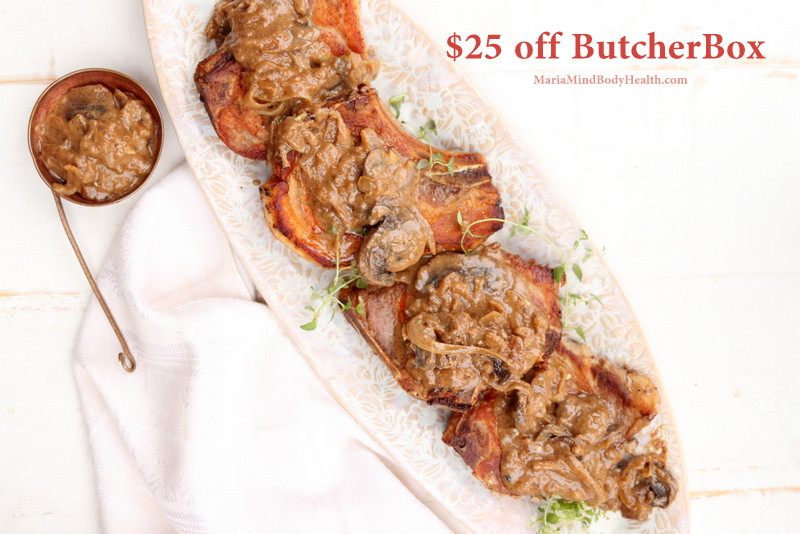 4 tablespoons ghee, divided (or lard or coconut oil if dairy-free)
2 cups thinly sliced onions
2 cups chicken or beef bone broth, homemade (page 356) or store bought
4 (8-ounce) bone-in pork loin chops
½ teaspoon fine sea salt
¼ teaspoon ground black pepper
2 cups sliced button mushrooms
To make the gravy, melt 2 tablespoons of the ghee in a large skillet over medium heat. Add the onions and sauté for 5 minutes, stirring occasionally. Add the broth and cook for 20 to 30 minutes, until the broth has reduced by almost half, then slide the skillet off the heat.
Meanwhile, sprinkle the pork chops with the salt and pepper. Melt the remaining 2 tablespoons of ghee in a large cast-iron skillet over medium-high heat. Add the mushrooms and sauté for 6 minutes or until brown. Season the mushrooms with salt and pepper to taste. Move the mushrooms to the skillet with the gravy, then place the chops in the hot cast-iron skillet. Sear on one side for 3 minutes, then flip and cook for another 7 to 10 minutes, until the internal temperature of the chops reaches 135 degree F (the temperature will rise after cooking). Let the chops rest for about 8 minutes before serving.
Place the chops on a serving platter and smother with the mushroom and onion gravy. Store extras in an airtight container in the refrigerator for up to 3 days. Reheat on a rimmed baking sheet in a preheated 350 degree F oven for 5 minutes or until warmed through.
Nutritional info (per serving):
calories 691, fat 59g, protein 30g, carbs 10g, fiber 2g
Recipe by
Maria Mind Body Health
at https://mariamindbodyhealth.com/the-best-pork-chop-recipe/