The BEST Brussels Sprouts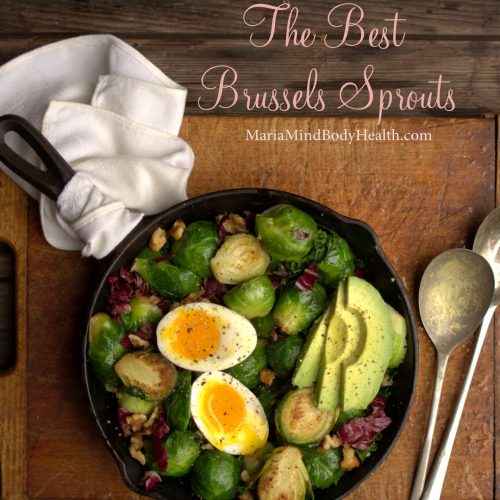 2 slices bacon, diced (optional)
1½ lbs Brussels sprouts, trimmed, larger spouts halved
1 cup chopped radicchio or kale
2 tablespoons unsalted butter or coconut oil
1 shallot, chopped (or 2 tablespoons diced onion)
Celtic sea salt and pepper, to your taste
GARNISH:
1 soft boiled egg
2 tablespoon crushed walnuts
½ an avocado, sliced
Blanch the Brussels sprouts and Kale or Radicchio (I used radicchio for a contrasting purple color) in boiling water for about 15 seconds.
Quickly drain and rinse the Brussels sprouts and radicchio in cold water. Cut the large sprouts in half lengthwise.
Brown diced bacon in a medium skillet for about 3 minutes.
Remove bacon and set aside.
Add butter or oil to the pan and add shallots to saute for about 2 minutes. Add Brussels spouts and coat in butter.
Saute Brussels sprouts about 3 minutes or until they begin to soften, then add the salt and cook until crisp tender.
Transfer to a serving dish with a slotted spoon and top with cooked bacon bits. A soft boiled egg sliced in ½, sprinkle with crushed walnuts and set sliced avocado onto the serving dish.
Recipe by
Maria Mind Body Health
at https://mariamindbodyhealth.com/best-brussels-sprouts/