Keto Turtles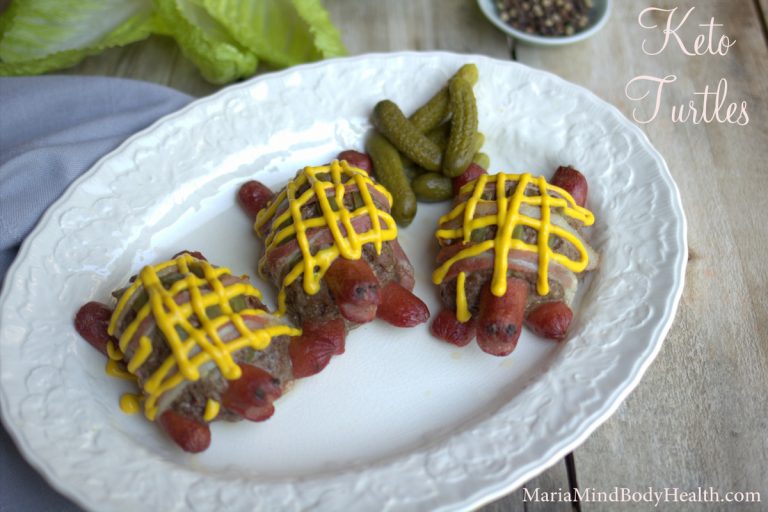 Preheat oven or toaster oven(I used my toaster oven since it was a hot day outside...which I LOVE more than I ever thought I would!) to 350 degrees F.
Form the ground beef into 4 patties (for the turtle shell). Season the outside with salt and pepper. (Click HERE to read why to only salt the outside).
Slice 1½ inches off the ends of the hot-dogs to make the face of the turtle. Use your thumb to indent a space into the hamburger patty and press in a slice of hot-dog for the head. Repeat this with all 4 patties.
Use the tip of a sharp knife to score 2 spots for the eyes. Place 2 whole peppercorns into the slots.
Slice the rest of the hot-dog in ½ lengthwise to form the legs. Then slice the halves into 1½ inch pieces. Place the pieces flat side down under each corner of the patties (to form the legs of the turtle).
Slice the dill pickles to form the shell. Slice into ⅛ inch thick slices that are about 3 inches long. Place on the ground beef turtle shell patties.
Slice the bacon into ¼ inch thick and 5-6 inch long slices. Place around the turtle shell patties and tuck underneath the turtle (so the bacon doesn't curl up).
Place in oven for 10-15 minutes or until beef is cooked to your desired liking. If the bacon isn't cooked enough, increase heat to 400 degrees F and bake until bacon is crisp. (Covering the hot-dogs so they don't burn.
Remove from oven and serve with my Carolina BBQ sauce.