Green Deviled Eggs and Ham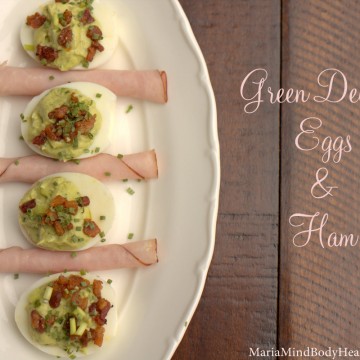 12 eggs
4 slices bacon, diced into ¼ inch pieces
¼ cup mayonnaise, store-bought or homemade
1 teaspoon vinegar
½ small avocado, pureed (or guacamole)
½ teaspoon fine sea salt
Diced chives for garnish
24 slices thinly shaved ham
Place eggs in a large saucepan and cover with cold water. Bring the water to a boil, then immediately cover the pan and remove it from the heat. Allow the eggs to cook in hot water for 11 minutes.
Meanwhile place the diced bacon in a skillet and saute until crisp, about 5 minutes. Remove bacon from pan, Set aside.
To make the deviled eggs, After 11 minutes, drain the hot water and rinse with very cold water for about a minute or two to stop the cooking process. Peel the boiled eggs and cut them in half lengthwise. Remove the yolks and place them in a bowl (or a food processor). Mash or blend the egg yolks with a fork until they are the texture of very fine crumbles. Add the mayonnaise, vinegar, avocado, and salt. Fill the egg white halves with the yolk mixture. Sprinkle with diced bacon and diced chives.
Place a slice of rolled up ham in between each deviled egg.
Keep leftover deviled eggs in an airtight container in the fridge for 3 days.
BUSY FAMILY TIP: I keep a dozen hard-boiled eggs in my fridge at all times. My boys who are four and six love to help me in the kitchen and peeling eggs is one of the things they can do without my constant attention so I can prepare other food.
Nutritional Information:
325 calories, 32g fat, 16g protein, 2g carbs, 1.1g fiber
Recipe by
Maria Mind Body Health
at https://mariamindbodyhealth.com/green-deviled-eggs-ham/