Smoked Salmon Deviled Eggs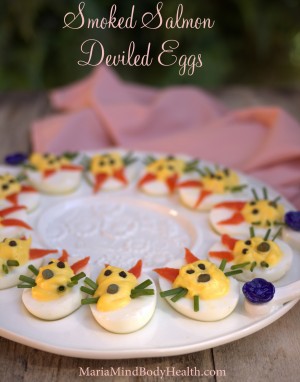 12 eggs, hard-boiled, peeled, and halved vertically
1 cup mayo (paleo or homemade)
1 teaspoon yellow mustard
1 teaspoon fine grain sea salt
¼ cup smoked salmon, cut into triangles (for ears)
4 tablespoons fresh chives, cut into ½ inch long pieces (or whiskers)
24 whole peppercorns (for eyes)
12 capers (for nose)
In a food processor, puree the egg yolks until crumbled. Add the mayo and mustard, puree until smooth. Add a teaspoon of salt. Add more seasoning to taste.
Using a piping bag or spoon, gently pipe mixture into each egg white. Garnish each egg with 2 triangles of smoked salmon at the top of the egg for ears, 6 pieces of chives for the whiskers, 2 whole peppercorns for the eyes and 1 caper for the nose.
Cover and refrigerate for up to 2 days.
Recipe by
Maria Mind Body Health
at https://mariamindbodyhealth.com/smoked-salmon-deviled-eggs/