Deconstructed Waffle Cones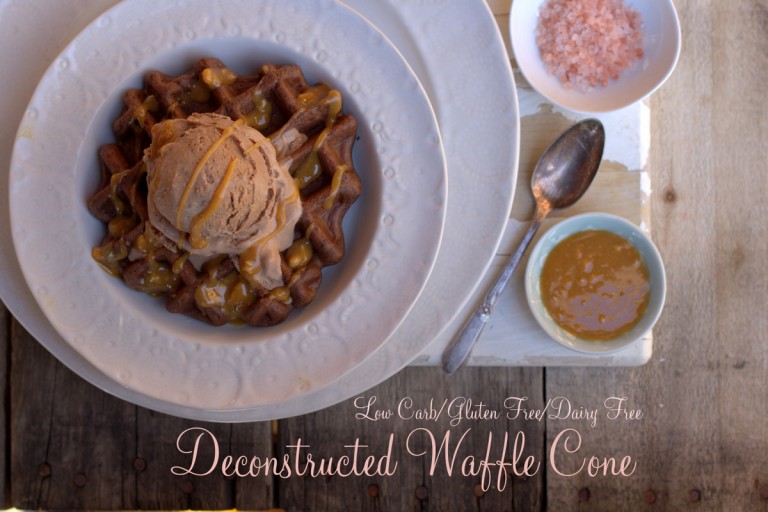 WAFFLES:
2 eggs
2 hard boiled eggs
2 tablespoons Swerve confectioners
2 tablespoons unsweetened cocoa powder
½ teaspoon baking powder
⅛ teaspoon fine grain sea salt
2 tablespoons coconut oil
1-2 teaspoons vanilla extract (option sub 1 teaspoon for almond extract if not allergic to almonds)
ICE CREAM:
¾ cup plus 2 tbs coconut oil (organic butter if not dairy sensitive)
½ cup unsweetened almond milk or water
4 whole eggs
4 egg yolks
1 vanilla bean, scraped clean or 2 tsp vanilla
½ tsp salt *helps keep ice cream soft
¼ cup unsweetened cocoa powder
PEANUT BUTTER SAUCE:
½ cup natural peanut butter, softened
¼ cup coconut oil, melted (or butter if not dairy sensitive)
Heat waffle iron to high heat. Place the raw eggs, hard boiled eggs, natural sweetener, protein powder, cocoa powder, baking powder and salt in a blender or food processor and combine until smooth and thick. Add the coconut oil and extract to combine well.
Grease the hot waffle iron. Place 3 tablespoons mixture into the center of the iron and close. Cook for 3-4 minutes or until golden brown and crisp.
Remove from waffle iron and serve with ice cream and sauce.
To make the ice cream, In a blender (I used my blendtec), place the coconut oil, MCT oil, eggs, yolks, almond milk/water, vanilla bean seeds (discard the pod), natural sweetener, salt and cocoa powder. Blend until very smooth. Place into ice cream maker and watch the magic happen! Turn off ice cream maker. Store in airtight container in the freezer.
Meanwhile, make the peanut butter sauce by combining the peanut butter, coconut oil/butter and natural sweetener in a small bowl. Combine until smooth.
Recipe by
Maria Mind Body Health
at https://mariamindbodyhealth.com/deconstructed-waffle-cone/