Cheese Curds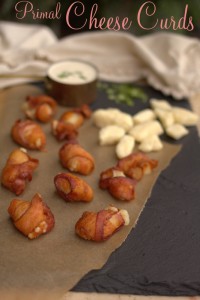 2 TBS MCT oil
2 TBS organic butter
4 oz Cheese curds, frozen
2 oz Bacon or Prosciutto, very thinly sliced
Optional: chopped herbs
Heat oil and butter in a sauté pan to medium-high heat.
Cut the prosciutto in ½. Wrap the pieces of bacon or prosciutto around each cheese curd, being careful to completely cover all the cheese. Secure bacon with a toothpick. If you use prosciutto it is "sticky" enough that you should not have to secure with a toothpick. If desired, roll in chopped herbs for a crispy herb crust. TIP: You can freeze until ready to fry.
Place each frozen wrapped cheese curd into the hot oil, turning frequently, until the outsides become slightly crisp and the cheese becomes gooey. This will only take a few minutes.
Remove to a platter, cool slightly, and enjoy with BBQ mustard or keto ketchup!