Homemade Root-beer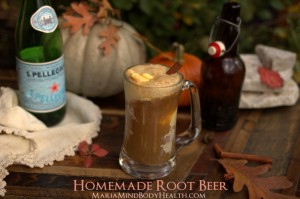 40 (1/2-inch) pieces of ¼-inch thick sassafras saplings
2 cloves
½ tsp anise seeds
4 allspice berries
1 cinnamon stick
4 cups water
¼ cup yacon syrup
1 cup Swerve confectioners
2 quarts sparkling water (*I used my soda streamer)
Clean the roots and cut into ½ inch long pieces.
Place the root pieces, cloves, anise seeds, allspice berries, and cinnamon stick into a small saucepan. Cover in 4 cups water.
Turn heat to high and bring to a boil, then reduce to a simmer for 20 minutes.
Add the yacon syrup and simmer for another 5 minutes. Remove from heat.
Strain the root liquid through a cheesecloth into a medium sized bowl.
Add the natural sweetener. Stir well and allow to cool. Store in mason jars in the fridge until ready to drink.
To make the root beer; fill a glass with ice cubes (OR "Healthified" Ice Cream!), start with a 1:2 ratio, add the syrup and soda water (1/3 cup syrup to ⅔ cups sparkling water), then adjust to your desired liking (more sparkling water if you want it more diluted, more syrup if you prefer it stronger).