Low Carb Strawberry Cheesecake Ice Cream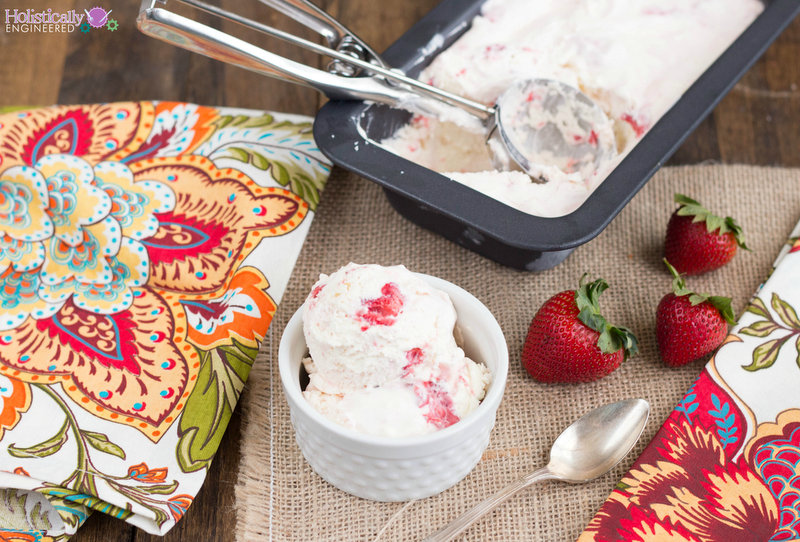 For the Ice Cream Base:
8 oz organic cream cheese
¾ cup Swerve sweetener
2 cups organic heavy cream
Juice of 1 lemon
½ tsp vanilla
For the Strawberry Sauce:
5 oz of sliced strawberries
3 Tbsp Swerve sweetener
2 Tbsp butter
To make the Strawberry Sauce:
Combine the ingredients in a small saucepan over medium heat.
Bring the mixture to a simmer and simmer for 5-6 minutes or until the sauce had thickened slightly.
Allow the mixture to cool completely.
To make the Ice Cream Base:
While the Strawberry Sauce is cooling, beat the cream cheese in a mixing bowl on medium speed until mostly smooth.
Add in the Swerve and continue to mix until completely smooth.
Add the heaving cream, lemon juice, and vanilla and mix starting on low speed and then increasing to medium as the mixture thickens.
Mix for 2-3 minutes or until the cream cheese is throughly incorporated into the cream.
Pour the mixture into the bowl of an ice cream maker and process according to manufacturers directions.
Once the ice cream is done churning, fold the Strawberry Sauce into the ice cream mixture.
Serve immediately for soft serve of freeze for 1-2 hours to make the ice cream scoopable.
Nutritional Info:
Servings: 8
Calories: 347
Fat: 34.7 g
Protein: 3.5 g
Carbs: 4 net g

(90% fat, 4% protein, and 6% carbs)
Recipe by
Maria Mind Body Health
at https://mariamindbodyhealth.com/low-carb-strawberry-cheesecake-ice-cream/