Easy Peanut Butter Whoopie Pies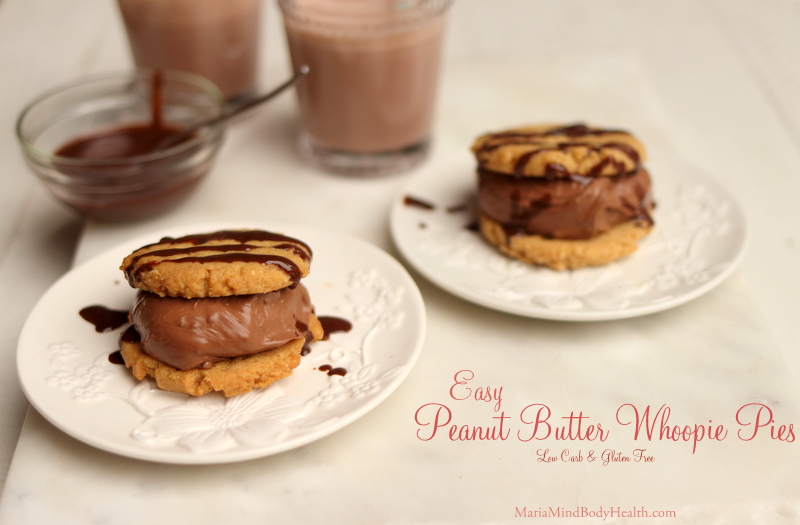 Keto Kookie just came out with a new flavor! Peanut Butter cookies! My boys couldn't be more excited! As soon as our order of these tasty keto cookies came I knew I wanted to make something special with them. So I whipped up a delicious filling and melted a milk chocolate ChocoPerfection bar for drizzling over the top to make easy peanut butter whoopie pies!
When the boys came into the kitchen and saw their tasty peanut butter dessert they were overjoyed! Micah even licked his plate clean!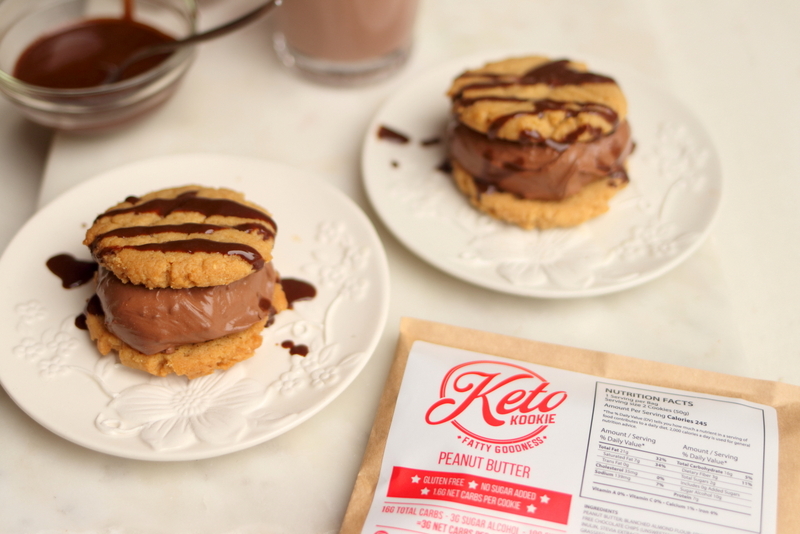 Click HERE to PRE-ORDER the new Peanut Butter Keto Kookies! I suggest ordering soon before they sell out!
A box of the tasty low carb cookies makes a great gift! I was in Austin Texas at KetoCon for my birthday which was awesome but it also meant I didn't have a birthday dessert. However, the guys behind Keto Kookies are so thoughtful, they gifted me a box of Peanut Butter Keto Kookies for me to enjoy during my trip!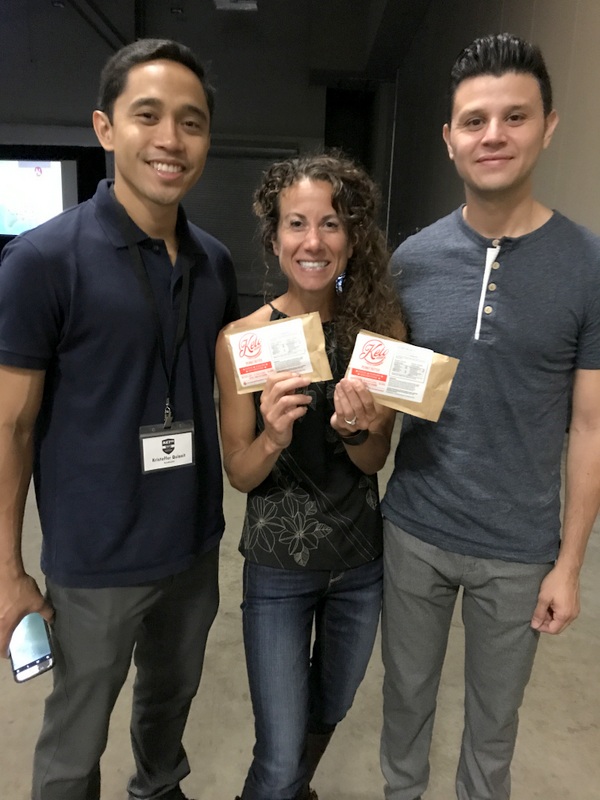 To make these keto Whoopie Pies even easier I chop a milk chocolate Chocoperfection bar and place into a small dish and add 2 teaspoons of unsweetened almond or heavy cream and heat in the microwave for 15 seconds, stir well. Continue to heat until melted and smooth. Use to drizzle over the Peanut Butter Whoopie Pies.

Easy Peanut Butter Whoopie Pies
Ingredients
4 packages Peanut Butter Keto Kookies
FILLING:
¾ cup cream cheese (or mascarpone cheese)
¼ cup Swerve confectioners (or equivalent)
2 tablespoons unsweetened cocoa powder
1 tablespoon unsweetened almond milk or heavy cream
½ teaspoon vanilla extract or chocolate extract
Chocolate Drizzle:
¼ cup whipping cream
2 tablespoons Swerve confectioners (or equivalent)
½ oz unsweetened chocolate, finely chopped
½ tsp vanilla extract
Instructions
Make the filling, cream cream cheese, unsweetened cocoa powder and natural sweetener in a medium bowl. Add the unsweetened almond milk or heavy cream to thin it out a little. Add the vanilla. Set aside.
To make the chocolate drizzle; place the cream, chopped chocolate and natural sweetener in a double boiler or in a heat safe bowl over simmering water. Heat on low heat while stirring just until chocolate melts. Remove from heat. Add in the vanilla. Taste and adjust sweetness to your liking.
To assemble, place one Keto Kookie on side down on a plate. Place 2 tablespoons filling onto the cookie, top filling with another cookie. Drizzle chocolate drizzle over each Whoopie Pie.
Notes
Nutritional Information:
481 calories, 42g fat, 11g protein, 9g carbs, 4g fiber

TESTIMONY OF THE DAY
A great update from a past phone client!
"Because of you!!! The before pictures were when I started with you 6 years ago. I have been at a healthy weight for awhile but you are my inspiration and have been such a great support. I have hopes to meet you one day just to say thanks!
By-the-way the before pictures I was 24 and the current picture I'm 30. Before 170lbs and 110 now- I'm 5'2. Just thank you! – Amanda"
Get started on your path to Healthy Healing today! Click HERE to get started!