A special testimony from a client dealing the depression and anxiety:
"As "the skinny girl" my entire life it was a medical condition and the medications necessary for me to take for the rest of my life that packed on more than 50 lbs. in a very short amount of time at the age of 37 that led me places I had never been before. Although the medication was making me feel better, it was a different story when I looked in the mirror. I had never tried to be thin, i just naturally was, and it's not like I wanted to weight 102 lbs on my 5'4″ frame, I always had a dream weight of 120. Something my doctor laughed at when I asked him how to keep some of my baby weight after I delivered my first baby, after all, being pregnant was the first time I actually got over 100#, something that had been a goal of mine since I was about 16. I know, poor thin girl … however, I was about to learn how body image affects so many aspects of a persons being, something I had never even considered. 20 days after starting my medication and I had already gained 27 lbs.
I was so shocked every time I looked in the mirror, I still expected to find my former self and seeing my friends visible reactions although they tried to be encouraging. I kept having to purchase larger and larger clothes and eventually peaked at plus 54 pounds. I had tried to "eat better", you know, yogurt, fruit, vegetables, but in all honesty I am a bona fide, all out sweet tooth, always have been. Nothing seemed to help. My doctor and I decided to switch my medication to see if the side effects would alter. Hard to say if it worked, I didn't change anything else, although eating my way across Australia on vacation did non add any weight. I took that as a good sign. Then I ventured back into the work force and was more mobile and managed to lose a bit of weight, about 10 lbs. But I still felt terrible, emotionally, physically, had the 3:00 "I'm so tired I could sleep the rest of the day" thing going on.
I had a couple of friends who started working with a nutritionist who were altering their lifestyles, but it sounded like an impossible plan, no sugar!! No gluten?? How could I live without dessert and bread, my life line? I happened to overhear a session my friend was having with this nutritionist and honestly, it sounded do-able. You could substitute healthy versions of sweeteners, not give them up completely. Might work. There were ways to make/buy breads that I could eat, who knew? I decided to buy the book and check into it. What I learned changed my life. I decided to go "all in".
I scheduled a consultation with Maria (said nutritionist) attended her Healthy Metabolism Class and attend her grocery store shopping excursion. I could do this, no, I will do this. My family was in shock. I don't think they gave me a chance, no sweets, no way. But I was determined. I did not eat one thing that wasn't on Maria's approved/recommended list. It definitely didn't happen over night, but little by little, week by week I was losing weight. My clothes were starting to hang, people were taking notice. My goal … 120 pounds! Ironic right? My goal when thin and chubby was always 120!  I honestly don't know where I found the strength to do it, except by following Maria. Her constant encouragement and knowledge educated me in an area I didn't even know I needed to learn, after all prior to medication I could eat whatever I wanted. I no longer had the 3:00 afternoon energy dip, and generally had a better outlook on life. I'm not saying it was completely easy, there were challenges … what to order if we went out to eat? I eventually did reach my goal and I owe it all to this book and it's author, Maria Emmerich. Thank you Maria
  -Jennifer Norman
To get started on your path to health and healing, click HERE. I'd be honored to help you too!
FLUORIDE FACTS
Many fruits, veggies and other crops in the US are sprayed with cryolite which is a pesticide that contains a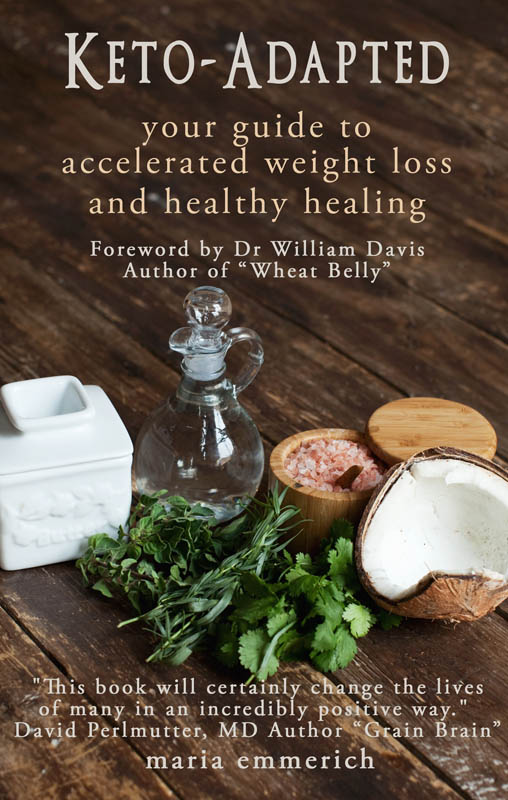 high amount of energy-zapping fluoride. Today, Americans consume 4 times the amount of fluoride that we did in 1940 which was when it was added to drinking water to prevent cavities. It is found in many commercial products like soup, soda and many other foods like black tea. Even the Center for Disease Control (CDC) has expressed concern that over 200 million Americans are exposed to extreme levels of fluoride. All of this is wreaking havoc on our thyroid.
Read more about this in my new book Keto-Adapted.
If you would like to help out a small family, rather than large business, I am happy to announce that you can now get my books as a high quality ebook that works on any platform. Plus, most of the profits don't go to Amazon or apple! Click HERE or select "My Books" above to get your copy now!
Click HERE to get a limited edition of the Hard Cover.
Click HERE to get a soft cover.
Thank you all for your love and support!
LOW CARBING AMONG FRIENDS
I am very excited to announce a new cookbook that I am honored to be a part of. With the guidance of Jennifer Eloff and a passionate group of writers, we have collaborated to create an amazing new cookbook called LOW CARBING AMOUNG FRIENDS.
Please check out the website at: amongfriends.us
"Low-Carbing Among Friends is a revolutionary cookbook in several ways. First of all it is a low-carb cookbook with a difference – it is also gluten-free. Second of all it is collaboration between 5 talented and innovative authors and 6 other very famous people in the low-carb world. Thirdly, the cookbook is comprised of 5 mini-cookbooks of at least 60 recipes each, showcasing the unique talents and recipes of each author, bringing an exciting new cookbook as never seen before to the low-carb world. In addition, 6 famous people round out the team of 11, and contribute their ideas, making this an even more value-added book.
Low-Carbers, in particular, will love this book as there are many recipes from induction to moderate low-carbing and all recipes are less than 10 grams of carbohydrate per serving and most are less than 5 grams of carbohydrate per serving. Low-Carbers who are either intolerant of gluten or have Celiac disease will be thankful for this enormous resource of 100% gluten-free and low-carb recipes. At the same time, it is now becoming clear, with best-selling books out there like Wheat Belly by Cardiologist, Dr. William Davis that wheat is a problem for many people for a variety of reasons, so going gluten-free certainly helps people with weight loss. Even the publisher, who has maintained a healthy weight on low-carb diets, found his appetite was still not curbed enough, so his ideal weight always seemed out of reach. The problem turned out to be that he was still getting plenty of gluten (often used in low-carb baking) and that the gluten and other components of the wheat flour were stimulating his appetite. By going gluten-free, the weight just dropped off in no time and his blood pressure normalized. He was convinced!
The recipes are very innovative and wonderful breakthroughs! It is one thing to create low-carb and sugar-free recipes, and most of us have a pretty good handle on that now, but it is often quite another thing to also make those same recipes gluten-free. That can be very challenging! This extraordinary cookbook deserves a place in your cookbook library.
By buying "Low-Carbing among friends", for around $20, you get to "invite" 6 leading low-carb experts into your living-room, where in the comfort of your arm-chair, they share their expertise with you regarding diet and health, and then you get to "invite" 5 leading low-carb recipe experts into your kitchen – there to teach you cutting-edge techniques to help you make tasty, healthy, low-carb meals and desserts, and your whole family benefits! Or you could take the $20 so (maybe) 3 of you can eat a fast-food meal, just once, without any lasting benefit to you or your family."
Pre-ordering is available and the first printing will most likely sell out fast and by ordering now, you will assure yourself an awesome new cookbook. Thank you SO much for your love and support!